Desire and Food in Guy Bourdin's Photography
Welcome to the wild and intriguing world of Guy Bourdin! Perhaps Vogue's most famous photographer of all time, he studied with Man Ray before reinventing photography about as much as his mentor. His early work is full of mystical landscape compositions that borrow from surrealism and look much more like Minor White or Edward Weston photographs than those of a fashion studio expert. He worked for Vogue between 1955-1977, where he created a whole new vernacular of high fashion aesthetics.
Why is Food in Guy Bourdin's Photography Important?
Have you looked at a fashion magazine and thought, what does that have to do with clothing and accessories? In part, Bourdin's work could be to blame. That's because with Vogue, his photos mark the first time in fashion photography that the product played a secondary visual role, given some breathing room within the context of a narrative composed of other elements. If you are studying editorial food photography, his work especially demands attention for its storytelling abilities. In addition to editorial photography for Vogue, he worked directly with numerous fashion brands, most famously Charles Jourdan shoes. He included his own personality and the attitude of models and designers, directly and through the use of symbols. For more than just formal reasons, sometimes food appears in Guy Bourdin's photography to represent these ideas.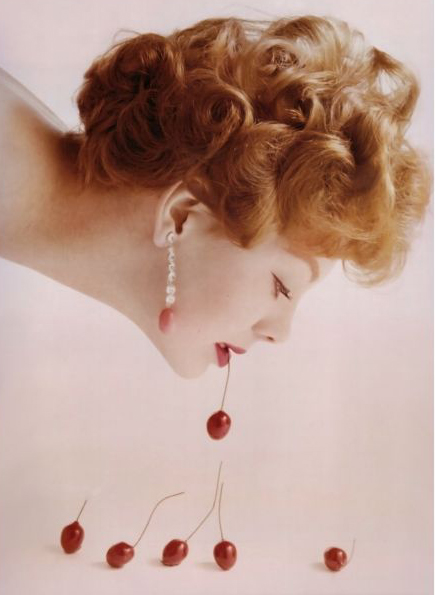 Color is Key
In the example above, the cherries echo the form of the earring and the luscious color of the models lips, or lips in general. Bourdin is world-renowned for his use of vibrant and saturated colors. These flashy and sometimes gaudy colors suit the over-the-top glamour of fashion magazines like Vogue. His motivation for this photo could have simply come from noticing the amazing deep red color of a cherry one day. Although, they also serve as an excuse to suggest sexuality and put the model's lips to work. Great photographers like Bourdin never stop analyzing all visual possibilities around them.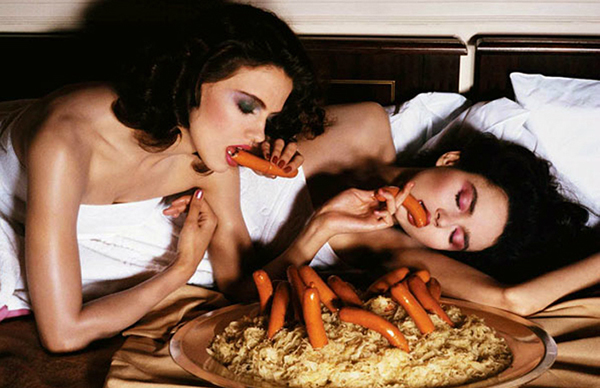 The Intersection of Food, Sex, Desire, and Parody
The characters in Guy Bourdin's visual world have fashion desires, sexual desires, and food desires. The totally unsexy breakfast in bed of these two women, sausages served on sauerkraut (above), must have a humorous component. Think about the publication itself, Vogue. What foods are "Vogue Foods"? Perhaps caviar, champagne, oysters, steak tartar, or anything that is not only exquisitely tasty, but also perceived as luxurious. Sausages, especially hot dogs and smelly sauerkraut, do not fit the publication's glamorous image. Food is most certainly a symbol of sex in this photo, a referent that editorial magazines and advertisements use to lure people into blindly yearning for their brand. Thus, with food, Guy Bourdin's photography is poking fun at the whole fabrication of desire and value in the fashion world.
The Influence of Cinema
Guy Bourdin frequently used the MacGuffin technique mastered by Alfred Hitchcock, where plots are driven by a character's lust for an inanimate object (the MacGuffin), for a reason that may be unknown. The idea behind the MacGuffin is that it doesn't matter what its form, or purpose may be, as much as the unexplained desire for it. In many ways this is how fashion brands must think. There may exist analogous or more necessary products, but the emotional factors the brand manufactures drive its consumers to possess it, just like a Hitchcock villain or protagonist.
In Guy Bourdin's photography food is the perfect representative of these desires that characterize themselves as passionate more than reasonable. As a food photographer, try to think of other media and subject matter that relates to the work you are doing, so you can incorporate unexpected elements into your masterpieces!
Are you a fan of food and fashion? Maybe you have even used a MacGuffin! Comment below!
Suggested posts you might be interested in: