A Feminist Food Art Classic: "The Dinner Party" by Judy Chicago
Food played a seminal role in the feminist art movement of the 60s and 70s. Artists such as Martha Rosler, Natalia Lach-Lachowicz, and Linda Nochlin used it to dissect gender roles and parody previous artworks. Just like our influential food artist of the week, Judy Chicago, their goal was to turn the submissive and powerless role of women in art into singular statements of defiance.
Who is Judy Chicago?
Judy Chicago is the creator of the first feminist art program in America. She has also published many books, innovated the minimalist art movement, and raised the stature of porcelain painting in fine art. The trajectory of her art career is quite fascinating. Focusing on form, she created a series called Acrylic Shapes in 1968, including domes of different colors.
By 1980 her work was full of spirituality and passion. In Birth Project she presents, through drawing and needlework, a visual vocabulary to describe the cosmic mystery of the start of all life. The female figures in this series elongate and twist, forming what are recurring motifs in her work: flowers, fruit, butterflies, or abstract forms. Aside from content, the title and the mediums she worked with in The Dinner Party themselves also evoke ideas of womanhood and gender roles.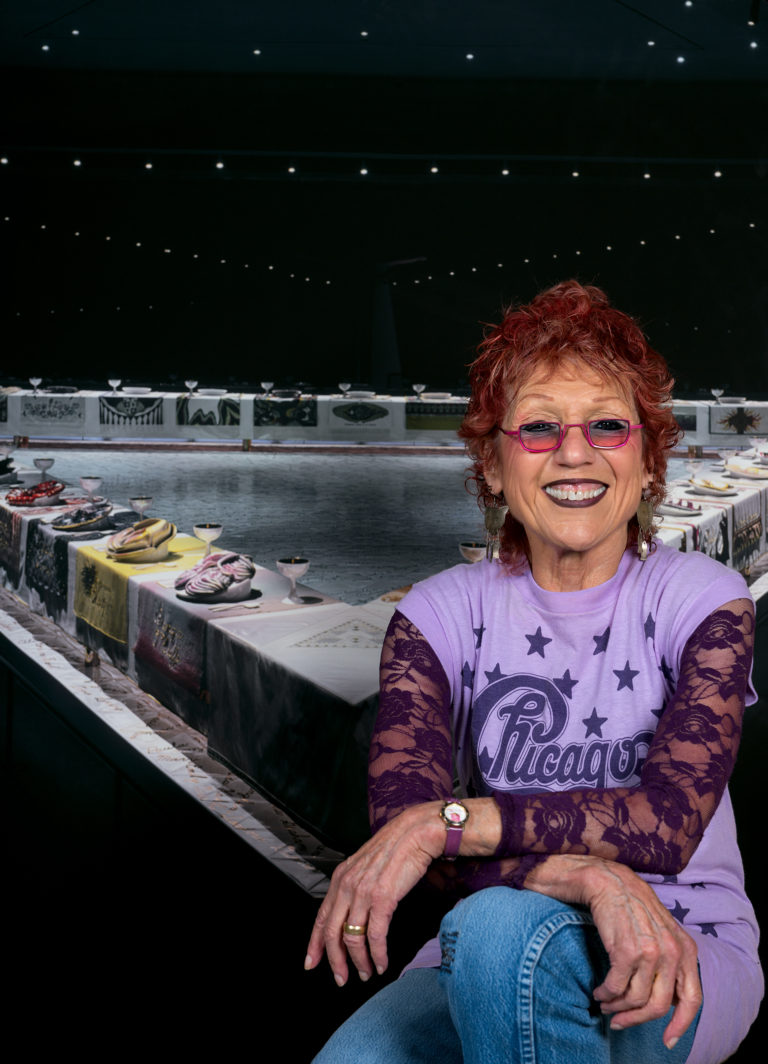 A Multifaceted Feminist Installation
In the early 1970s the Equal Rights Amendment had been ratified in most states, but not all. Those opposed to the amendment stated, "we respect our role as mothers and housewives, and we want to keep that role above every other role." Imagine hearing such a thing if you were a feminist artist! Attacking this idea was the reason behind making a feminist food art project. In the midst of a country-wide debate, Chicago realized there was no monument for the influential names in the history of feminism and a limited view on what a woman could be.
Setting an early precedent for installation art, The Dinner Party (1974) cannot be reduced to just one element. Instead, it occupies the entirety of a large room with numerous creations based mainly in two mediums: tapestry and porcelain. At the entrance there are woven banners with text supporting a future with equal rights, such as and then all that divided them merged. With the goal to rewrite the history that excluded these revolutionary women, epic proportions were need.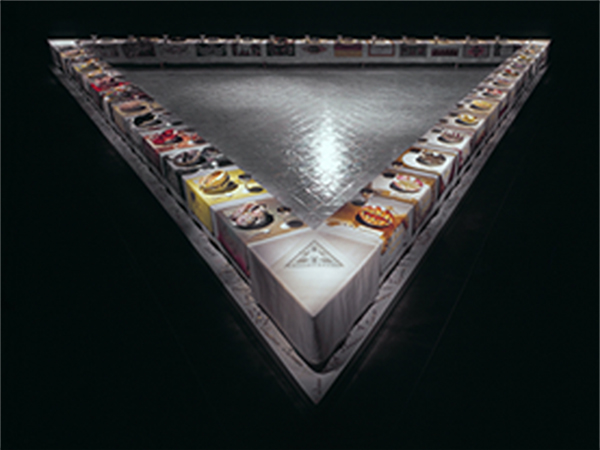 The Place Settings
The whole piece sits upon what she calls the Heritage Floor (visible in the photo above). She designed these tiles with names of feminist leaders. In addition, extensive historical background accompanies the exhibition to explain some of its references. The use of porcelain painting and tapestry has a symbolic value. Both of these art-making practices were seen as feminine and not worthy of contemporary fine art galleries. By using these mediums in an interesting and complementary way, the artist is saying that not only should her porcelain art be respected and validated, but herself as well, as an important female artist.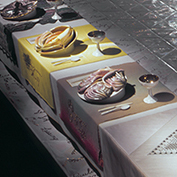 Since the installation is titled The Dinner Party, it shouldn't come as a surprise that the most important visual element is the collection of 39 plates. The creative place settings are shaped like flowers, vegetables, and fruits. Aside from the aforementioned feminist food art qualities of this masterpiece, let's just consider the plate above on visual terms. The three-dimensionality of the plate makes it look as though the vulva-shaped flower/vegetable is coming alive and rising off of the table. The idea of such lively and animate food at the table is interesting.
What Can We Learn From Judy Chicago?
Feminist food art will always be relevant. Woman's role in the world has been historically intertwined with food for so long. In many cultures, the kitchen is the focal point of literature and art created from a female perspective, the food a sublime expression of a grandmother's or mother's love. In your food photography, styling, or design, making a feminist message can be done in a subtle way to make people feel empowered and inspired just like Judy Chicago's art.
Suggested posts you might be interested in: