Daniel Spoerri Tabletop Food Assemblage Captured in Resin
For centuries, food still lives didn't receive the recognition or praise garnered by "higher" art genres. Depicting the most commonplace objects, many critics felt that the compositions were closer to mechanical copies than they were intellectual endeavors. Through his "snare pictures", artist Daniel Spoerri flipped this "flaw" to prove the allure of tabletop arrangements as inherent works of art.
Daniel Spoerri has always maintained an unwavering fascination with food assemblage. From purchase to consumption, the roles it plays have been a well of inspiration for the Fluxus-inspired Swiss artist. Even the chance positioning of leftover scraps after a meal got Spoerri's gears turning early in his artistic career.
So much so, in fact, that he found a way to bring his tabletop into the gallery.
Spoerri left his mark on the art world through his self-described "snare pictures" or tableau pièges. Quite literally, he would crystalize moments by pouring resin over tabletop surfaces. In turn, this would trap anything resting on the surface perfectly in place. Once secured, he'd be able to flip the resin-covered surface vertically, providing viewers with a three dimensional bird's eye still life.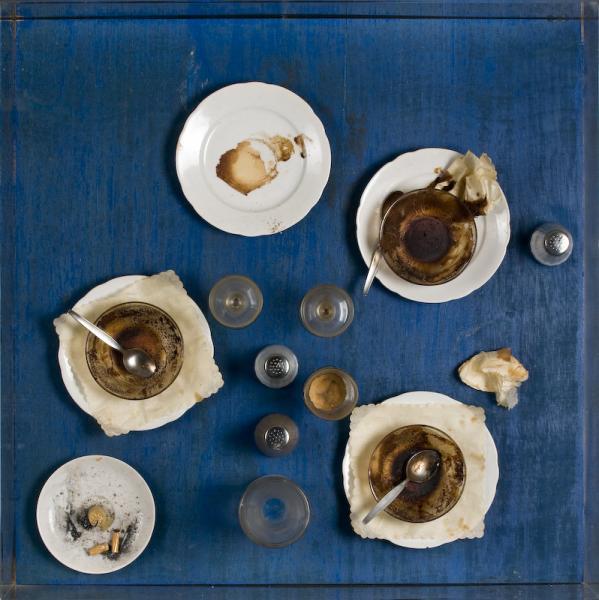 The unique play on traditional still lives originated after drawing inspiration from a girlfriend's leftover breakfast. Simply titled "Kichka's Breakfast", he secured the components exactly as he found them. Eggshells, coffee grounds, soiled silverware. and cigarette ashes adorn a board balanced on a chair. While most of us would groan at the site of this "mess", Spoerri found beauty in the very human scene.
His endeavors in snare pictures didn't stop short with his girlfriend's remnants. Heavily involved in the Neo-Dada movement of the 1960's and friendly with a number of Surrealists, Spoerri began making food assemblage "portraits" of his peers. Each place setting reveals an intimate side of the individual in question. While many of us are familiar with the work of artists like Marcel Duchamp, we're rarely given access to the inner world Spoerri's food assemblages manage to capture.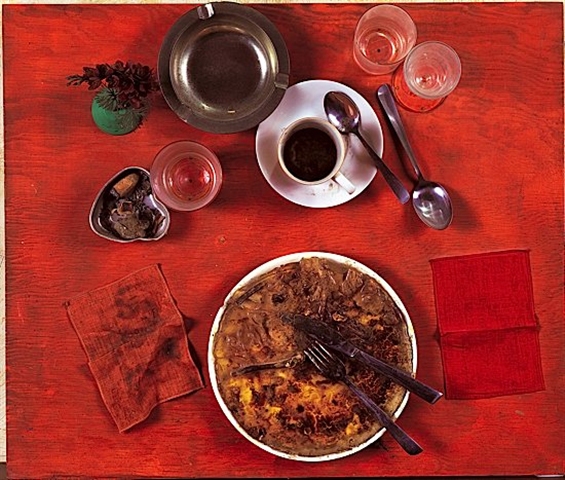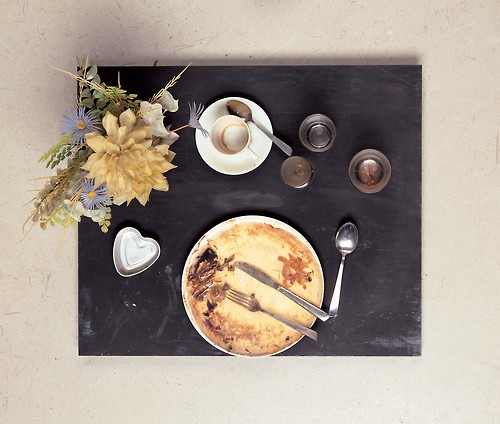 Indeed, from the beginning, Daniel Spoerri's food assemblage had a deeper element beyond their gravity-defying surfaces. A publication titled Topographie Anécdotée du Hasard illustrates this best, delving into the thoughts behind one of Spoerri's most detailed snare pictures. The labeled map included 53 pages of notes, going into the thoughts, feelings, and experiences attached to each individual object. For skeptical viewers, the written word revealed the story lurking beneath each unsuspecting scene.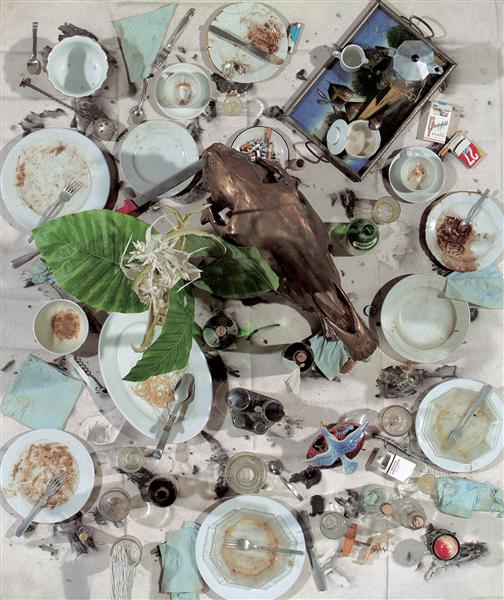 When working with food, it's important to consider the emotional weight a meal can hold. An antique plate or bowl can evoke memories of the relative who passed it down to you. The taste of a green salad can trigger memories of sunny picnics past. Whether we know it or not, everything we choose to surround ourselves with builds a portrait of who we are. And food, as our fuel, ties into the identities that we build for ourselves.
Suggested posts you might be interested in: