Playful and Cerebral Food Photography Collage Art from Daniel Gordon
Hard to describe, conceptually rich, and wholly original, what's not to like about Daniel Gordon's breakthrough style? Using paper cutouts of online imagery and his own, he creates scenes suggestive of reality with a crumpled, oblique sense of perspective. He graduated with an MFA from Yale School of Art and his work is steeped in theory, history, and technique.
Why Not Photograph Real Food?
Daniel Gordon's food photography collage art focuses on just that–food. The meaning behind the photo and its natural aesthetic are tangled together with the fact that his subject is food. Yet, by constructing still life simulacra and avoiding ever taking a photo of "real" food, he questions the construction of the "actual realities" of food, the food industry, the medium of photography, and the art world. The photo above features a three-dimensional paper object representing an avocado, the pixelated background is real evidence of "falseness", which his large format camera has captured faithfully. Conceptually there is a major difference between taking a pixelated photo of an avocado and photographing a pixelated photo of an avocado, the latter of which focuses on the image making process itself, hinting at its irreal nature.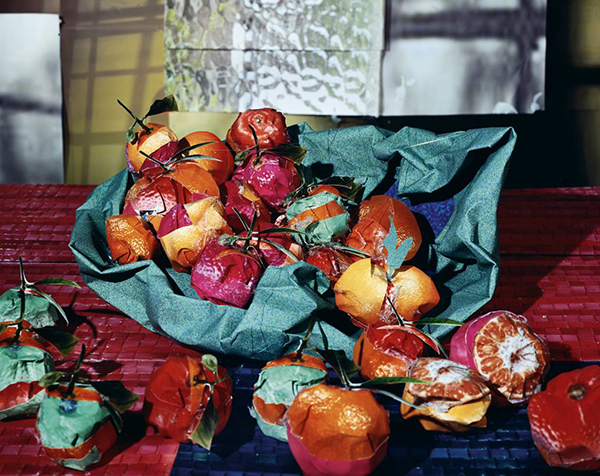 Appropriation: Innate to Food Photography Collage Art
There are millions of online images passed over each day. Those that exist in the digital world without having any real attention or importance ever brought to them. Gordon carefully selects the pictures from the Internet that he wishes to use, prints them, cuts them out, and pastes them onto his three-dimensional collage, which will ultimately be photographed.
The artist's process of appropriation is involved. In part it has to be, he knowingly creates a great distance from the original image. It is the key behind the one-of-a-kind look of his photographs, such as the still life with clementines above. His studio is littered with piles and piles of digitally printed images, which he literally sweeps up with an industrial broom to organize a bit. An amazing video walks the viewer through his studio and artistic method, revealing some amazing intricacies of the artist.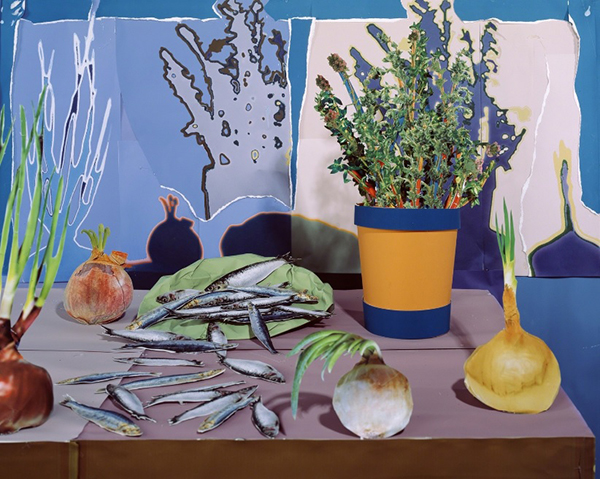 He uses his own images as well, although the conceptual focus of his work is definitely appropriation. In the photo Sardines and Thyme (above), the subject is not sardines, nor thyme, but art itself. The photograph poses the questions: Is any art original? Are, in any way, the rigid conventions of the still life genre representative of reality and real food? Appropriating a photo presents an apparent original. Gordon's appropriation if playful because it lets you in on the secret right off the bat.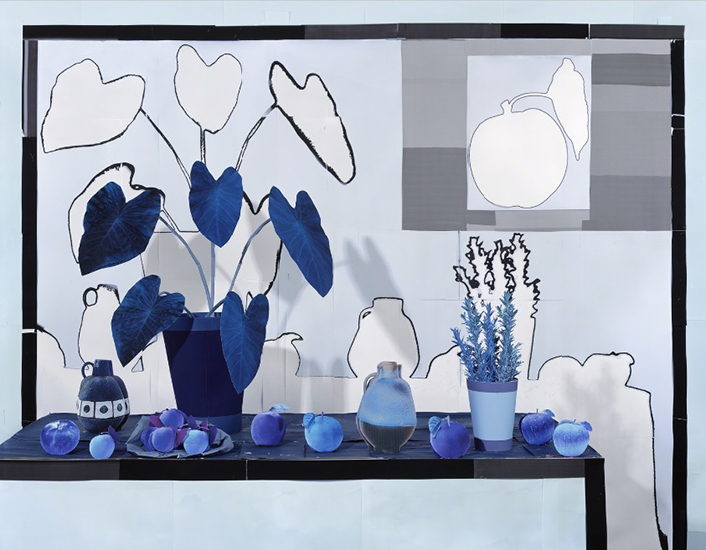 What You Can Learn From Daniel Gordon
There is no way that Daniel Gordon came about his unique process and style overnight. Experimentation was key to its development. Many never-before-seen aesthetics have been invented through experimentation and, more concretely, the blending of genres. Food photography collage art, in Gordon's case, involves a sophisticated setup including building a collage, a medium not usually present in photography. Try making dynamic photos by incorporating distinct artistic practices and experiment, experiment, experiment!
For more inspiring work visit artist's website.
Suggested posts you might be interested in: