The Ins and Outs of Food Photography Contests and Awards
Food photography contests are not quite as widespread as other types of photography contests. This is perhaps due to its relative infancy as a valid sub-discipline within the world of photography. However, there are a few worth mentioning. There are also a few general and very prestigious photography contests where food photography can easily fit into one of their submission categories.
I'll get exposure, publication, and cash? Sign me up! Well, slow down and read all of what's below.
These competitions can be exciting, but you have to make sure you know what's out there and make the right choice. However, it is not simply a game of risk and reward, it's not just about entry fees and prizes. All food photographers will benefit from the experience of intensely analyzing their own work before entering a contest. Just like preparing for an athletic competition, preparing for a food photography competition will motivate you to get your photography in shape.
Why You Should "Give It a Shot"
There are many reasons to apply for a food photography contest, from recognition to cash prizes. However, many people doubt that they can actually win. Of course, some of them are probably right. The first step is taking time to evaluate your food photography portfolio, in terms of both quality and style. This guide is intended to direct your search to a specific contest that suits your style and experience in food photography, so contests are ordered by their estimated level from high to low. Many competitions have categories for students and amateurs, so this is generalized evaluation. For dates and further specifics, a link is provided to each contest. There are so many options, so let's get down to business!
Food Photography Contests on PDN: High-Level and Exclusive
PDN stands for Photo District News, and is an amazing source for all things photography, including copyright information, marketing advice, and fine art reviews. They often feature food photography on their website even though it is not their absolute focus. As far as contests go, receiving an award from PDN is pretty tough, but would give you a huge boost in exposure. Along with cash prizes, winners are published on the site and given further print publication possibilities by PDN's network of photo editors. There are three photo competitions that PDN hosts where food photography is totally applicable: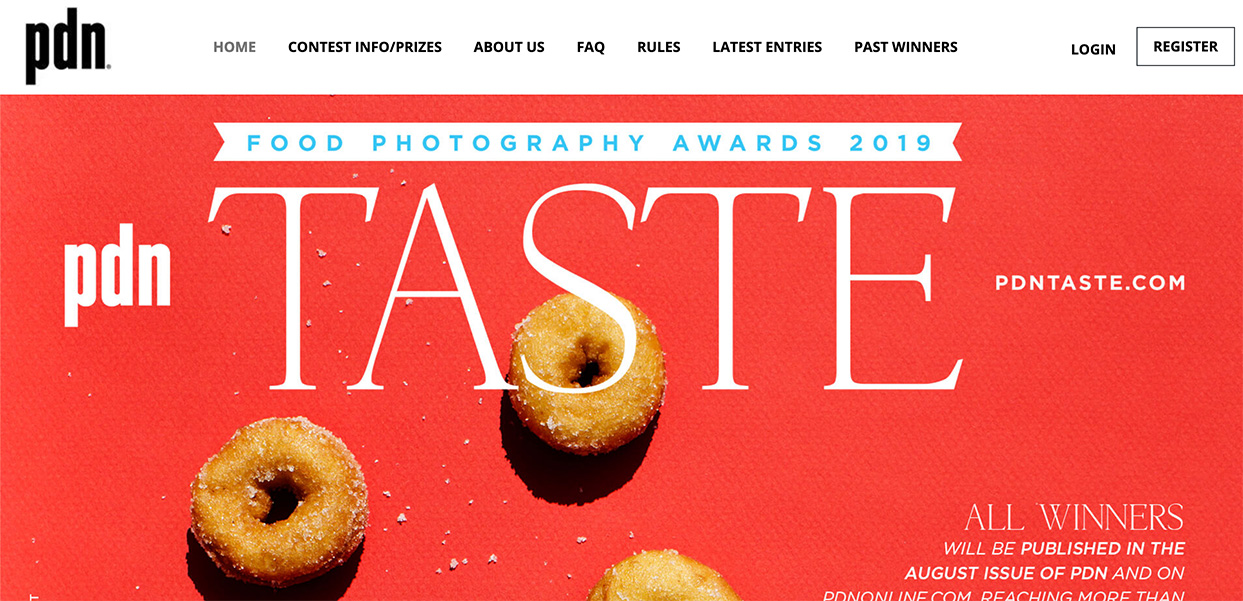 Taste – With two major categories, Professional and Student/Amateur, and numerous sub-categories, this contest dedicated solely to food photography presents options for all kinds food photographers to submit work. Are you a young, unpublished food photographer who focuses on travel? No problem! As long as your images are up to snuff, the $500 gift card prize and publication in an issue of PDN is not out of reach. This contest also features a specific "photo assignment" with the award of being published in a different publication that changes each year. Images with contemporary style get rewarded more than the traditional. This means sleek monochrome limited color palettes, overhead graphic angles, and more than a little post-production. Of course, this greatly depends on category. For example, many previous winners in "travel/destination" have a much more subdued, realistic, documentary look than the "commercial" winners from the same year.

This kind of shot is what you need in order to give this contest a go. Perfect lighting captured in the perfect moment, with a deeper meaning that is not too obvious, nor too cerebral.

The Photo Annual – This is one of the most competitive online photo contests in existence. It is also one of the most prestigious and boasts a $5,000 prize for "Photographer of the Year". Photos must be submitted within one of the various categories, to which a few food photography is applicable. If you are food photographer, making stunning professional quality images, try submitting under the following categories of:
Advertising/Corporate (Creative and high-profile imagery for food products and brands)
Magazine/Editorial (Photographic work published in magazines and food magazines)
Photojournalism/Documentary (Realistic, less stylized food shots that relate to current events, specific cultures, food politics, etc.)
Student Work (Artistic work executed while studying at university)
This contest is really only recommend for those who feel they possess a singular style and top-notch photographic skills. For many categories, past winners tend to be those appearing in big-name publications and shooting for internationally recognized brands.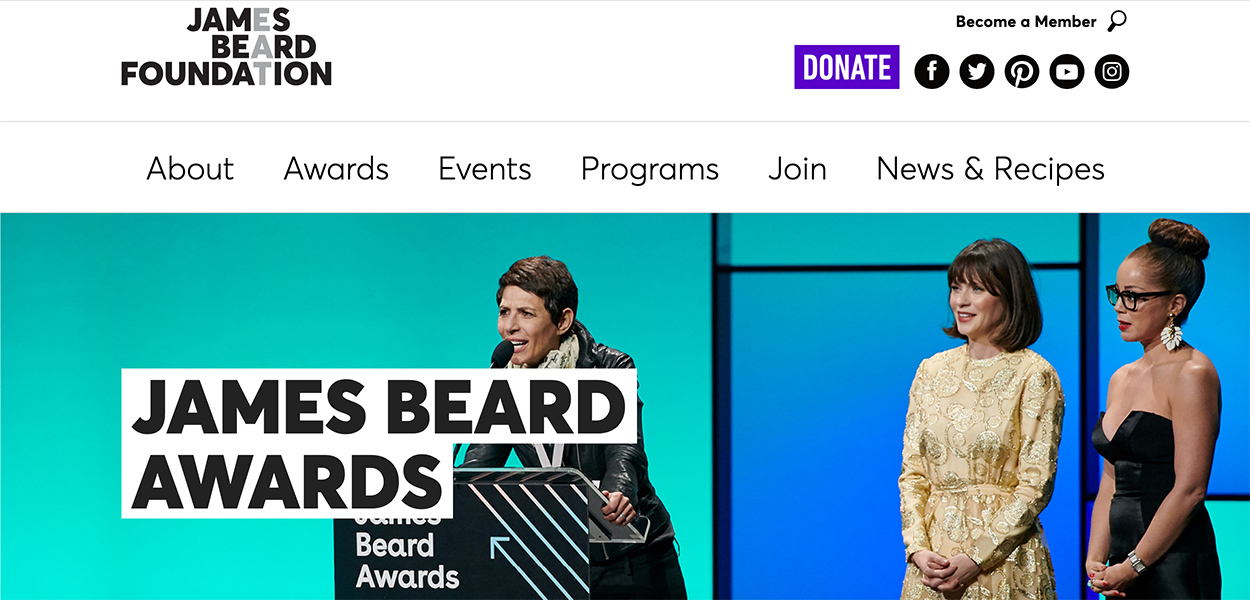 James Beard Awards – Professionals Only
The James Beard Awards are the Oscars of the food industry. They are absolutely and undeniably a big deal. While many people know about their "Best Chef" and "Best Restaurant" awards, some may not know that there are a couple food photography applicable categories as well. High entrance fees are part of the deal when searching for such high exposure and recognition. For both of the following categories you must have an extremely high professional quality to your work:
Best Cookbook: Photography: Only cookbooks published in the USA are eligible and you must be either the author, editor, or publisher (or have permission from them) in order to enter. Taste and Technique by Naomi Pomeroy is a good example of a previous winner for best cookbook photography. There is a slight trend towards a minimal aesthetic in previous winners, but really any style of photography could win. However, this award seems unlikely to go to an extremely edgy or avant-garde cookbook.
Innovative Storytelling Award in Journalism: Textual investigations published in periodicals or self-published may be submitted. The work must be journalistic in nature, but whereas the other James Beard journalism awards focus only on the writing of the article, this one considers photography, graphics, audio, and other elements. This nominated article on dive bars from The Washington Post shows what kind of multi-media layers the judges are looking for in the journalistic piece.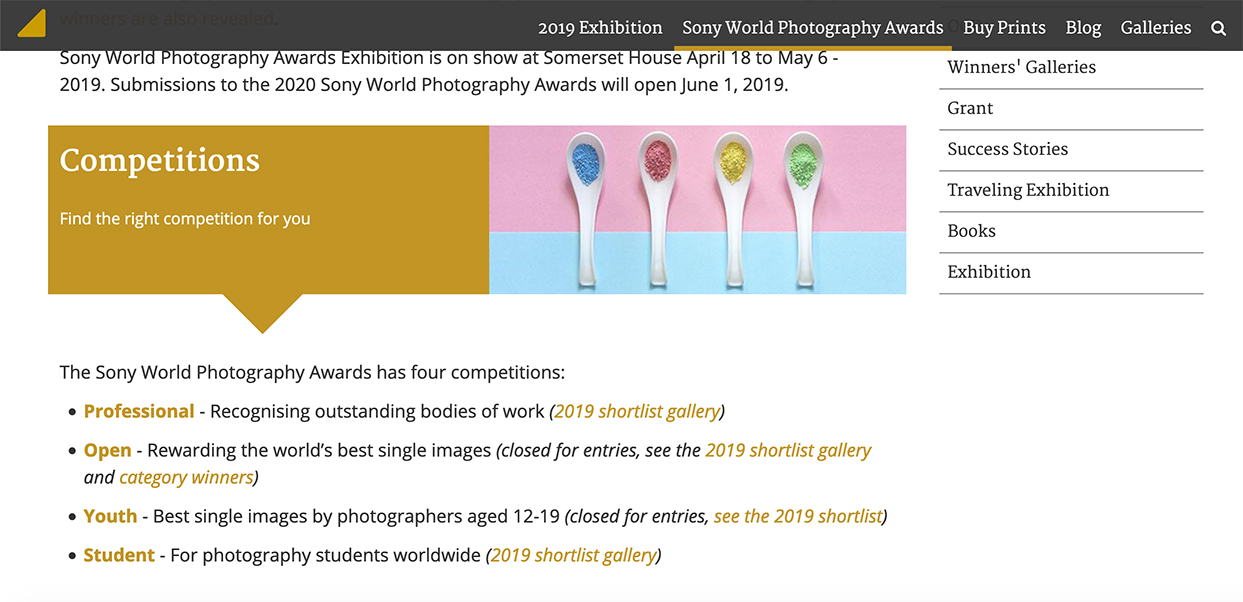 Sony World Photography Awards – Impressive Visuals and High-Quality
The Sony World Photography Awards contest has 4 sub-competitions: Professional, Open (for anyone), Student, and Youth (ages 12-19). Within the professional and open competition there are a few categories where food is applicable, namely creative and still life. In the first, conceptual, eye-catching food photos are rewarded. As for the second, Peter M. Madsen's still life photo series shows the judges' tolerance for experimentation within the traditional photographic genre. The overall quality of winning images is artistic, but also professional and crisp. Most have a specific concept and their tones and colors are nearly always interesting, fitting the mood of the photograph.
One big difference between photo contests is that some require a portfolio, while others, just a single photo. The number of images to be submitted to this food photography contest is 5-10. This is a great number to either show off a variety of aesthetics, or how skilled you are at photographing one idea or subject with diverse methods. With regard to international exposure, there is a unique facet to this competition. All shortlisted and winning photographers are included in a physical exhibition at Somerset House, London.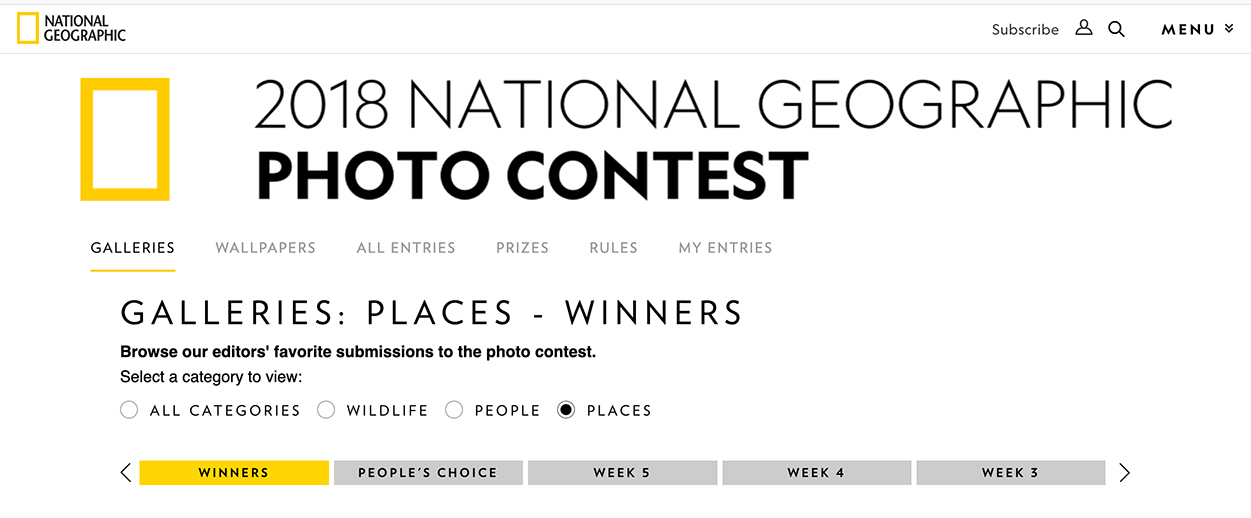 National Geographic – Intense or Intimate Moments
"We are looking for images that show us the world" says this famous publication about its photo competition. Well, food is one of the most talked about and experienced cultural subjects, and also ties into nature as a whole. There are three categories: wildlife, people, and places. We definitely don't think you should submit an advertising shot of a peanut butter cup, but food photography is definitely accepted to the people and places category. Food photography in this contest is basically limited to lifestyle, travel, and editorial. Food subjects that weigh in on social and environmental issues are probably going to get priority here. For example, a photographic study of coffee farms and their workers, or the world of insect eating as a protein source could be interesting, attention grabbing subjects.
One unfortunate part about this competition is that it is an extremely well-known publication and entry fees are very low. This means there are bound to be a huge number of entries. If you submit your image, it should be powerful and inspiring, probably presenting an idea about a current event or history of a specific place. Part of the image's uniqueness could be that it reveals, or exposes, something never-before-seen.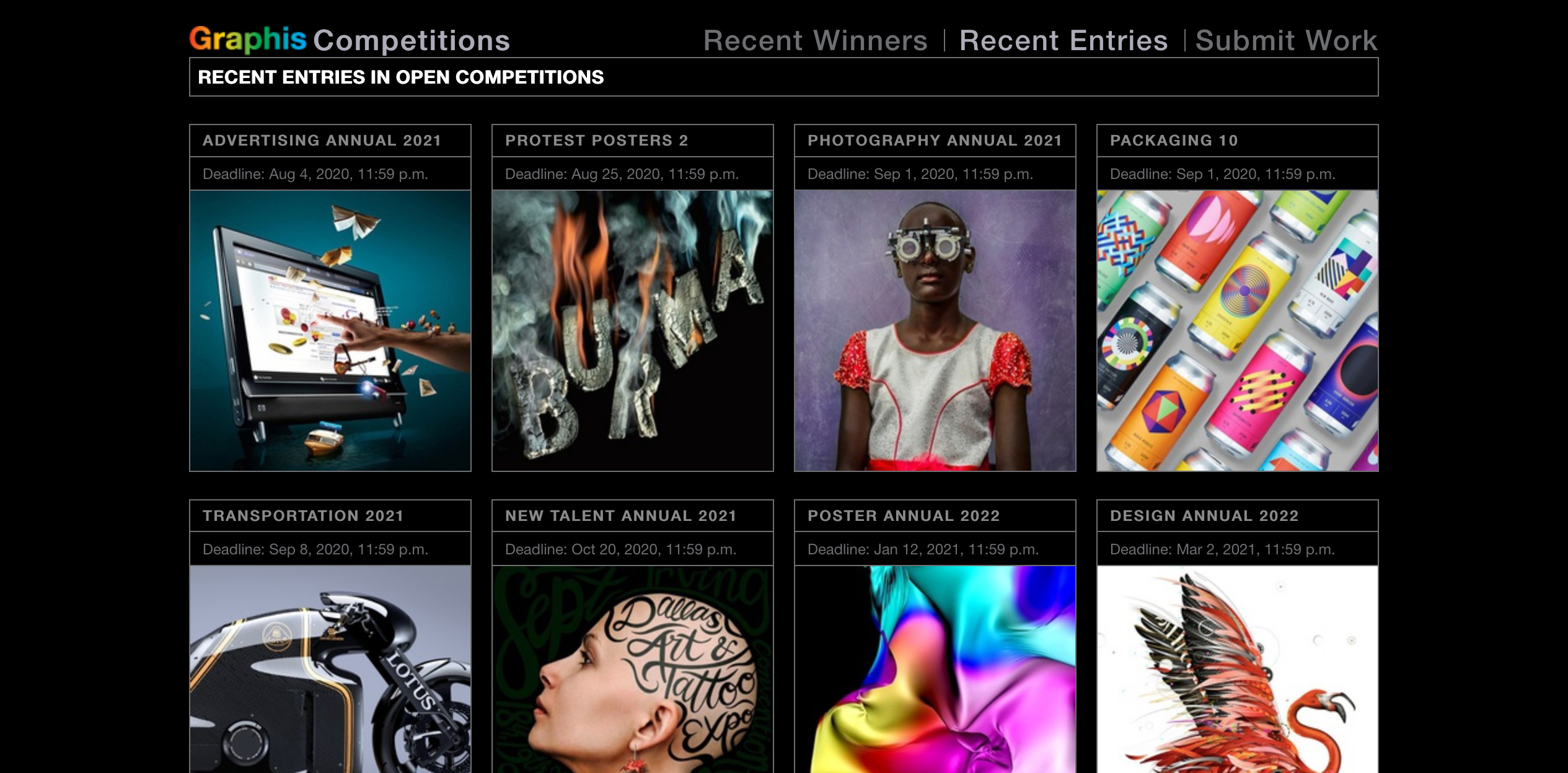 Graphis Annual Competitions – Stylish Food Photos, Design Emphasis
Definitely on the design side of things, but still having photography dedicated competitions, Graphis publishes annual hardcover books with the work of winners. These are widely read, as the brand's artsy magazine has made quite the name for itself, once again, mostly in the design world.
A food photographer could enter into the Advertising Annual, Photography Annual, and Poster Annual competitions. In all of these contests there is a definite trend towards colorful, stylish, and graphic images of food. A fruit salad with utensils in the background, shot from slightly above with a shallow depth of field, is not going to cut it. Instead, think about captivating textures, abstraction, and waves of splashing liquids frozen in the air. Interesting and graphic macro food photography shots would also fit this contest really well.
To enter the advertising and poster category you must be a professional level food photographer with an active commercial client base. The previous winners of the poster competition sometimes feature work for small galleries or lesser known organizations, but the advertising competition seems to be geared only for those shooting for internationally recognized food brands. The general photography competition of Graphis is the most open in definition, and the best choice for the majority of food photographers. Submitted images should showcase a truly unique aesthetic, a slight bit of experimentation, and/or stunning in-camera or post-production effects. Your reward is being published in a sort of coffee table book, great for displaying or gifting.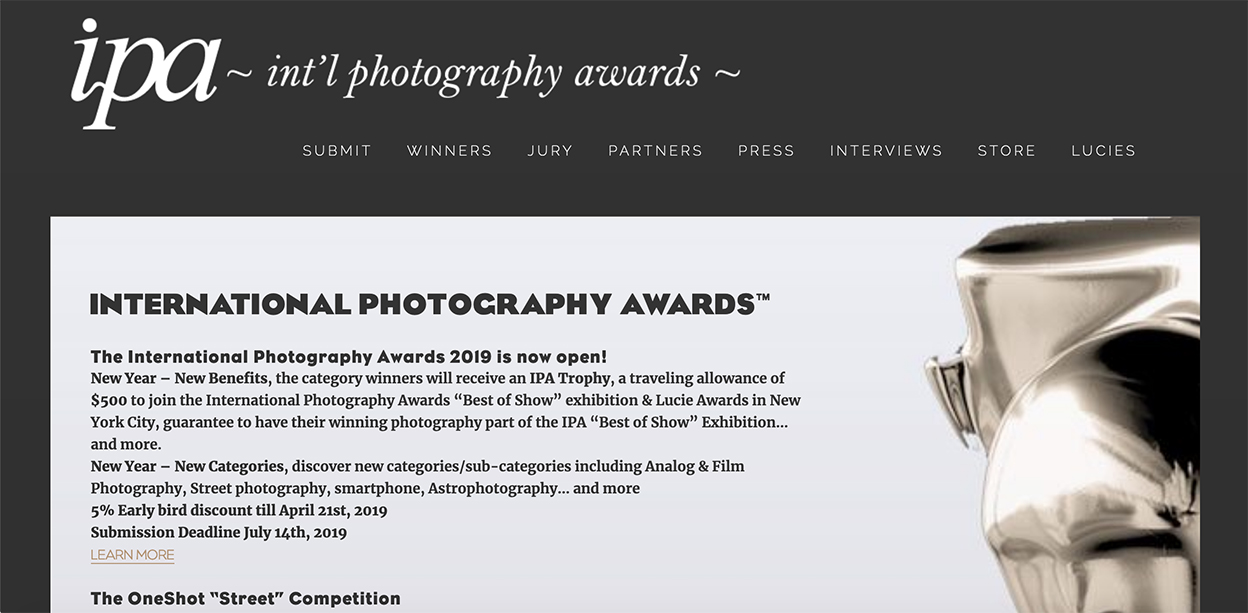 International Photography Awards – Variety, for Professionals or Near Professional
With pretty big cash prizes, a great reputation, and 13 distinct categories, this competition is a good one for nearly all kinds of food photographers to check out. Food photography can be entered to the following categories in both the professional and non-professional contest: Advertising Photographer of the Year, Analog/Film Photographer of the Year, Editorial Photographer of the Year, Fine Art Photographer of the Year. For further explanations of the categories click here. You will find, for example, within the editorial category they specify that environmental issues are an accepted topic, one also completely related to food politics and farming practices. The advertising category has a sub-category of food advertising.
The organization itself offers quite a bit of exposure, with an actual awards event and publication for all winners in each specific category. Last year's top three winners from the food advertising category have such distinct styles. One has a painterly still life look, the next minimal and graphic, and the last like a rustic contemporary cookbook. This means no matter what style of food photography you tend to shoot, there is a chance to win in this competition. But, high-quality technical knowledge is a must.
Pink Lady Photographer of the Year: Huge Variety
This is the most serious contest solely dedicated to food photography that has various styles and sub-categories within. Top prize in the Pink Lady food photography contest is £5,000 GBP, with many other cash prizes awarded for different subjects. There is a specific "Wine Photographer of the Year" and "Food Stylist of the Year" award, along with categories like wedding, street food, and food for sale. The way food photographers can choose which award to apply for, and the focused nature of each specific sub-contest gives you a better chance of making a big splash. They reward a wide variety of styles and previous winners are both professional and amateur. This competition is truly open to all food photographers.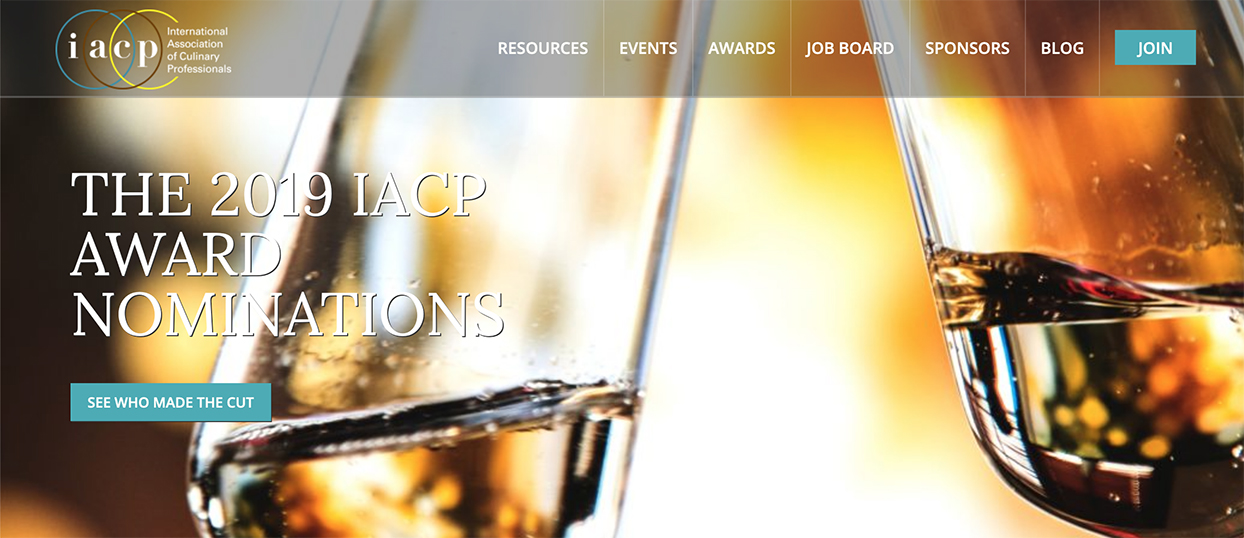 IACP Food Photography and Food Styling Awards: Traditional
The International Association of Culinary Professionals is a well-respected and popular source of support for all food jobs. Its members run cooking schools, write about wine, style food for photography, and more. Each year they present these four awards: Best Commercial Food Photograph, Best Editorial/Personal Food Photograph, Best Food Styling in a Commercial Food Photograph, and Best Food Styling in an Editorial/Personal Photograph.
Previous winners are all well within the definition of traditional food photography. Edginess and complicated lighting tricks are not necessary. Some people will feel their food photography is understated when compared to some of the shots on PDN's list of previous winners for example. If your prize-worthy image is a plated fillet of salmon and not a teetering table with an exploding salad, that's perfectly fine, this food photography contest is for you.
An amazing thing about this competition is that there is a nearly full month during the year when entries are free! Outside of these specific dates listed on their site, the fee is $25 for members and $30 for non-members. The prize is recognition from a revered organization with high visibility in the industry.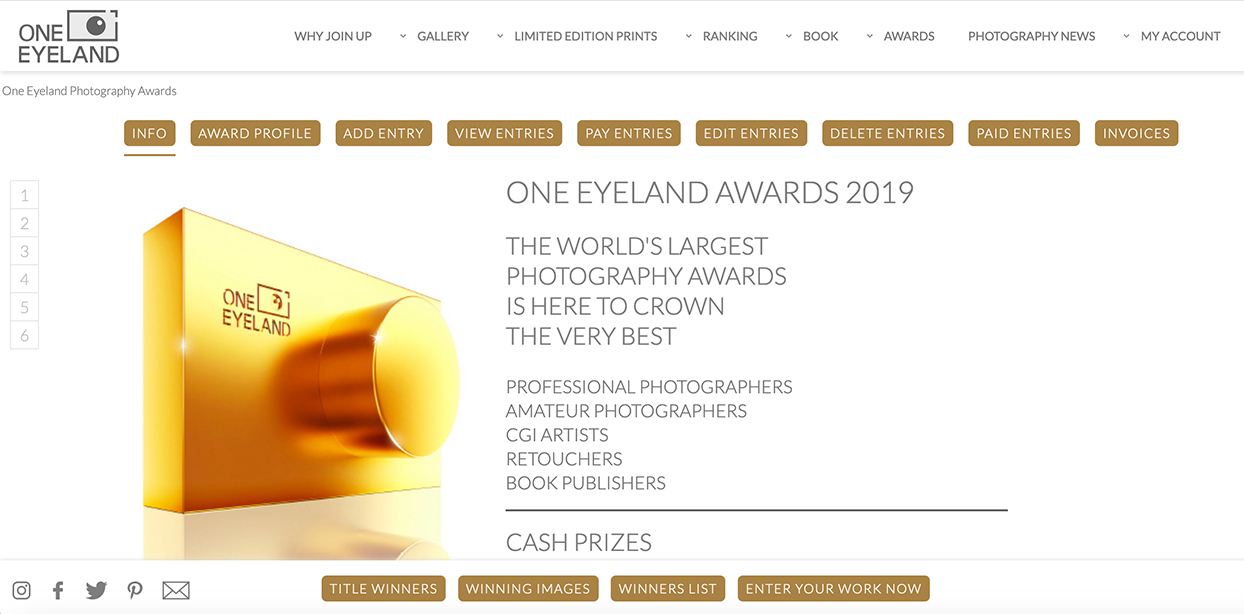 One Eyeland – Professional and Semi-Professional
This is quite an important contest for people who enjoy food as a creative subject, especially in still life realms. The awards of One Eyeland offer an opportunity to be showcased and ranked on their platform, on which many art dealers and gallery managers are registered. Food photography can be submitted to any of these specific competitions: Best Fine Art Photographers, Best Black and White Photographers, Best Advertising Food Photographer, Best Still Life Fine Art Photographer, Photographer of the Year People – Lifestyle, Photographer of the Year – Special. This last competition has sub-categories ranging from macro to holga to x-ray, giving you even more opportunity to find a perfect fit for your food photography.
One reason to give One Eyeland a try is because of how many ways you can apply and the fact they recognize overall winner and by each country. This means you have bigger chance to receive some kind of recognition. Winners tend to be more on the in-your-face side with visual effects than understated and calm. As always, take a peek at previous winners to see if your photography is applicable, but don't let the competition change too much what you think is a proper selection/editing.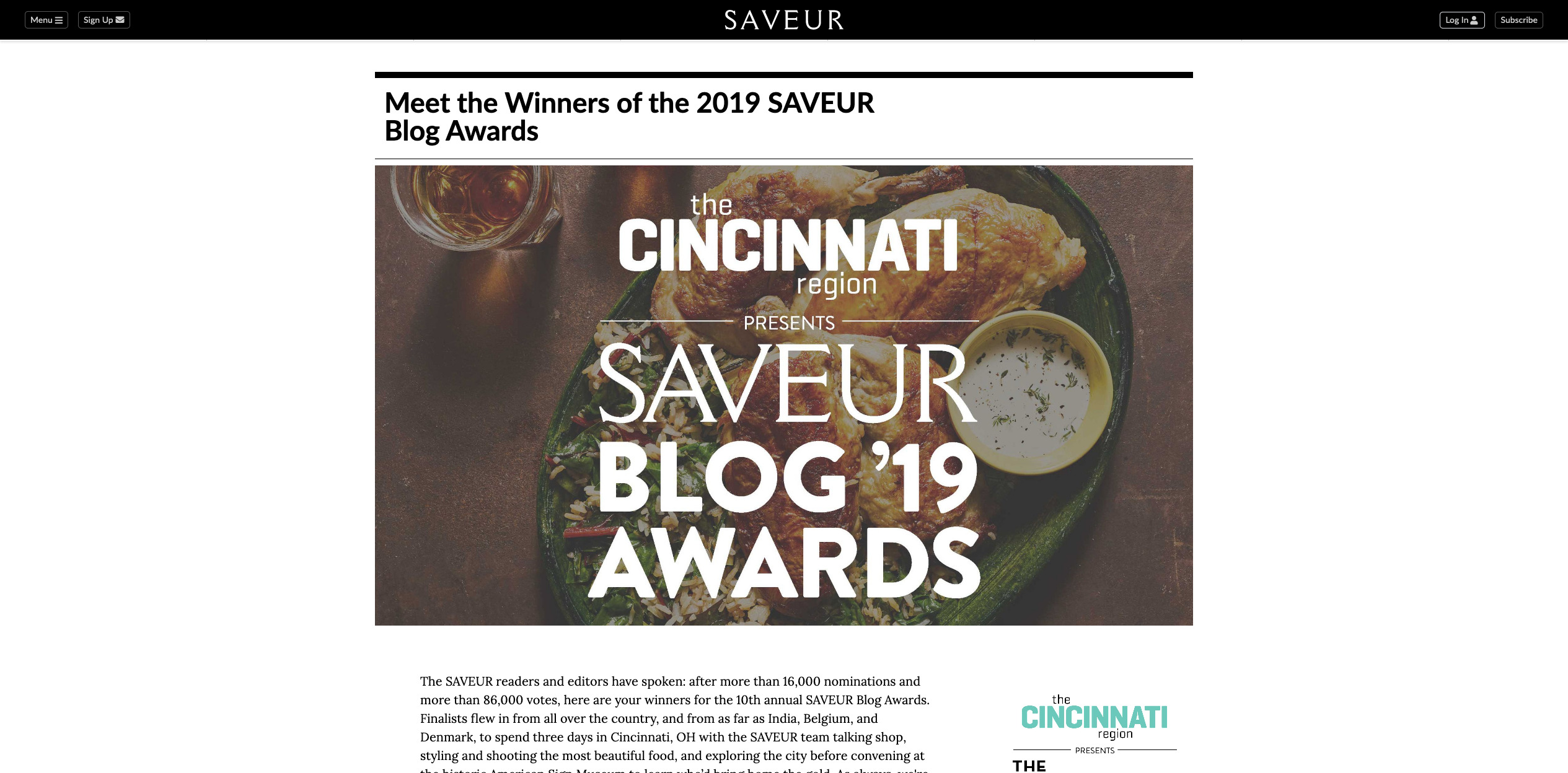 Saveur – For Amazing Food Bloggers
The Saveur Food Blog Awards include "Best Food Photography of the Year", which is a great option for photographically inclined food bloggers. The competitors in this food photography contest are reader nominated. If you have a blog with some fans, it shouldn't be too hard to motivate them to nominate you for the prize. The hard part will be impressing the judges and making your way to the finals.
The previous winners are really well-chosen. Typically, food photography on blogs is not as challenging and conceptual as fine art or editorial work. However, past winners of this contest are pretty creative food photographers with distinctive style. A small town cooking enthusiast who knows how to use a camera can gain international recognition because of these awards, leading to photography gigs at respectable food publications. In this competition it is not necessary to reinvent the wheel, but rather exhibit absolutely perfect compositions with contemporary aesthetics and subtle editing boasts. Usually the food photography here illustrates recipes or food stories created by these bloggers. Publish a post and tell your readers how important an award like this can be, encouraging them to nominate your blog.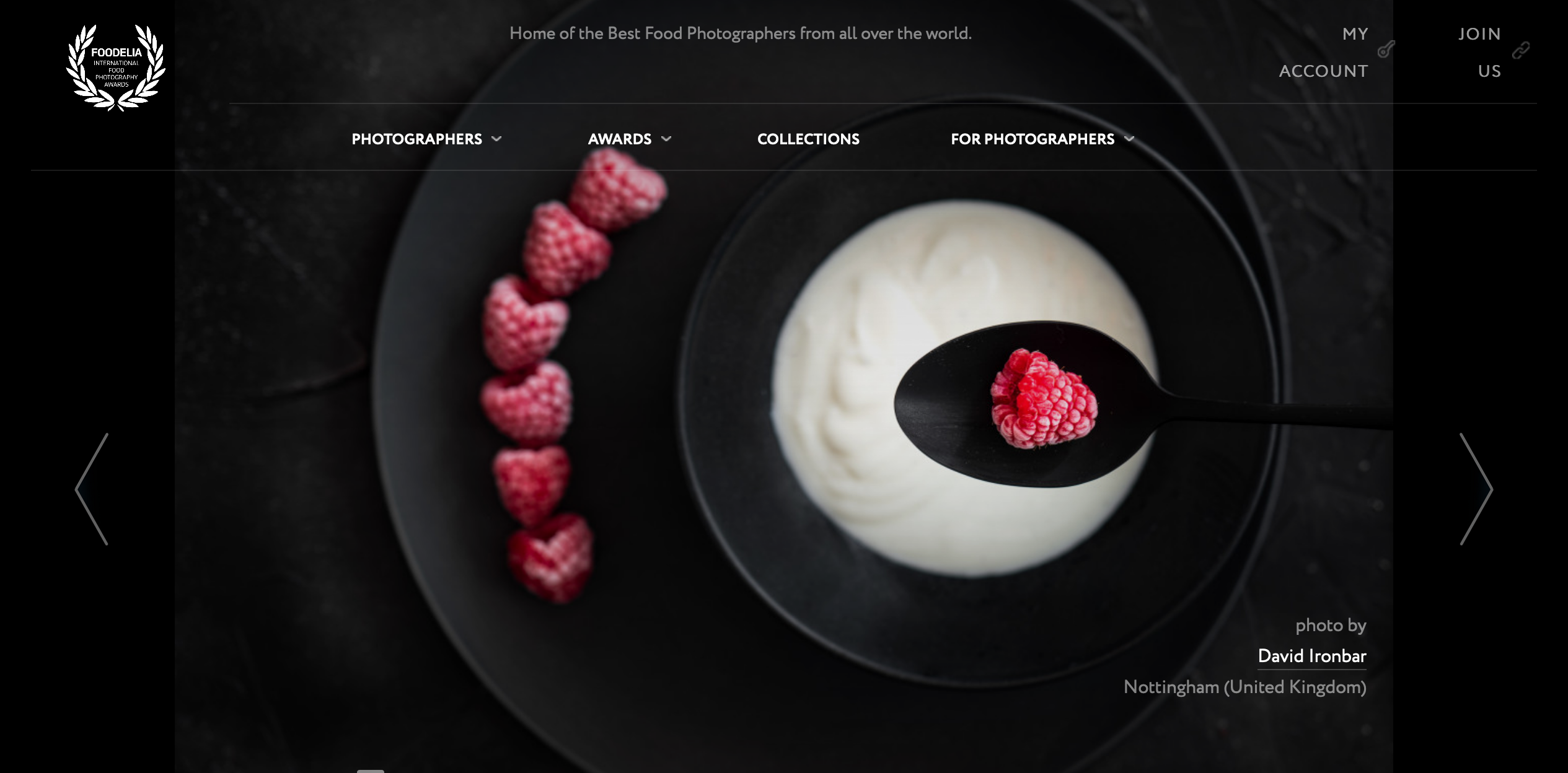 Foodelia – For Every Level of Food Photographer
And now for something completely different! The platform of the website Foodelia.cc is a food photography contest itself! Over 1,000 photographers from over 50 countries submit images for a monthly "Best of" collection. At the end of the year, they determine their top photographers based on how many awards they have won from the collection rounds each month.
If you are a member, there is no entry fee. Obviously Foodelia uses its competition to attract members, all of whom pay $89 for the first year of membership and $79 for each additional year. In return, you get a listing on their page, where creative directors and food companies will find you by location and your ranking on the site. It's kind of like the website functions as an agent or manager, recommending you (through their ranking system) to potential clients. If you're motivated by competition, Foodelia's monthly, year-round contests are the perfect way to challenge yourself and stay shooting, even in your down time.
Things to Keep in Mind about Food Photography Contests
In all cases, you will probably benefit and not regret participating in the right photo competition. If nothing else, you will analyze and hone in your photos, which you may not have done recently, definitely leading to some improvements and/or realizations. One thing to always think about is what kind of exposure the competition really offers and if your food photography fits. In terms of industry exposure and professionalism of imagery, there is a huge difference between PDN and Foodelia for example. As for aesthetics, those of One Eyeland are worlds apart from those of the IACP. Investigate a bit, but then get out and shoot that amazing image that's just waiting to come out!
Do you know any great food photography contests that we haven't mentioned? Let us know.
Suggested posts you might be interested in: