HELP to Build a Marketplace for Food Creatives & Clients | Phoode
Phoode is an online marketplace that matches food creatives with clients.
We need your help to bring the two sides together in a more efficient way.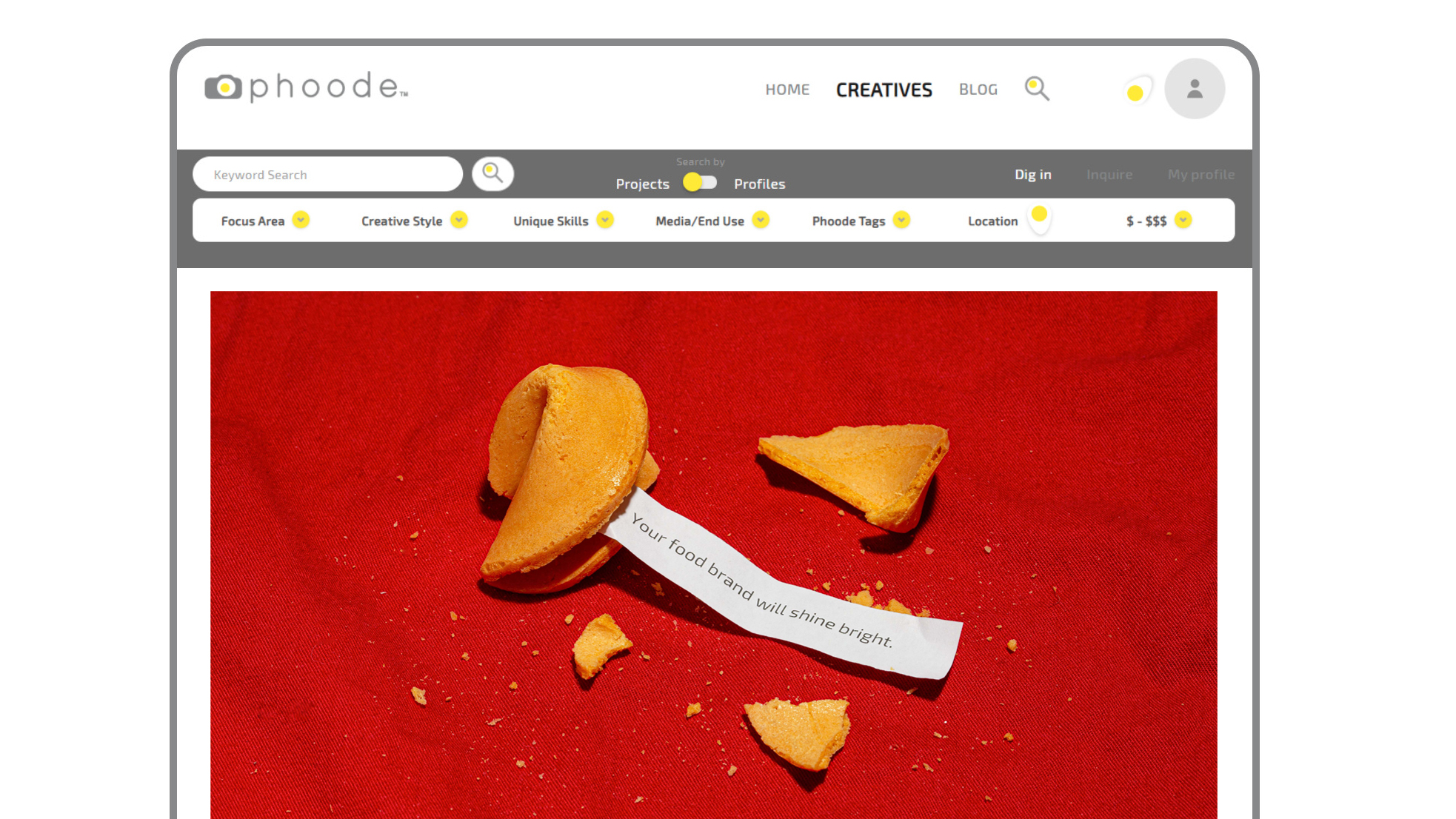 Why Phoode?
Times have never been better, or worse, for people who love telling visual stories with food.
On the plus side, there are more clients for creative work than ever before. The food marketplace has exploded. These days folks care about what they eat and their passions feed off of new brands, products, and recipes. Food manufacturers, retailers, restaurants, food and kitchenware brands need a constant supply of food content for their social media accounts. Furthermore, advertising agencies, design firms, magazine editors and PR firms are on the hunt for creative talent to produce high-end content and imagery.
There are also fewer barriers to becoming a food photographer, recipe developer, or any other food industry creator. An expensive degree from a formal culinary or arts school isn't the golden ticket it used to be. You can find creative tutorials in places like YouTube without going deep into debt. Creative communities like Behance or Facebook Groups provide the feedback that refines creative work. And rather than hoping an agent will represent them, creatives can use gig economy platforms like Upwork or Fiverr to find clients directly.
On the other hand, the gig economy makes things worse for food creatives by creating a race to the bottom that devalues quality creative work. Freelancing services and social media platforms treat software developers and food photographers alike. Generic profile and search tools limit how creatives present their work, making talent harder to find.
What is Phoode?
Launched in March 2020, Phoode is a sophisticated, technology-driven platform connecting food creatives to a hungry marketplace.
Phoode focuses on one thing: the creative display of and for food.
Phoode is specifically designed to serve the two sides of the food-creative relationship:
•
Creatives
who produce creative content and services focused on food.
• Clients in the advertising and food industry who need and hire talent.
Creatives span the entire range of professionals including food photographers, stylists, culinary artists, and designers at all stages of their careers. Phoode's clear focus attracts established professionals who see freelancing sites as damaging to their brands. At the same time, aspiring new creatives use Phoode to find clients looking for fresh talent.
Phoode hosts clients from across the food industry. These are the food companies, ad agencies, restaurants, and other businesses who need food visuals to support their marketing and editorial strategies. Many of these clients are established food brands looking for experienced creatives, but Phoode also hosts small food businesses looking to elevate their brand or marketing game.
Organic growth confirms the value of Phoode's core mission. In the five months since the launch, more than 18,000 people have visited the site, with a viewing average of 8 pages per session. Of these visitors, 12% have created a free account. All of this traffic occurred without any promotion. It's been a satisfying beginning, leaving us hungry for more.
Phoode – a Matchmaking Service for Food Creatives
Phoode's primary mission is to help clients find and hire the right creative. Unlike freelancer sites, Phoode optimizes profiles and search features for the food-creative industry. Creatives can tailor their profiles to highlight their particular set of skills and relevant creative food experience.

Whether a client is a big ad agency, legacy food brand or a local chef-owner, Phoode offers the fastest way to find talent best suited for their needs.
Phoode's search tools offer unique granularity that generic freelancer sites cannot match.
Clients can filter by profession, creative styles, skill types, and other food-specific criteria to quickly narrow their talent search. 
Phoode – a Community for Food Creatives 
Phoode also serves as an inspirational and educational hub for creatives and clients.
Whether they are established professionals, up-and-coming Instagrammers, or novice freelancers, creatives are always seeking new ways to grow. They can find that inspiration from other Phoode creatives. Community members share their latest work and insights into the creative process. Established creatives post practical tips for those just starting out.
While generic creative networks offer similar features, they serve the entire creative community. Phoode's focus on food creatives helps foster a distinct community of food artists.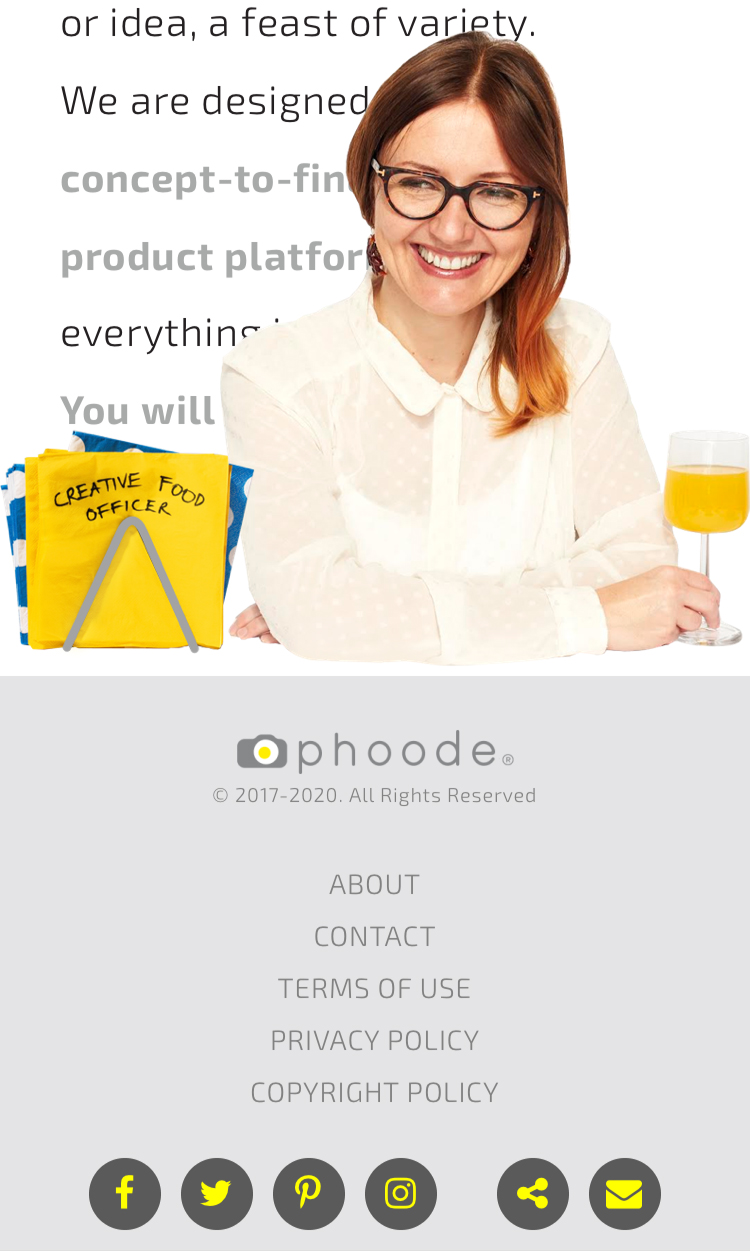 Who is Phoode?
I am Marta Fowlie, the founder and Chief Food Officer of Phoode. I followed an unconventional path to becoming a food creative. Born and raised in Poland, I started out in sociology. But I wanted something more creative and entrepreneurial. After arriving in the United States in 1999, I set out to become a food stylist and photographer and built my business, Food Polka.
As a food creative myself I have worked with clients big and small that had various levels of experience and budget. When mentoring young creatives, I saw how they struggled in a gig economy that undermined what should have been sustainable careers. I recognized the need for a modern, specialized platform that could meet the needs of both creatives and clients. That is what drove my decision to design and launch Phoode. Phoode is my personal, passion project funded with my life savings.

My experience as a business owner taught me that I could not do it alone. I knew that I would have to oversee the site's creative direction, product and technical development, finance, marketing, and more. Since I couldn't do everything, I needed a team of specialists who could help bring my vision to reality.
That's why I asked Gary Cieradkowski to become Phoode's Art Director. Gary founded his own design studio after a decades-long career with ad agencies that supported iconic food and beverage brands.
Marcin Wrobel and Georgiy Prygov lead, respectively, Phoode's full-stack and front-end development teams. They apply years of experience in the software industry to running Phoode's systems, overseeing the development process, and helping evolve Phoode's capabilities.
Since Phoode's launch, many creatives and clients have made contributions of their own, contributing to the Phoode blog and actively participating in shaping the platform's future.
What Will Phoode Do with Your Contributions?
Your contributions will allow adding new, important features that will enhance the Phoode experience for creatives and clients even further.
For our creatives, we want to design specific portfolio styles for each profession. Food photographers, industrial designers, and writers need to display their work in different ways. Adding more portfolio styles will let creatives showcase their work in the best possible light.
Our clients will get even more powerful tools for finding the right creative. Your contributions will let us add a job posting feature. Clients will enter search for their specific requirements, and Phoode's matchmaking algorithms will recommend the most relevant creatives.
With your help, these two features will make the Phoode experience more rewarding than ever.
Your donations are a stepping stone in Phoode's path to becoming the hiring hub for food creatives around the world. Phoode will help creatives serve up quality content to sate the global food industry's ever-increasing appetite.
What Users Think about Phoode?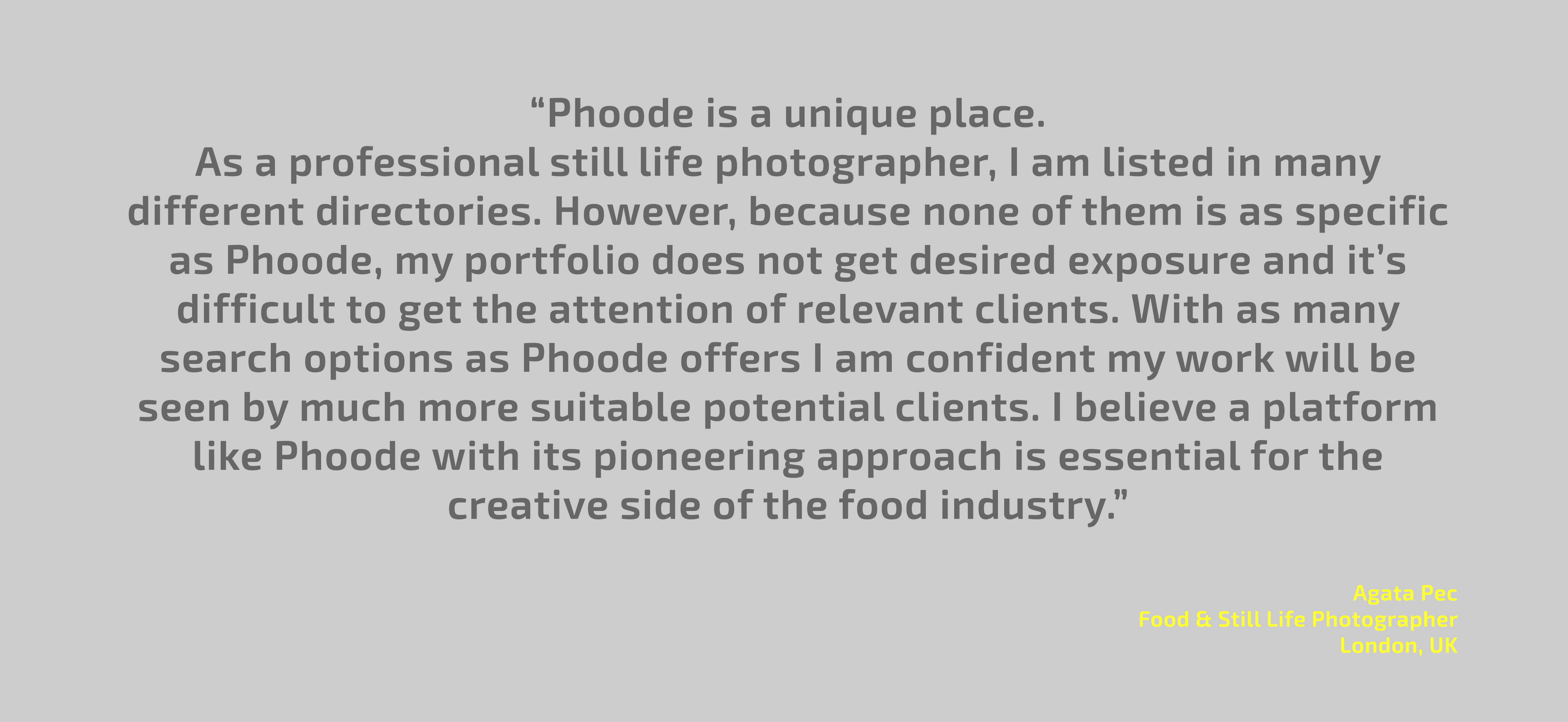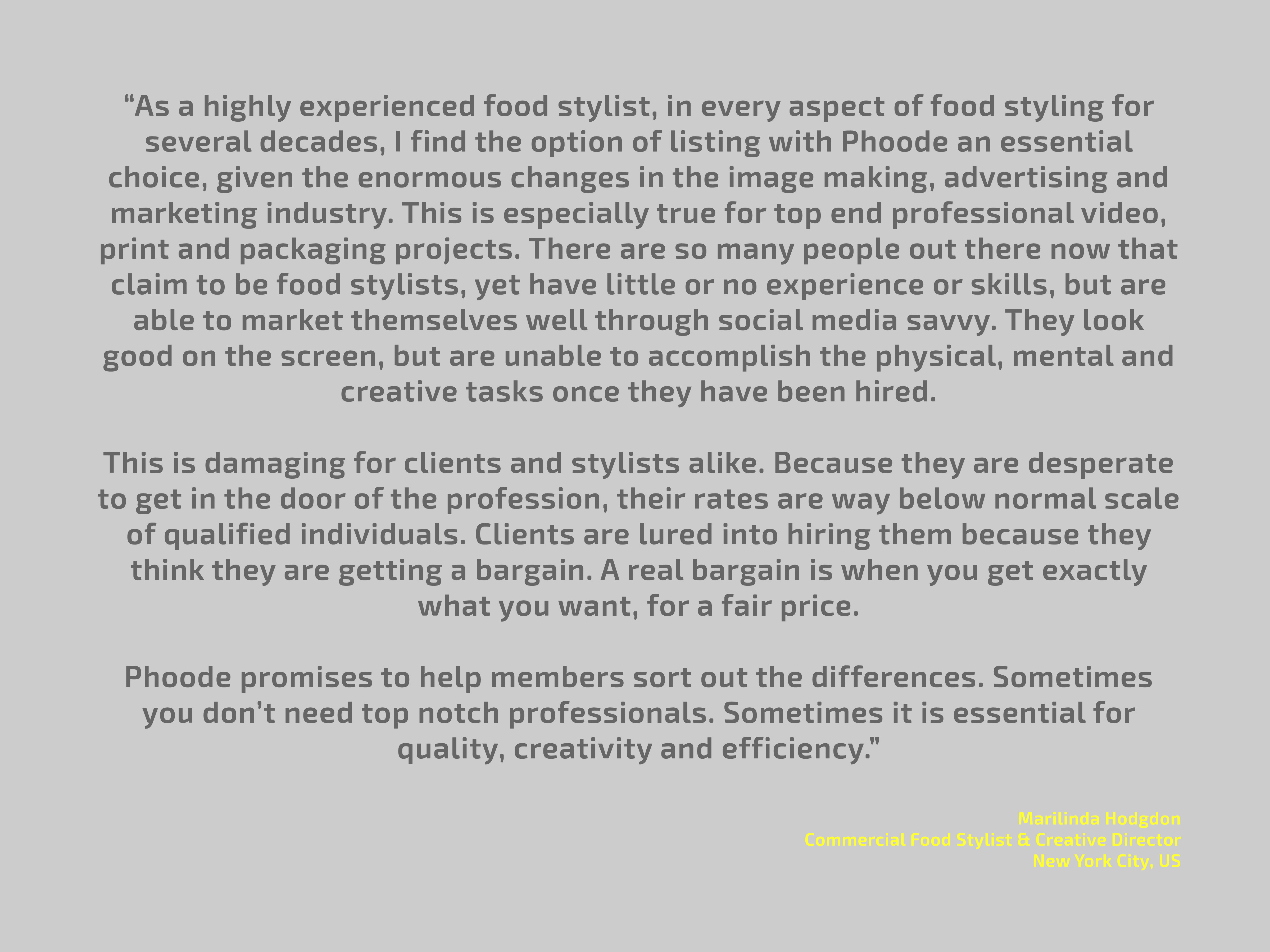 Help to Keep Phoode Going!
Suggested posts you might be interested in: