All You Can Eat in "Stock Food Photography"
Stock food photography [stɑːk][fo͞od][fə-tŏgˈrə-fē] (n.) – Photos of food, available for sale or for free, offered by commercially operated websites with varying copyright allowances and completely ready for use. The name comes from the idea that there is a large supply of images or a prefabricated "stock". Food businesses or individuals in the food industry can search through libraries of photos, by desired food subject, such as ingredients or dishes, to find visual accompaniment for their products, website, or promotional materials.
The stock food images are often generic, but can take many different styles.  Usually aiming for the greatest number of downloads by having mainstream appeal. In the era of digital media, the need for a constant feed of stock food photography has increased. Stock food photography is widely used not only on the Internet, but also in print. This is due to the relative ease of finding the right photographs at a low price when compared to hiring a professional food photographer.
Example: "Each time we expand our restaurant review website, we usually use stock food photography instead of hiring a personal  photographer. I can type 'empty cutting board surrounded by vegetables' and get exactly what we were looking for. In this case, I used the stock image as a welcoming header with white text over the blank wooden cutting board."
The Aesthetic and Intention of Stock Food Photography
The reasons someone buys a stock food photography image are varied, thus the images' aesthetics and intentions are as well. They are used in advertising food photography, editorial food photography, and more. A distinct characteristic of stock food photography though, is the amount of clip-art-like photos present in image libraries. This means photos on a simple white background with a single dish or single ingredient. Basically the idea is to present an image that is as objective as can be, the absolute definition of, for example, a pineapple. This style of image is not so nuanced but allows for many nuanced uses, such as being incorporated into a logo, turned into a pattern for a website background, or by itself to go with an article talking about the positive health effects and various recipes that just this one single ingredient offers.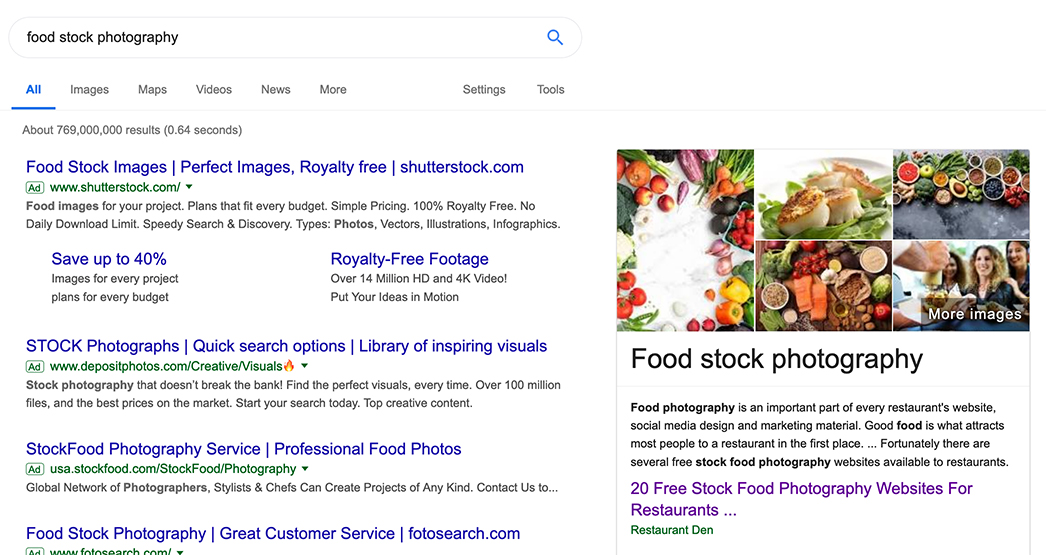 Also, many food companies and restaurants look for stock food photography on the web to use for designing packages, advertising and promotional materials, and illustration. Often they need an image that can accompany text. Many stock food photography images have large areas of negative space, on top of which the text of an article, the copy of an advertisement, or brand name/logo can go. A personal professional photographer would often be preferred, but because of time and economic constraints, stock photos are used.
In general, nearly all stock food photography images will be positive and friendly. Besides photos of isolated ingredients and images intended for text, flattering traditional cookbook style images are probably the most prevalent.
The Variety of Stock Food Photography Sources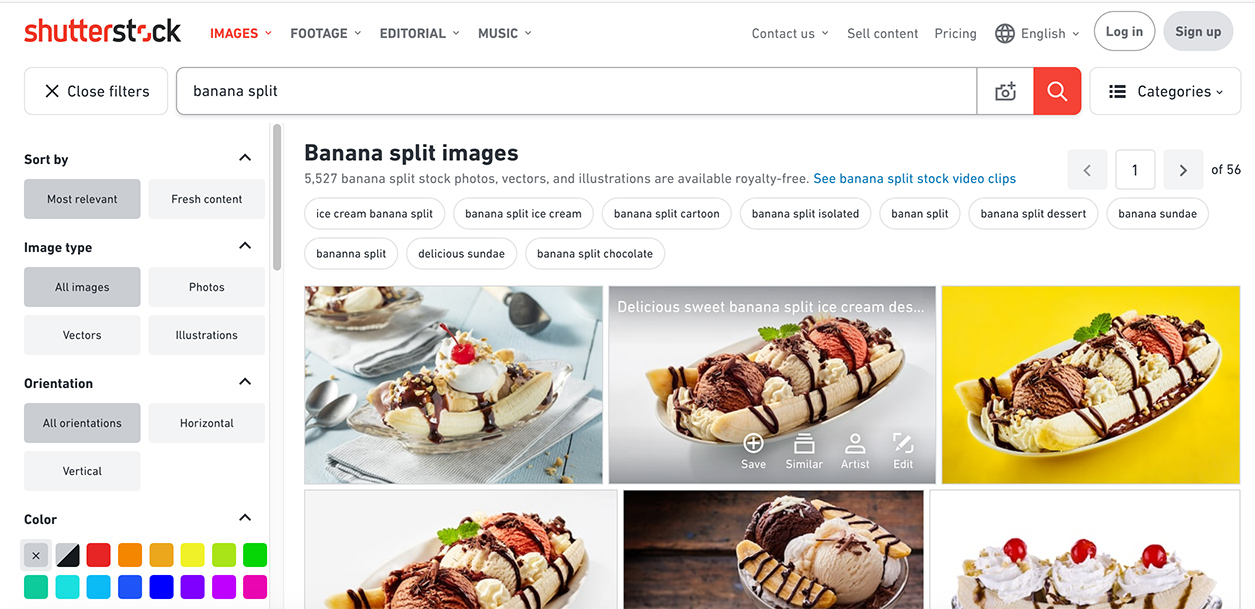 The stock food photography market is dominated by big names such as Shutterstock, who accept all kinds of photography and creative images. There are also stock food photography websites solely dedicated to food, although none of them come close to the size of the big multi-purpose sites. One reason for this is that people want to find everything in one place. Considering the amazing variety of food products and preparation methods, it takes a seriously large database to provide results for nearly every search. Also, the top names deliver a far superior quality control (in terms of resolution, color, and technical aspects) than some smaller competitors. For photographers, Shutterstock can be interesting because it regularly sends out a newsletter to contributors about the most popular styles of stock food images. Thus, strategies can be invented to target client needs and separate yourself from so much competition.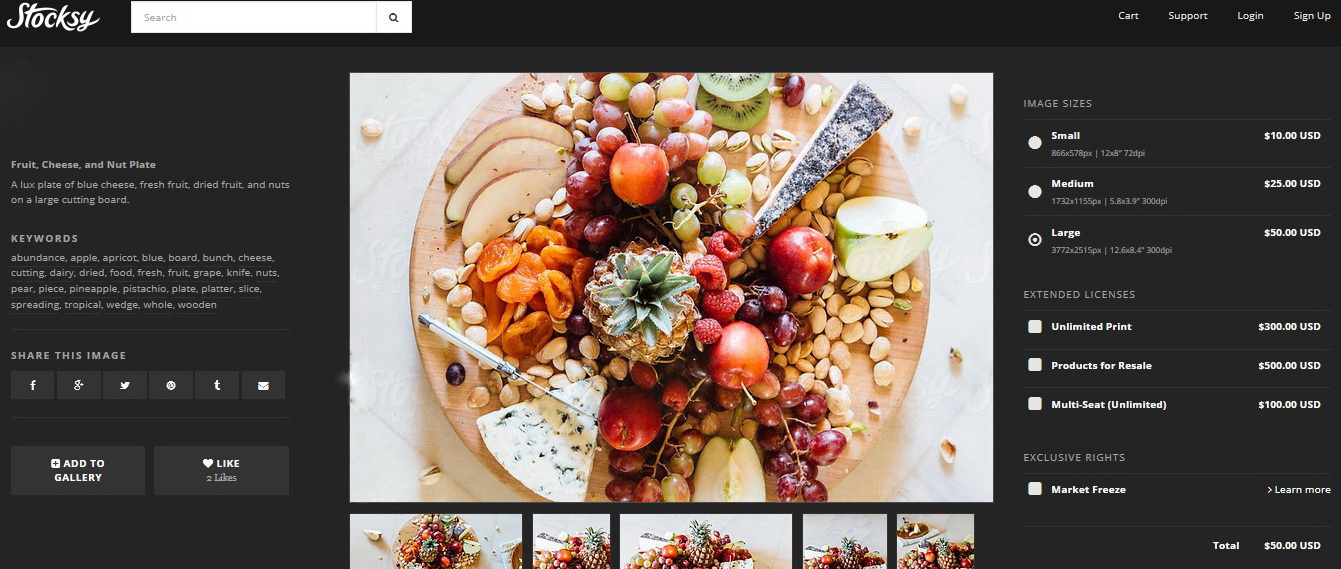 There are also co-op sites, such as Stocksy, where the actual participating artists run and operate the website. These websites are more selective in the food photographers they allow to contribute. Because these sites get less traffic, they tend to get known for a specialty that sets them apart. In general terms there is more emphasis on quality than quantity. Stocksy is twice as artsy as any of the big name stock food photography sites, its images more suitable for creative and editorial purposes.
Stock Food Photography Licenses
Those buying images on stock food photography websites can usually choose from different photo licenses (how you are "licensed", or allowed, to use the photo) with different prices. There are copyright-free and public domain photos (cost nothing and have no restrictions), royalty-free photos (have a price, but also freedom for multiple uses), and rights-managed photos (licensed for a limited number of uses and with other possible restrictions). Shutterstock's licenses for example, are royalty-free, but with varying allowances for the degree of professional use or maximum physical reproductions.
On many sites food photographs may also be purchased for your exclusive use, so nobody else will see that photo. Conversely, when using public domain photographs, the chances are quite high that someone has used the food image you are selecting in some way.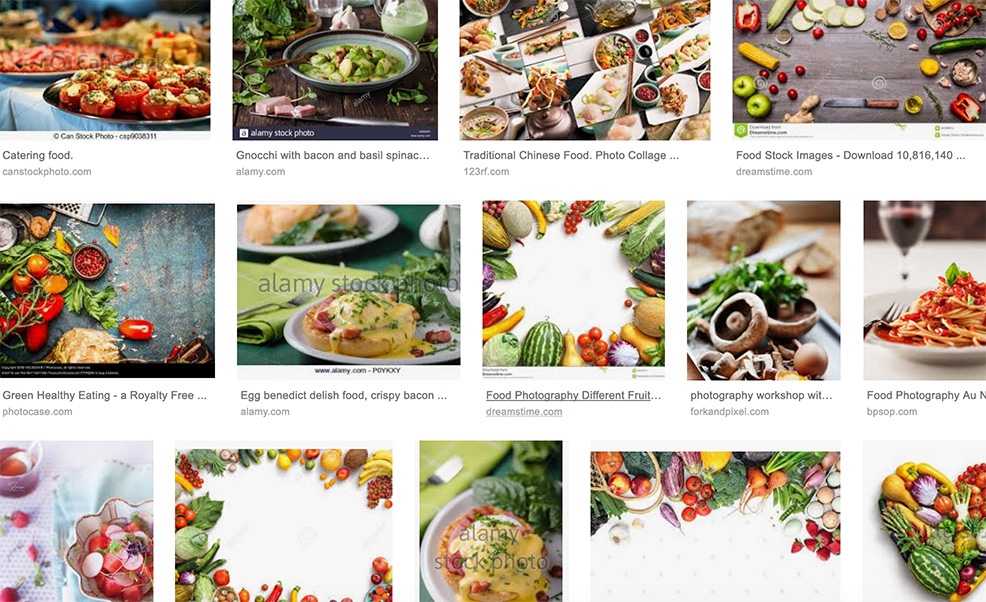 Stock Food Photography as a Career
As far as making a career of this gig, there is the chance that your popularity on stock photography websites could snowball, as photos can be sorted by popularity and eventually earn the status of "signature" or "popular" material, prioritized by internal search engines. However, most professional food creatives characterize stock food photography as a numbers game. The reality is you must shoot a great deal of food and culinary subjects and sell images often, especially if you are contributing to a major website that takes heavy commissions.
Are you a stock food photographer? Comment below if you have information to share with our food creative community. Or, show off your portfolio here to other creative food professionals by signing up!
Suggested posts you might be interested in: