Celebrating "Food Photography & Lighting" Book 10th Anniversary with the author Teri Campbell. Now & Then.
Teri Campbell is the creative lead for Teri Studios – a destination for consumer packaged goods companies, restaurants, beverage, and food-related businesses seeking original photography and motion work for advertising and packaging. He worked with iconic brands like Kellogg's, Baskin Robbins, Maker's Mark, Kraft-Heinz, KFC, and Jimmy John's. Teri has been named one of the best advertising photographers in the world by Archive Magazine and called a lighting master by PDN. He is also the author of the book: "Food Photography and Lighting: A Commercial Photographer's Guide to Creating Irresistible Images."
Phoode hosted a live conversation with Teri who's celebrating the 10th anniversary of his book "Food Photography & Lighting".
We elaborated on "what's changed" within the food photography market since the book was published.
Some of the subjects we discussed:
– The rise of content creation.
– Photographers becoming cinematographers and directors.
– Software and camera advancement – including AI- Teri's new fav subject 😉
– New marketing challenges.
– Changes in the creative process.
– Rise of YouTube as a learning resource.
We welcome the submittal of any relevant subjects for future episodes. Feel free to submit here and also subscribe for future podcast live podcast recordings.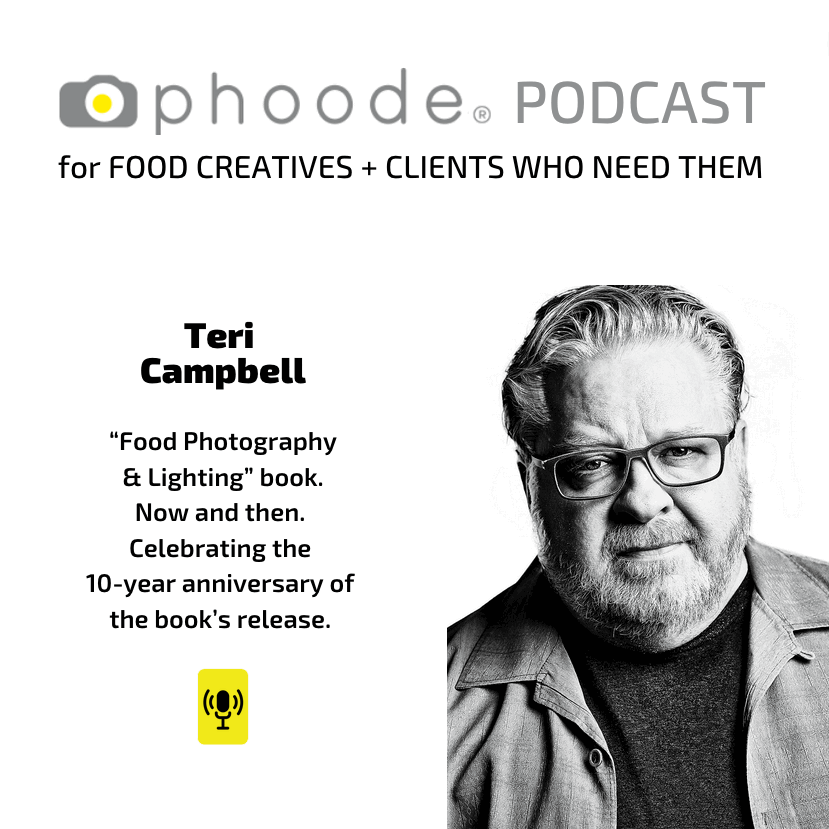 Suggested posts you might be interested in: