The Genius of Robert Mapplethorpe's Food Photography Lighting
Controversy has changed the way most people view Mapplethorpe's work. Although he tackles a variety of themes, often in a quite classical manner, he is known for sexually explicit photos that became part of a debate on what kind of art public money should support. Many didn't see his perfect balance of tones and composition because they were blinded by uncomfortable subject matter. Let's take a look how Robert Mapplethorpe lights food in his complex body of work.
A Figure That History Precedes
Immediately following his tragic death from AIDS, a retrospective exhibit entitled The Perfect Moment sought to solidify Mapplethorpe's place in the history of photography. The exhibition became subject of an obscenity trial against a museum where it was shown. Unfortunately it changed the perception of Mapplethorpe's whole career of work forever, highlighting only his sexually explicit pieces. Although these shots are amazingly important, he truly was a well-rounded classical photographer who realized not only numerous art nudes, but flowers, celebrity portraits, and food still lifes with stellar tone and form as well. As we analyze Robert Mapplethorpe's food photography let's notice the true pervasive themes and explorations of the artist, and the genius lighting techniques he used to present them.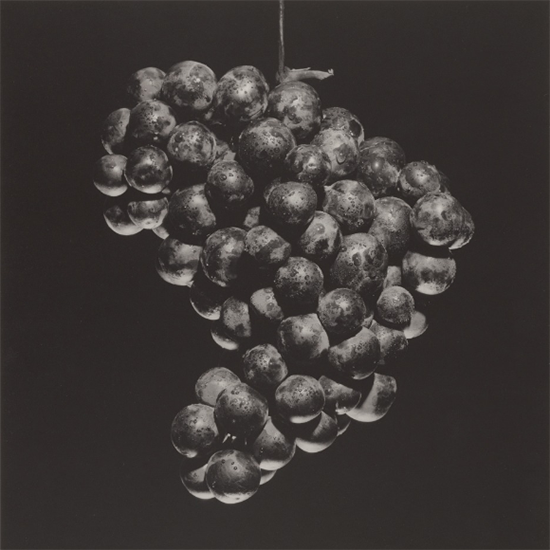 Classical Forms
In his portraits and pictures of the human body, the ideal of Greek Classicism is obviously present in his work, he even photographed numerous classical statues. This reverence to the ancient masters of compositional balance manifests itself in Robert Mapplethorpe's food photography and flower still lifes as well. Take the grapes above for example, the ones chosen for this picture have a special balance. They are not centered, nor are they sitting at the edge of the frame. The shape is bigger in parts and smaller in others, drawing the viewer's eye across the photo.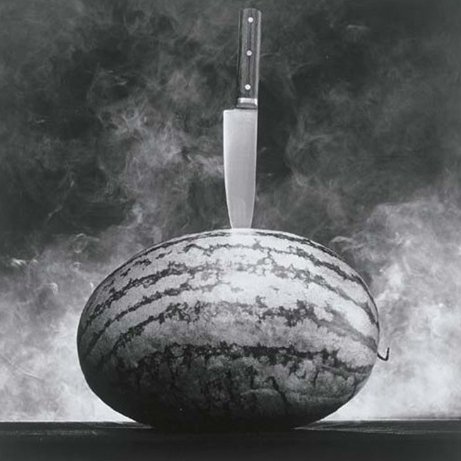 Superb Tones
In Robert Mapplethorpe's food photography, soft tonal ranges similar to masters of the black and white medium like Edward Weston are achieved. In Grapes, the variety of lights and darks on the luscious dark skin of each grape is fantastically captured, most definitely by using large, soft lighting sources. If photographed with the wrong lighting, a lot of these details would be lost, making for a single-colored off-black fruit against a black background. In other words, not so pretty. Photographing colors and tones against backgrounds they don't particularly stand out from is a tall task.
In Watermelon with Knife, although there is a bit more contrast, the smoke does wonders for the background. From nearly opaque white to silky gray it obscures the black background with smooth gradients. Just like clouds themselves, a classic example of a natural light diffuser, smoke, dust, or anything translucent has the ability to create sublime lighting effects. Compared to color, black and white photography undeniably allows the photographer to focus more on tone. For this reason, although color was widely available in his time, Robert Mapplethorpe chose to work without it. The use of black and white film, captivating lighting techniques, and a careful printing process ensure a smooth rendering of these subtle tonal differences.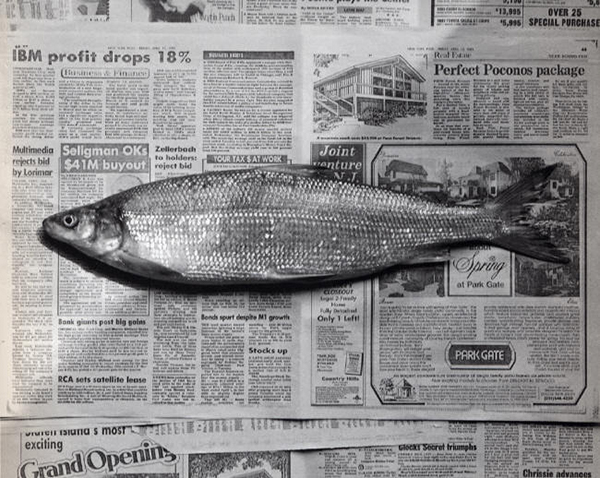 What You Can Learn From His Style
Food photographers interested in classical black and white photography must look at Robert Mapplethorpe's food photography and other still lifes as well. In addition to carefully executed tight compositions, they will find a standard for creamy midtones to strive for. Try using big diffused lights and translucent compositional elements to make an ordinary object look spectacular!
Suggested posts you might be interested in: