The Ultimate Guide to Vegan Food Styling Trends
As veganism rises in popularity, vegan food is appearing more and more in restaurants, advertising, and on social media. The ultimate goal of vegan food styling is to make the dish look as delicious as can be. Also, it comes with a whole different set of challenges than other kinds of food. First, for the tendencies of its form. Secondly, because the audience viewing the photos comprises a specific niche with a specific set of values. There are definitely some visual trends asserting themselves in the industry. We are here to point out a few, so you can have a jumping off point and be a trendsetter yourself!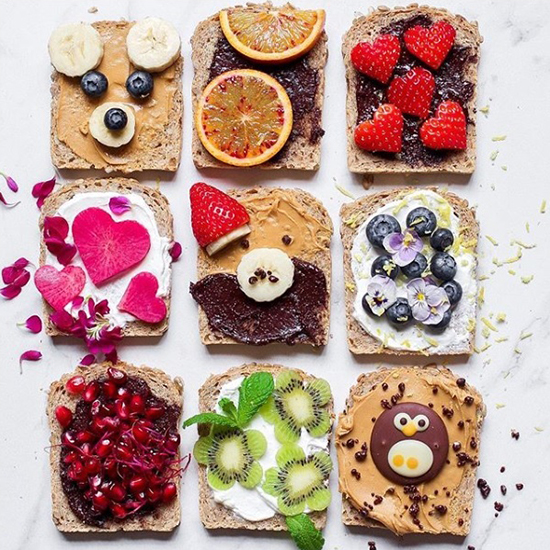 Bright, Crisp, and White
Let's start with a simple vegan food styling trend.  Nearly never, is vegan food dark and shadowed. Instead, the tendency is to use a lot of white and sometimes even overexpose a bit. The result is an atmosphere of purity, much like the food is supposed to promote as well. Many vegan lifestyle influencers talk about their yoga practice. Imagine a dark concrete room with people in black doing yoga. It just doesn't really fit, much like deep shadows in vegan food photography. Vegans want to see the positive health effects of their diet echoed by the positive attitude of the photo.
Although only three pieces of toast have a white spread underneath, all of them have very pronounced highlights. Peanut-butter is not that reflective, yet even it is shining quite a bit. Food photographers should not be afraid to overexpose or use bright light. When bracketing exposures, you may often select the brightest settings. This is because the colors will pop more, like the red of the strawberries above, and because most likely the dish will look more fun and healthy.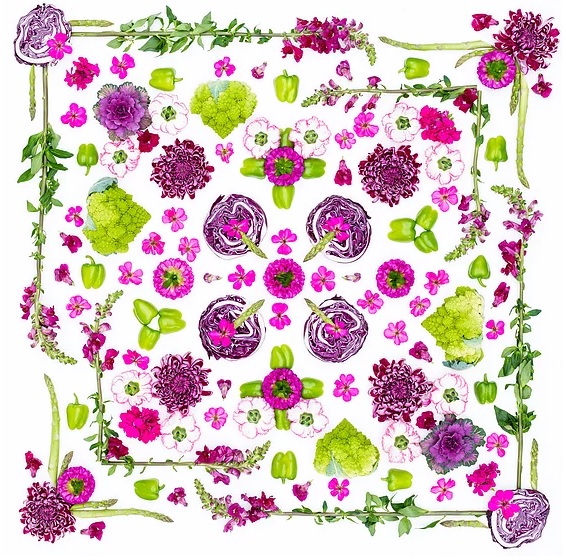 Graphic Design with Food as Pattern
What a lovely cabbage my dear! These raw vegetable mandalas remind of Art Nouveau decorative patterns, but with a twist. Everyday objects are included (red cabbage and romanesco), not just pretty flowers and vines. AMBA Living, Amber Locke, is a vegan/raw Instagram superstar photographer/creator who has found real fame. Her patterns are now included in a new line of Estee Lauder products. Just like fashion, our food choices display our personality.
The vegan demographic wants to buy products that show off their love of natural raw ingredients. Because food choices are becoming more and more specialized and important, patterns like this are very appealing to brands who want to offer an image the health food demographic can enjoy.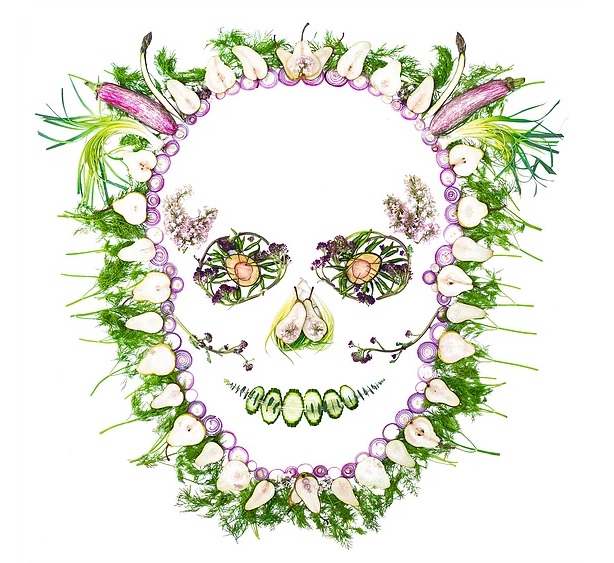 Creating non-food images with food can be found as far back as the 16th century in the work of painter Giuseppe Arcimboldo. Much like her abstract designs, this representation of a skull contains the same components, the dill making a really nice fuzzy border. The coolest part about Amber Locke is she cooks the ingredients of her designs afterwards and publishes recipes as well. So, we have a fashion company using a photographic print of a food sculpture and you are invited to cook up the ingredients featured. This is multifaceted art! Try to brainstorm interdisciplinary ways to use food photography like in these examples or those of another great artist, Peter Lippmann.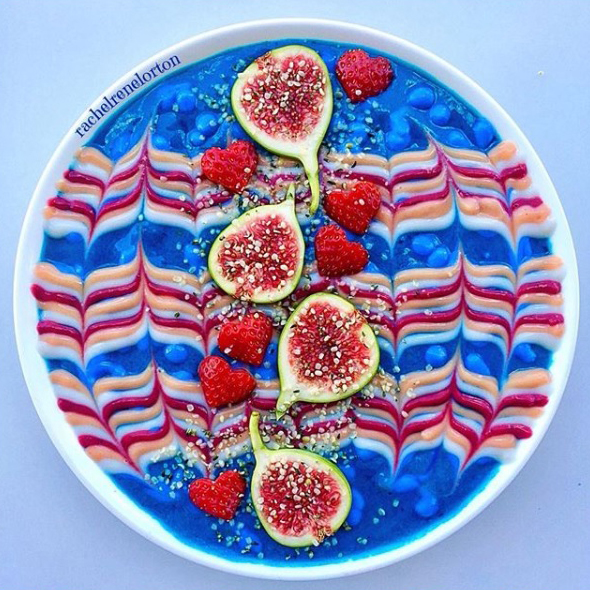 Whole Ingredients to Identify What's Inside
Food photography needs variety. A bowl of broccoli soup will not look very appetizing if all you see is green mush. Add a sprig of parsley, a drizzle, and viola! You've already improved the presentation, or styling, of the dish twofold. A uniform color, texture, or shape will nearly always end in an unappealing shot. Unfortunately, a lot of vegan recipes process wholesome ingredients into chopped-up salads, smoothies, bars, or patties to the point you cannot see the wonderful things it was made out of. Consider the smoothie bowl above. Ignore the interesting texture and color and focus on how much better the image is with the actual ingredients as the leading element in the bowl.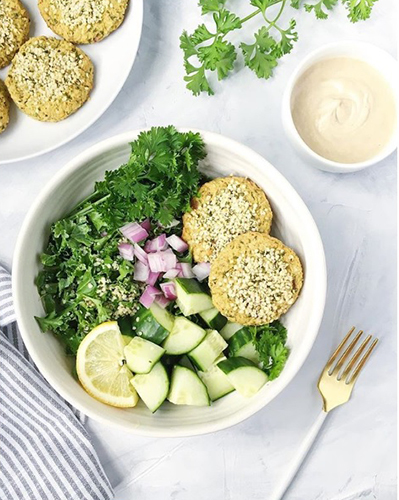 Add shape to shapeless salads by setting the raw plain ingredients on top. What's great about this shot is that it shows us the healthy stuff in the salad, while leaving a bit of the actual mix beneath untouched. There are a variety of sizes as well, from the small seeds, to the pieces of onion, to the chopped cucumber and the lemon slice. This vegan food styling trend does more than just show the ingredients off, it ensures dynamic elements within the photo. It's also a fun way to eat! Some lucky vegan can cut and mix the falafel ball however they please.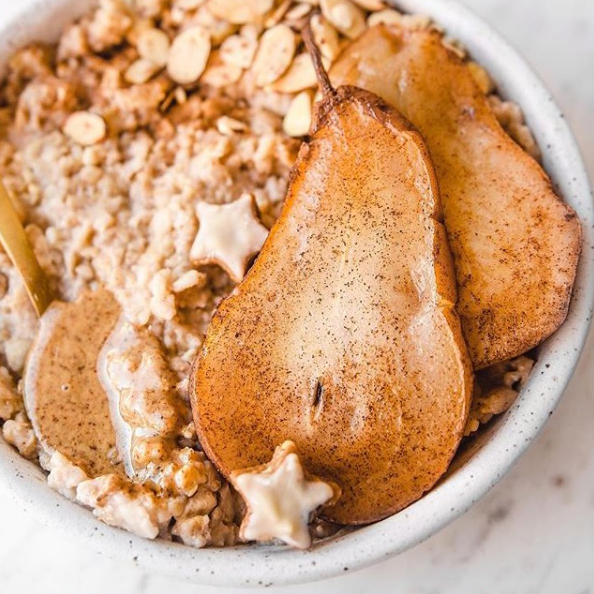 A fat half of a pear yells out its flavor from the tasty porridge. It seems as though the ingredients are sort of falling back into the dish from there, dissolving in the process, creating the dish themselves, while the indication of the ingredients is conserved. Another great element is the cinnamon which adds to the variety of textures and shapes. One thing is for sure, the presence of a large piece of pear anchors the composition and makes the food look tasty.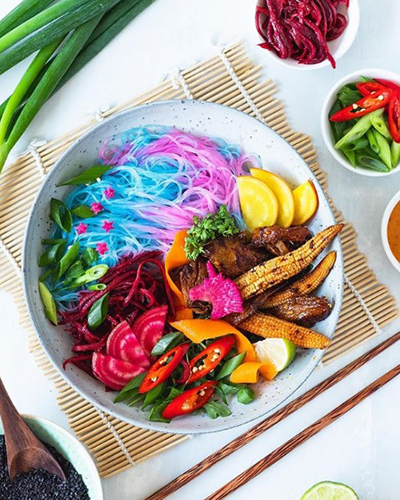 Surprising Colors
Not just vegan food photography is obsessed with bright food colors. However, it does seem to be a much bigger trend with vegan food than non-vegan. Jason Tjon Affo runs The Indigo Kitchen vegan lifestyle blog and frequently uses great color in his recipes. The noodles above are a very surprising color derived from purple cabbage and lime juice. For non-vegans the thought of eating vegan food isn't so attractive, but when the food has so many colors it instantly intrigues.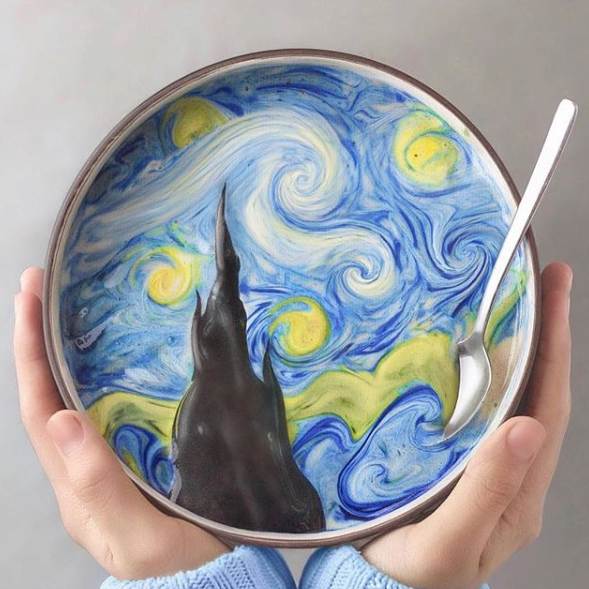 Vegans introduced fluorescent colors to food. Moreover, they committed the "faux pas" of using blue with food. Because vegan food lacked a long tradition of standards of practice and started as a sub-culture, its food styling had less limits. Latte art takes an art history class and goes to a smoothie bar in this recreation of Van Gogh's starry night (above). One danger of using the vegan food styling trend of intense color is crossing the line into the unreal. The photo above is sitting right on that line of food and something else entirely, not natural, not healthy.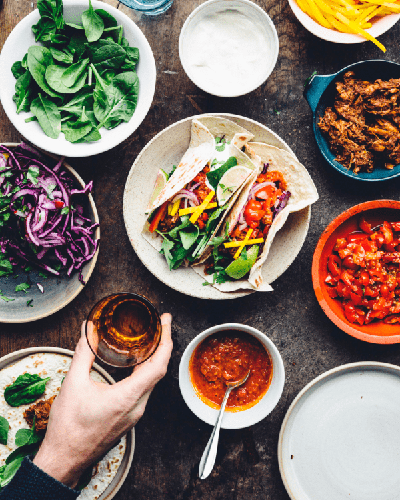 Raw Wood as Background
If you read through Vegan Life Magazine, a high percentage of shots are staged on a wood table. Not just any wood table, but usually an unpainted and somewhat splintery table. The reason is it underlines the raw and natural state of the food. Their audience values natural products, so an old wood table pairs better with their food tastes than a smooth polished black surface. For a magazine, their readership will determine if they employ this friendly vegan food styling trend, or a sleek modernist look instead.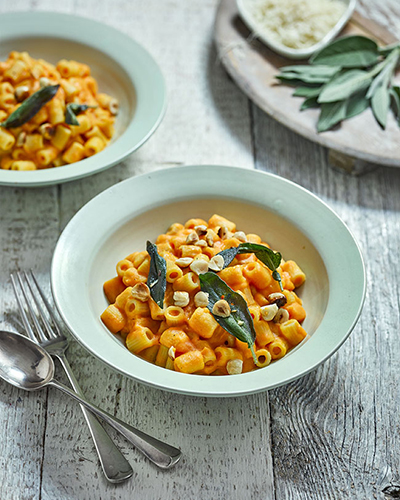 This example (above) was taken from the magazine Vegan Food and Living. Not only do natural materials echo the wholesome qualities of the food, but also the home cookin' look. The setting and background are monochromatic, while the food is bright orange. Looking for these kinds of contrast between foreground and background will help increase the visual importance of the dish. One quick last thought: it is important  to differentiate between rustic and dirty. A background is supposed to stay toward the back and if the texture is in-focus, rough, and covered in dirt and moss it will distract.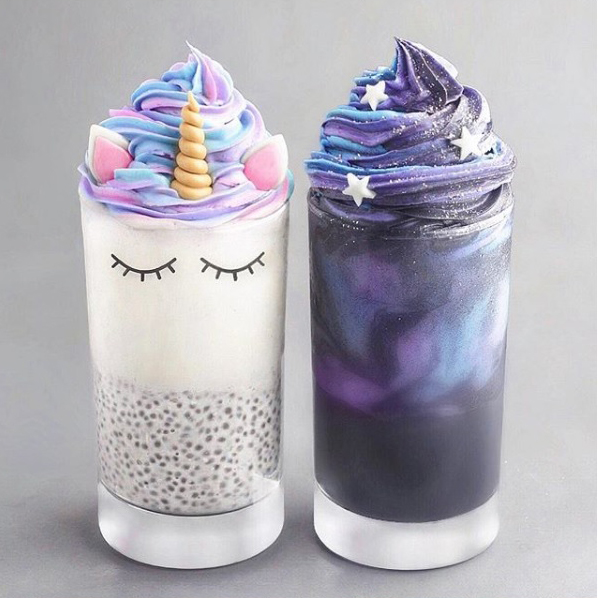 Unicorns and Cute Stuff
Part Hello Kitty, part Jamba Juice, these wild creations are all over social media and young people especially seem to be eating them up. One reason cute and innocent imagery could appeal to a young vegan crowd is because vegan culture emphasizes compassion and positivity. The color in these smoothies comes from blue spirulina, pink dragonfruit, and activated charcoal. Young Peruvian social media sensation Jose is a quintessential example of this kitschy vegan food styling trend. Another reason this vegan food styling trend has developed, is that people photograph their food all the time. With the amount of images people are seeing, the demand for innovative new looks increases every day at a nearly limitless rate.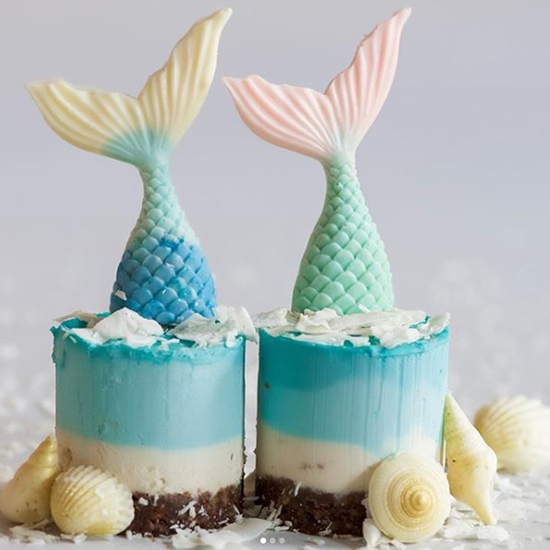 Inspire Your Own Vegan Food Styling Trend
These vegan food styling trends have all proved to be successful. They have helped launch stylists, photographers, and designers into fame. One source of inspiration for the food creatives mentioned in this article comes from other art mediums besides the culinary and photographic. We have seen influence from painting, graphic design, interior design, and popular culture. There is definitely no guaranteed way to get inspired, but thinking about remixing old ideas, or combining two things you've never seen together is a good start. When following a trend make sure to put a new touch on it, make it your own. In the process you might even come up with a never-before-seen style!
Suggested posts you might be interested in: