A Drive-Thru of a McDonalds Film Set
While all 36,000 other McDonalds restaurants are open for business, this one is the exception. The general public isn't allowed inside. And for good reason. McDonalds is clever to keep this location hidden…
I was up before the sun and found where my parked car was: only 4 blocks away from my apartment. Not bad for a residential area on the Westside. I was going through my regular mental checklist as I turned the ignition. I had my gloves, leatherman, and began pulling up the saved address. It was a shoot day which meant I had already checked routes and approximate drive times offering the best ways to beat morning traffic. Today the destination was further away than usual so I wanted to give myself plenty of extra time. I pulled my sunglasses down as my car merged onto the 10 heading east. For the first leg of my drive, it was as if the highway flowed straight into the sun.
An hour later, in a seemingly uneventful area of east LA I pulled up to an iron gate and waited for entry. The gate rolled back and I chose one of the many empty parking spots for my car. Gloves and leatherman on my belt
From the outside the building, it was a stereotypical fast food restaurant. The red roof, drive through, and Golden Arches towering over the lot were all unmistakably present. The insides were even more believable. There was a full kitchen, service counter, and dining booths. I had to hand it to them, it was certainly convincing. That is, convincing so long as you didn't look up. If you did, you'd quickly notice the web of Hollywood lighting rigs entangling the entire ceiling.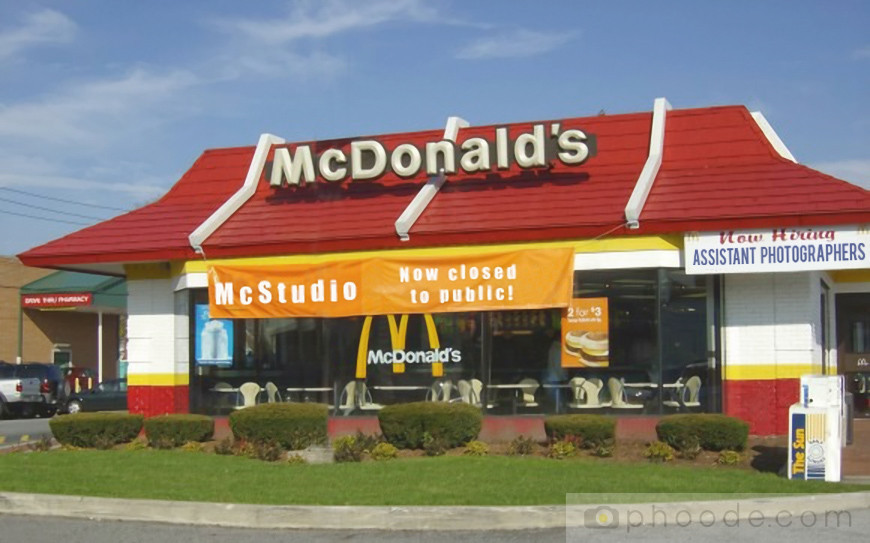 What appeared to be a regular run of the mill restaurant was in reality a full service McDonalds film set engineered from the ground up for photo and video production. The dining booths were completely articulated and could be assembled into whatever format was best for a scene. Hiding behind the counters were giant outlets that could supply enough electricity to power 18,000 watt Arri fresnels. While that kind of firepower was overkill for today's production, we had plenty of equipment of our own. We had reflector boards, giant umbrella modifiers and enough wireless Profoto heads to simulate the strength of mid-day sun pouring through the windows. We didn't need to wait for the right time of day to shoot beautiful window lit scenes. We created the right time of day.
As the day progressed, we assembled a variety of huge light modifiers – some up to eight feet wide – and positioned them about the restaurant to create the most flattering light possible. Whenever a model bit into a juicy double quarter pounder, you could be sure they never looked better with secret sauce running down their chin.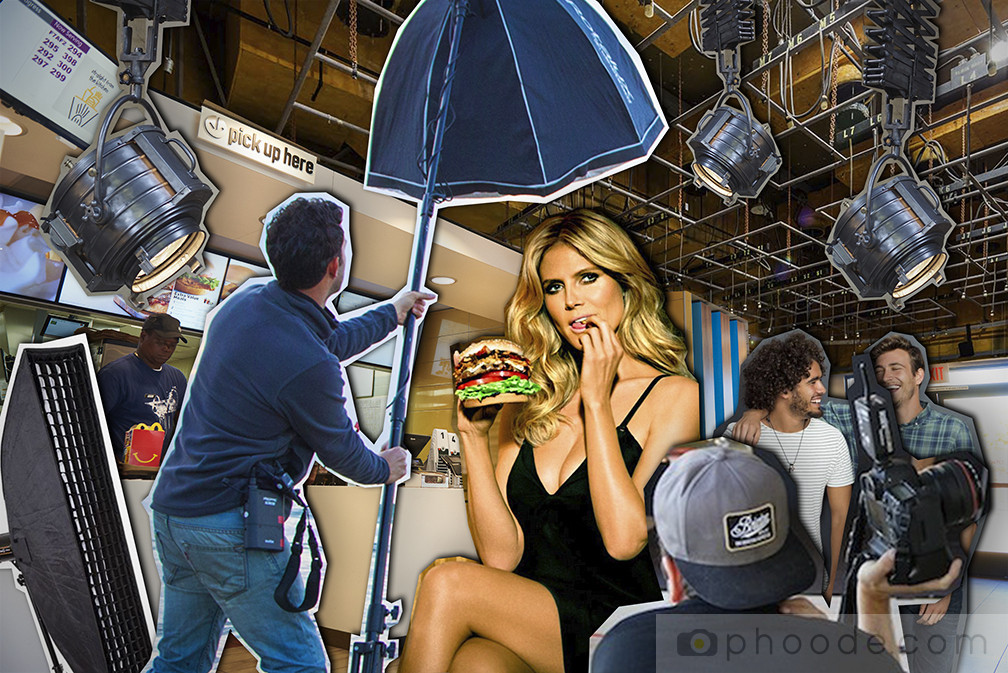 After ten hours of shooting lifestyle, we were satisfied with our results. The McDonalds art director was pleased with the photographs and confident we had helped achieve the new direction McDonalds was heading in. It was a much more natural look, one in which the food divorced itself from traditional styling– immaculately polished without a fry out of place – to a style that had room to breathe and was comfortable in its realistic portrayal. The models too weren't rigid or over-directed. Instead, they interacted freely and brought genuine moments of play and spontaneousness to the production.It had been pretty fun experience to work at McDonalds film set. We came together as a team and brought the vision of our art director to life. The entire crew pulled their weight and everyone had great attitudes. Often times, this is hardly the case. But if I had to guess, I'd say the unending trays of hot french fries throughout the day may have been a contributing factor.
Suggested posts you might be interested in: