How "Food Blog Photography" Changed the World of Commercial Food Photography
Food blog photography [fo͞od][blɑːɡ][fə-tŏgˈrə-fē] (n.) – Food photography that is created with the purpose of being included on an online food blog. The food photos can stand alone, although usually accompany a recipe, a personal food story, culinary travel experience, restaurant review, culinary equipment review, etc. It often resembles editorial style photography in food magazines. Food blog photography doesn't have a specific style, instead, each blog carries the signature esthetics of its specific author, who usually takes on photographic tasks themselves. If the blog grows large enough and secures sufficient financing, it's not unusual to hire a professional, formally-trained food photographer to take charge of the food blog photography.
Example: "Food blog photography and recipes are getting more and more professional and original. What's the point of buying food magazines anymore? Each blogger has their own special flavors and lots of pictures, it's just more fun!"
An Introduction to Food Bloggers and Their Craft
Food bloggers are usually not professionally trained photographers, but more often than not home cooks, foodies, and food/nutrition/diet enthusiasts. However, a lot of them appear to have a creative potential in the food photography arena as well.
In the early 2000s, mass access to the invention of the digital camera and the Internet lowered the entryway to the photography and publishing world. Lots of cooking enthusiasts just went for it, passionately starting online food blogs illustrated with photographs of what they cooked in their home kitchens. Later on, that passion forever influenced the aesthetic of editorial food photography in magazines, other food publications, and even advertising. The invention of social media and smartphones pushed the envelope further and allowed for new styles and avenues of influencing the world of commercial food photography.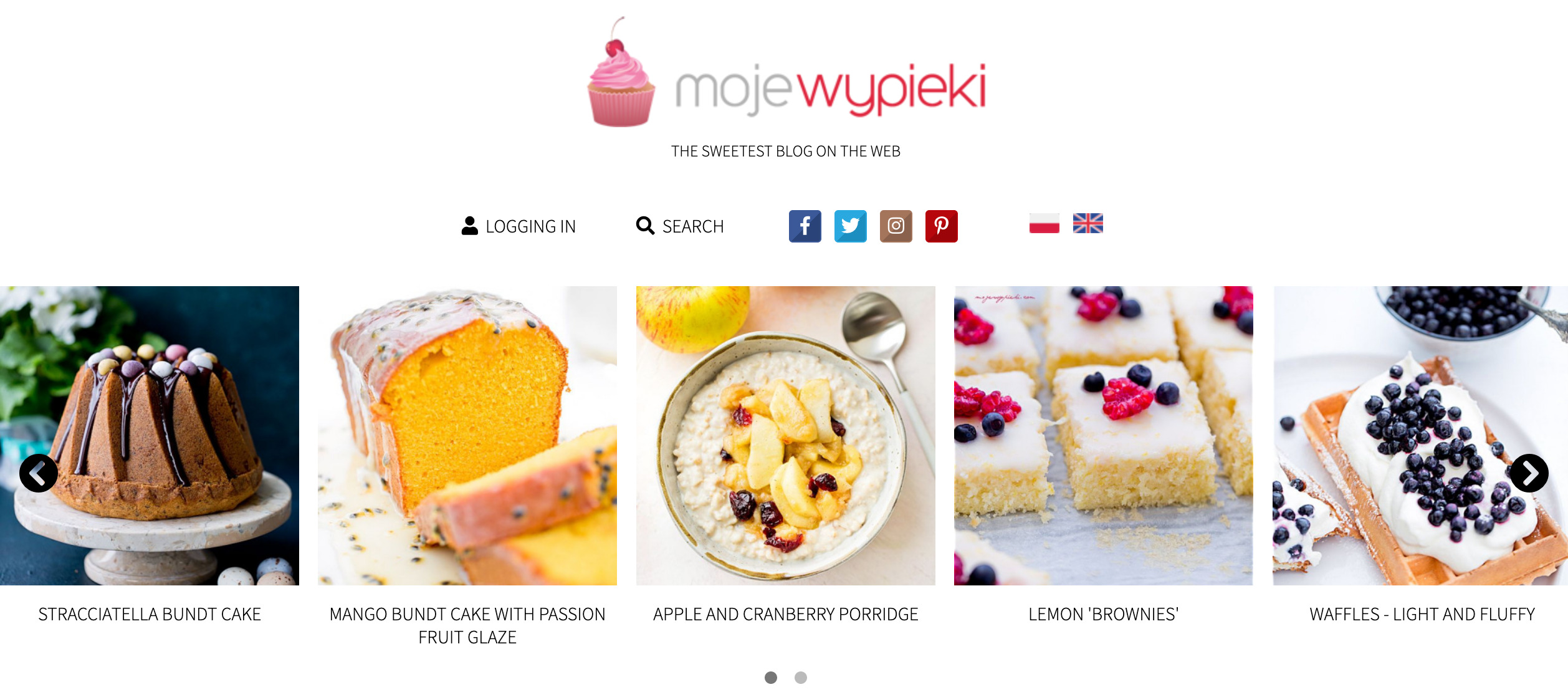 Food blog photography is typically the fruit of a bloggers passion for the subject, which molds a sensitive eye for food as a creative subject. Food bloggers pay attention not only to flavor, but also color, shape, and texture. They have an emotional relationship with food. Also, they are often notorious collectors of beautiful culinary props that can be used for staging their shots. They are capable of crating a unique "million dollar shot" without the same million dollar budget as big food magazines have for editorials, or big food companies have for their advertising food photography.
The Dominance of Use of Natural Light in Food Blog Photography
Since food bloggers are usually (at least in the beginning) self-taught photographers without knowledge of photographic studio lighting, the use of natural light is extremely common in food blog photography. Although, self-taught bloggers create just as compelling photography as million dollar magazine publications. Natural light gives bloggers accurate colors and soft light without spending money on extra equipment.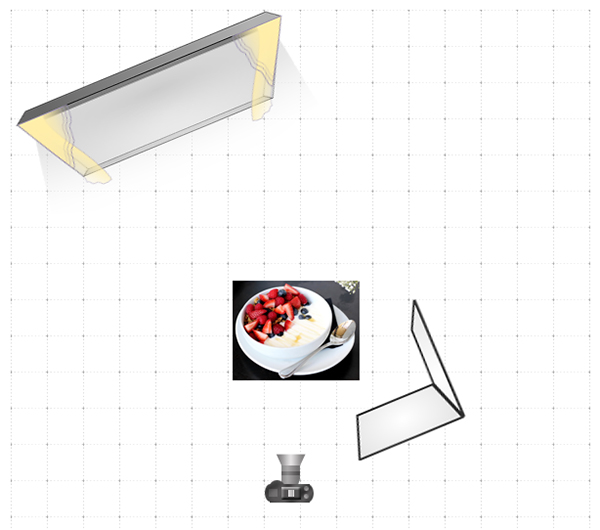 The most common way food bloggers arrange their photographic sets is by placing the food subject in front of a window (which might be covered with a diffuser/scrim) so the predominant light is coming from behind the food subject at a slight angle. Then, they balance the light from the window by placing a white v-card (to bounce the light) on the opposite, or near opposite, side of the food subject.
Aesthetic Diversity of Food Blog Photography
Bloggers frequently publish articles and recipes, meaning a food blog photographer needs to shoot a lot. Because of this, bloggers have the tendency to repeat their artistic visual strategies. One big challenge for a food blog photographer is to keep readers interested through the course of time by varying camera angles, lighting, and props. These efforts to remain visually interesting and to carve out one's own niche within the vastness of the Internet create a huge diversity of aesthetics.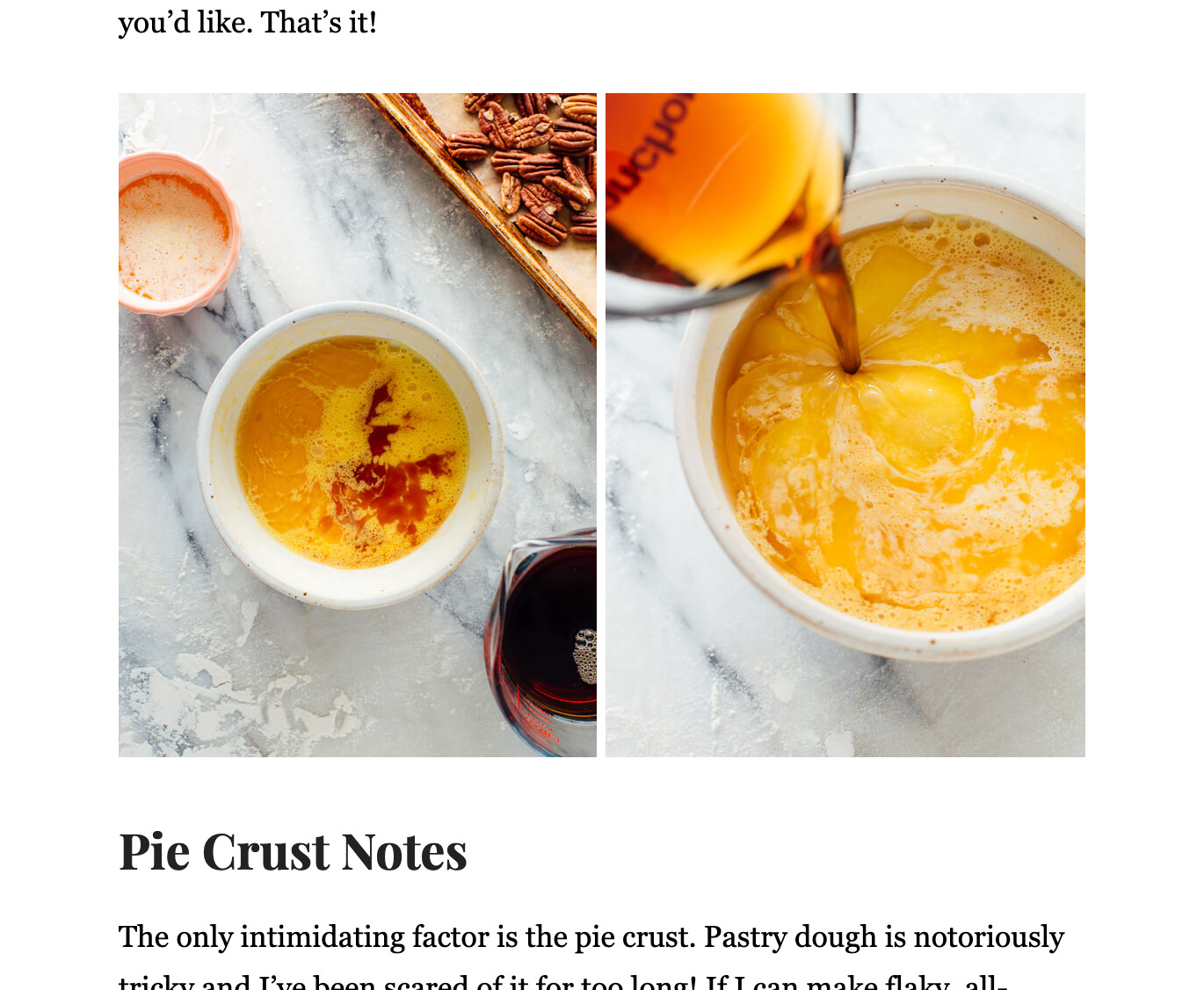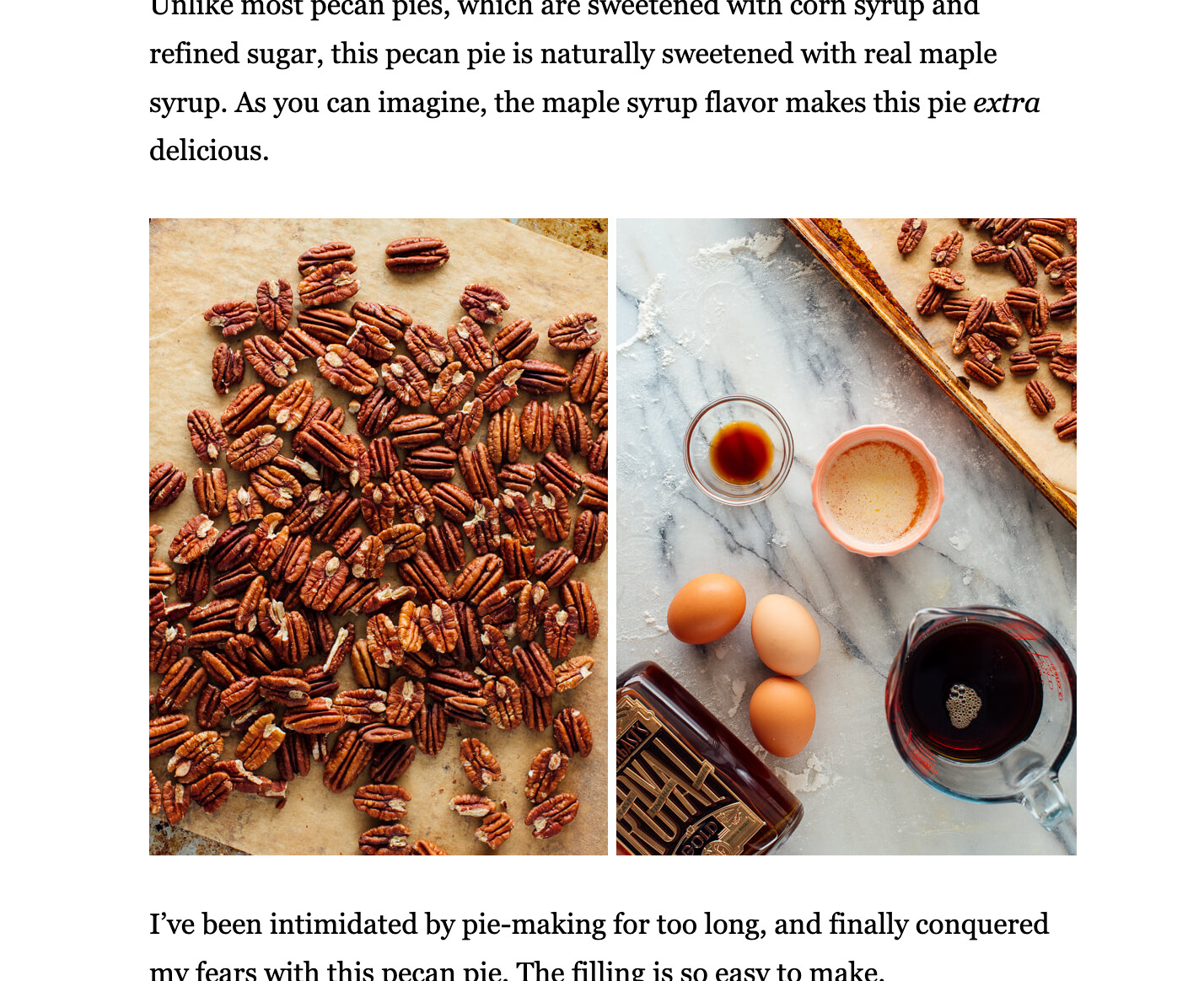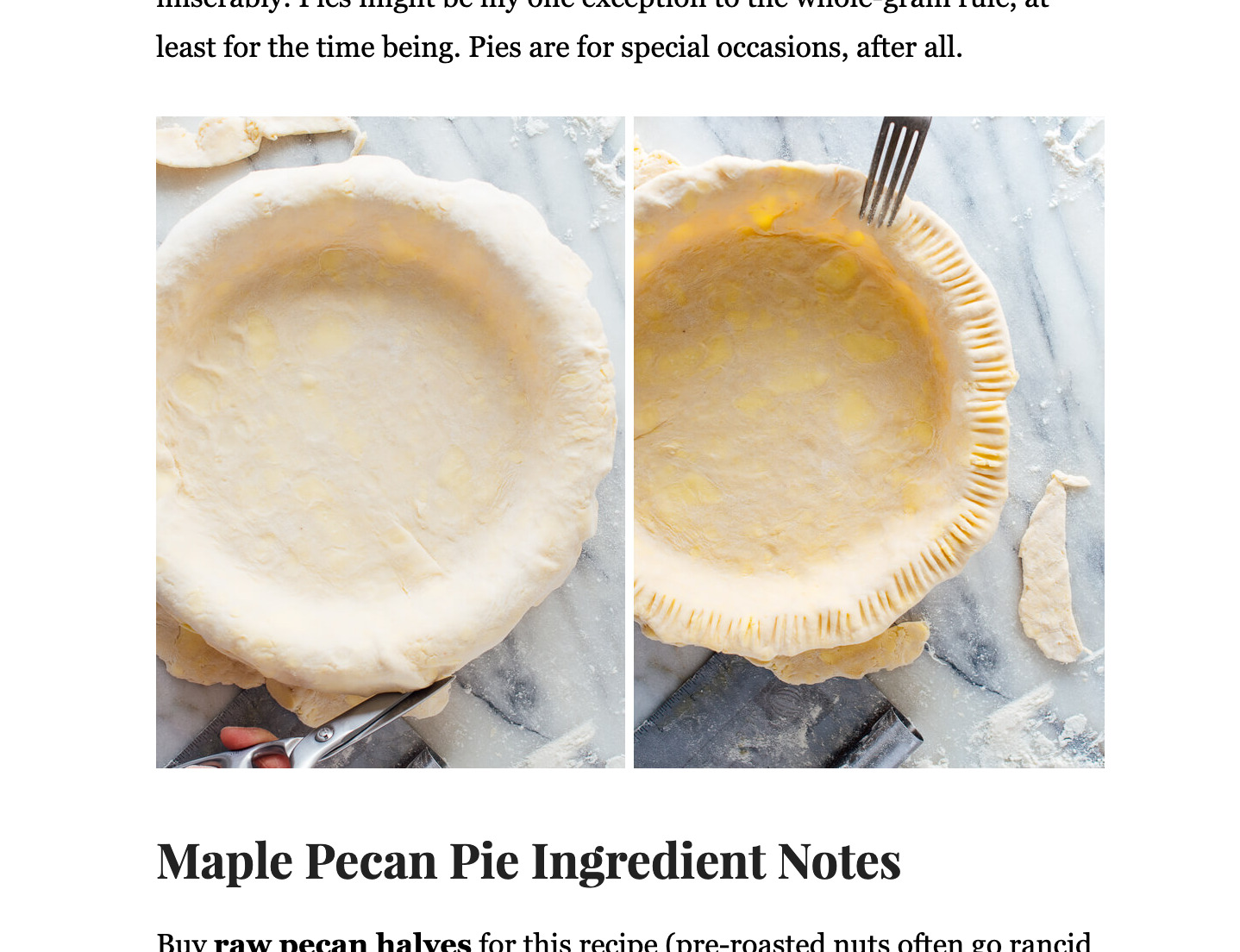 For example, instructional step-by-step photos are often featured on blogs (especially with baked goods), such as Cookie and Kate. There is simply not a big enough budget, nor enough space within the pages of a cookbook to have a photo dedicated to each step of a culinary process. On the web however, there is no limit to the detail in which a "how to" article can be illustrated.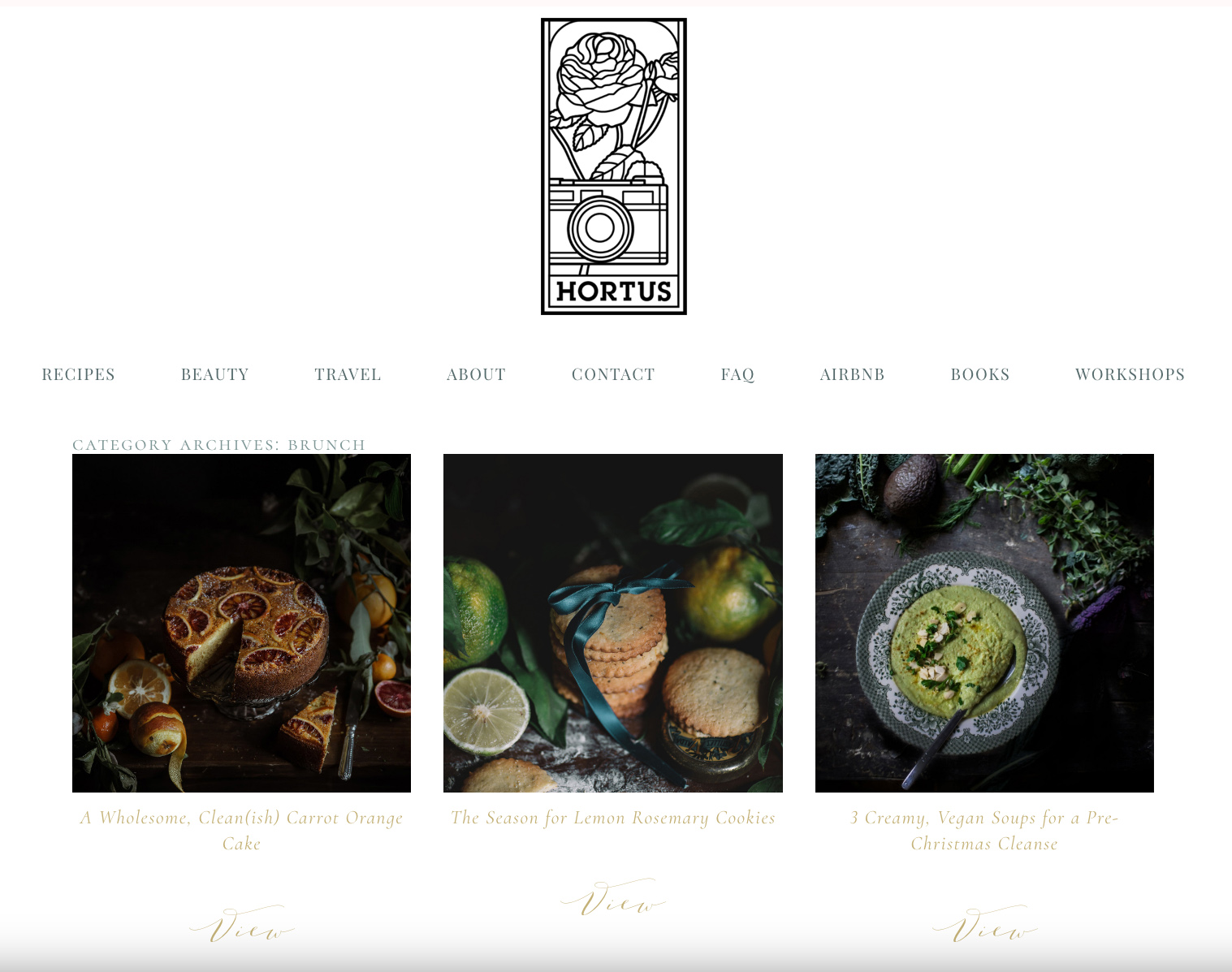 Food blog photography can also be quite artistic. Hortus features deeply shadowed food still lifes that borrow from chiaroscuro food photography and look like they were taken on a visit the Beauty and the Beast castle.
Blogs like Hello My Dumpling present minimalistic photos with a superb sense of food texture. Recipe illustration that focuses on texture can make readers more enticed by the dish and likely to get inspired to cook it, or at least keep reading. These strategies obviously work, as the author received a 2016 Saveur Magazine's Blog Award for "Reader's Choice".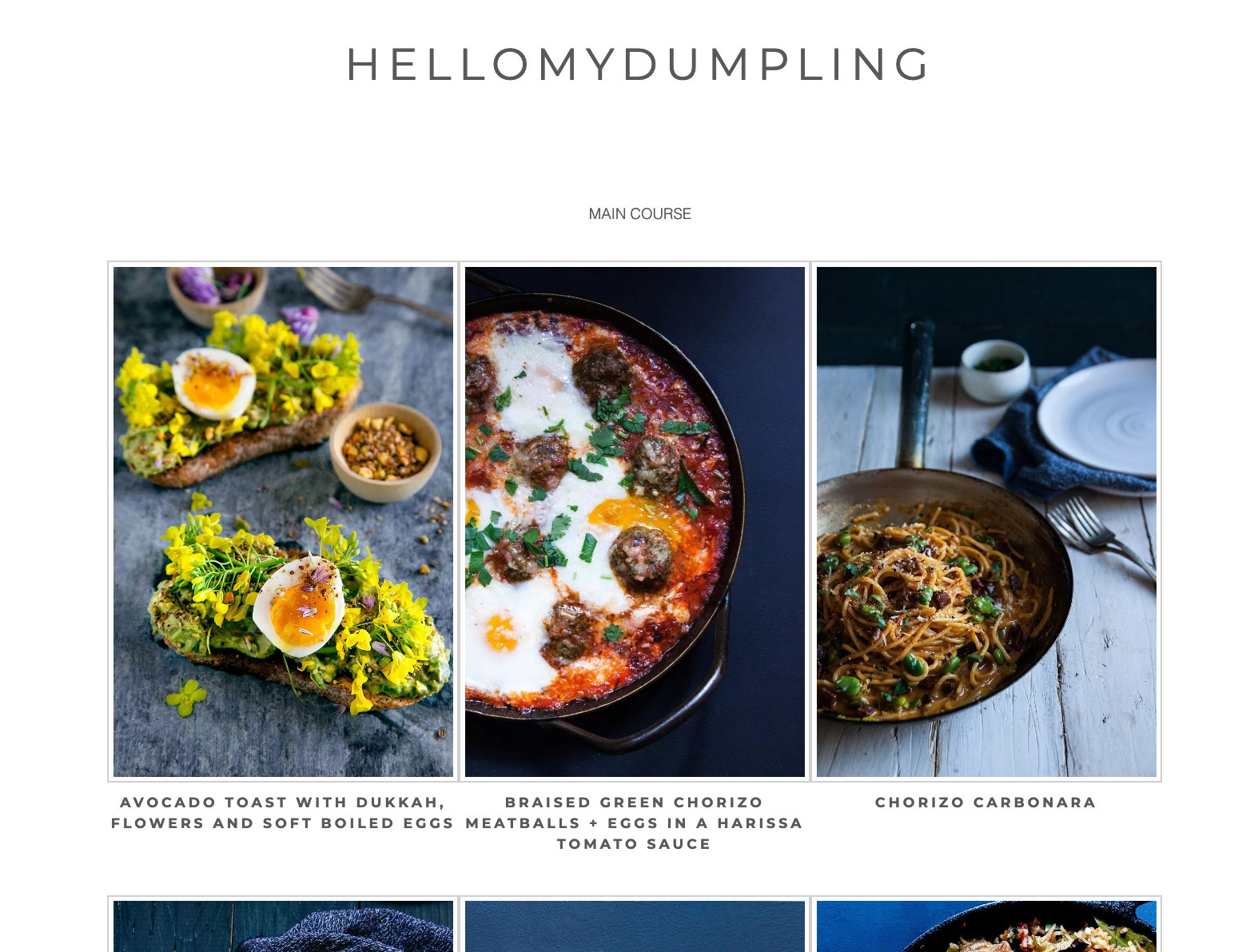 Blogs with an absolutely original aesthetic and a professional level of execution have the power to take their author's career to new heights. Not only through blog awards, but through big food companies and famous food publications who seek out new singular styles invented and exemplified by certain food blog photographers.
The Greatest Influence of Food Blog Photography on Commercial Food Photography
The organically developed styles used and popularized by food blog photographers carried to the world of commercial food photography. The use of natural light (now carefully recreated by pros with studio lighting equipment), a minimalistic look, and rustic table settings have become an industry standard look. Dark and very moody food photography was also introduced to the food photography mainstream.
Food aesthetics have been greatly influenced by food lifestyle and recipe bloggers. Specifically vegan food styling trends started by social media food blog photographers, which created admiration for bright blueish and fluorescent color schemes within photographic food subjects. In food photography this was previously considered an aesthetic faux-pas.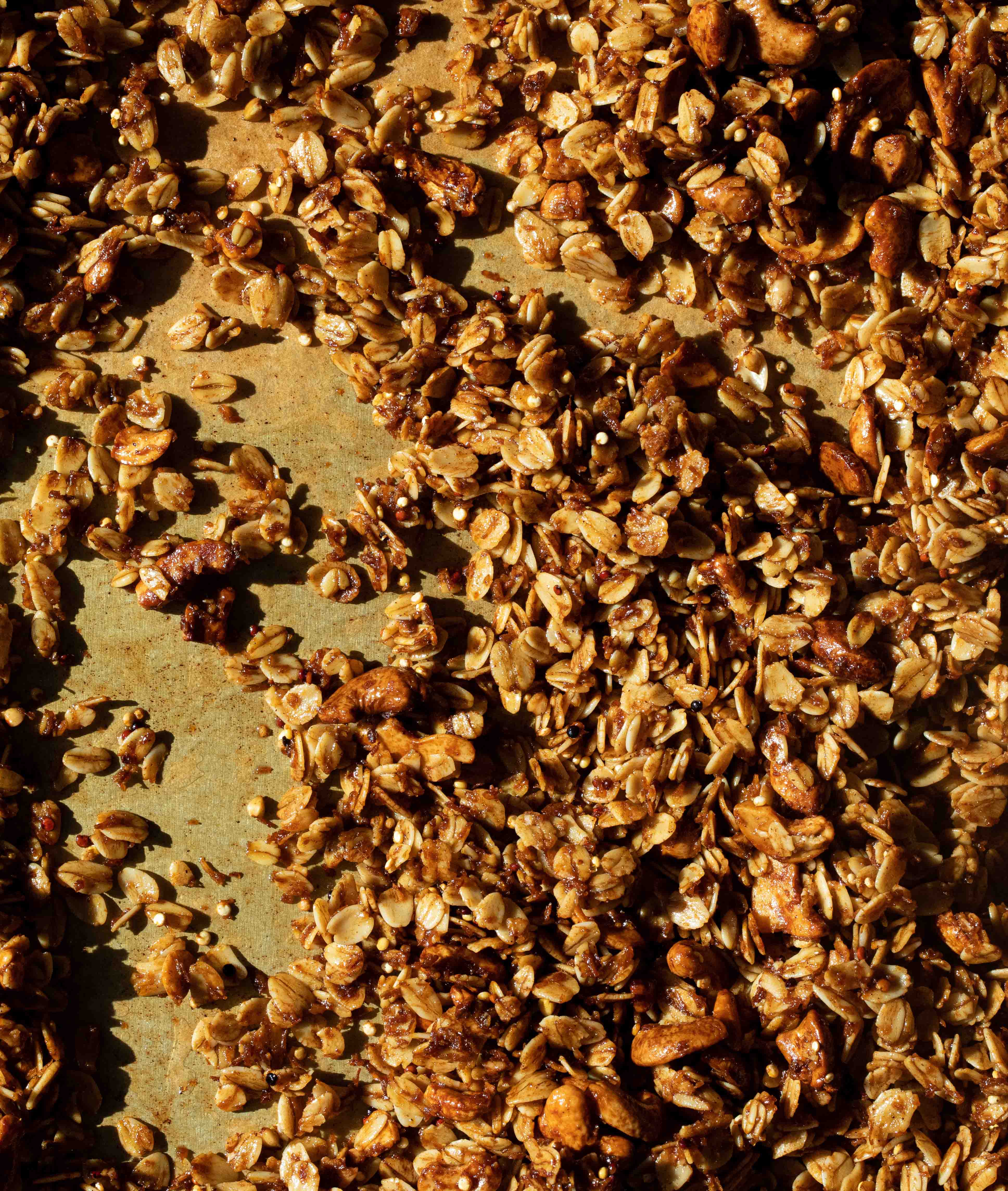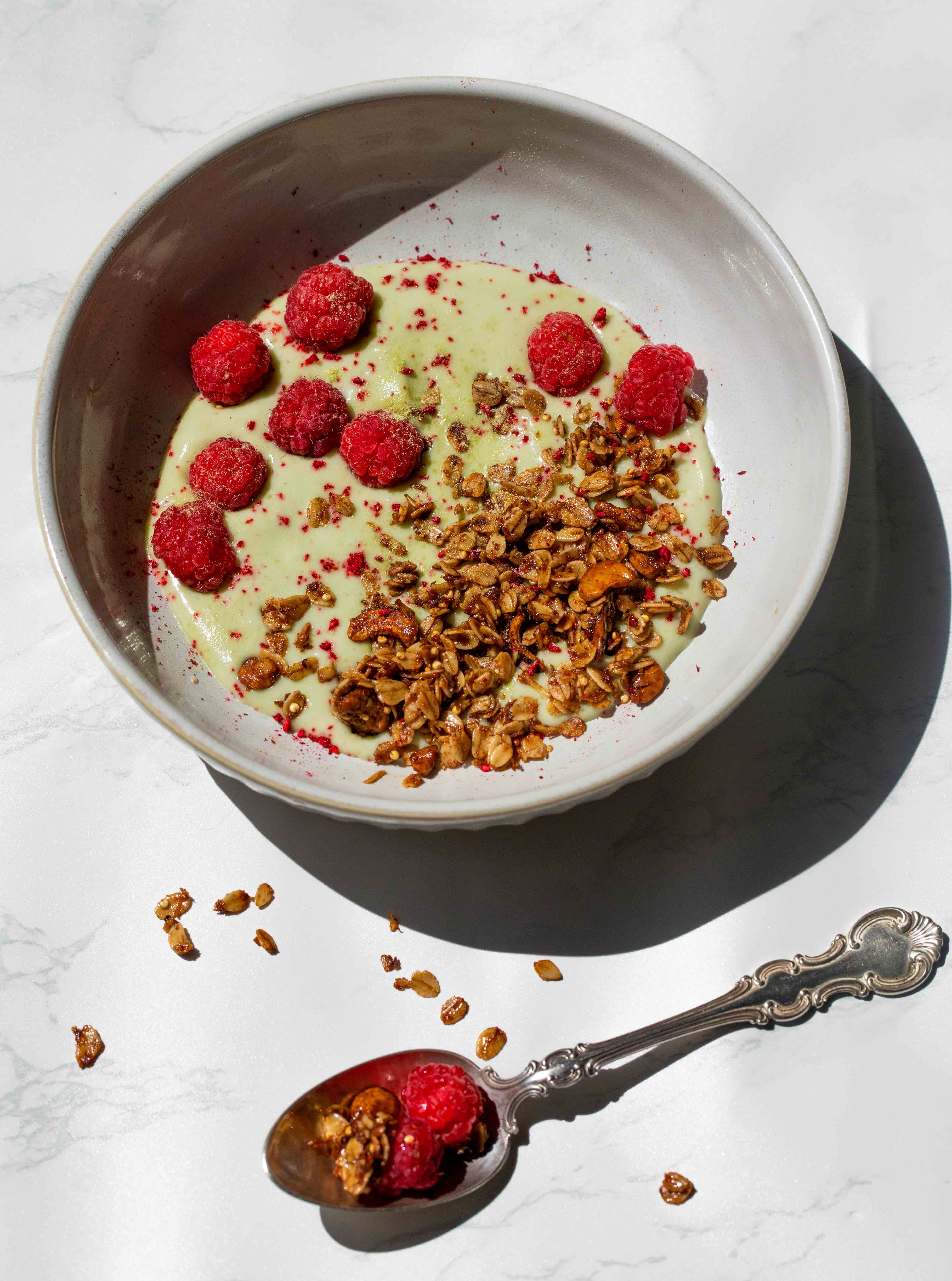 Cellphone induced foodporn flash lighting brought new aesthetics into the world of reputable food editorials, and filled food photography with bright hard light and dark shadows masterfully crafted under studio lighting equipment.
Before food bloggers took over, food photography looked really staged and studio produced with uninspiring lighting. It was considered a step child of the photographic world, then all of a sudden it became a queen and as important as fashion photography. Nowadays, everyone wants to be a food photographer.
Even if you are not a fan of rustic looks or natural lighting, few would disagree that this shakeup of the industry was for the better, as it opened doors for new ways of thinking about food as a photographic art subject and a wider variety of creative approaches. Nowadays, there is a great deal of overlap in food blog photography and other kinds of food photography. The most closely linked styles are editorial food photography and cookbook photography. This stems from the content which is present in both of these forms that parallels the content on blogs–stories/articles and recipes (respectively).
The Commercial Opportunities of Food Blog Photography
Many underestimate the quality and impact that food blog photography can possess. Few professionally trained photographers in the commercial photography world give it credit for the influence it has had on it. Also, many think that the people doing food blog photography are budding chefs who don't know anything about photography, but are forced to do it as a part of their blog. This is far from true.
Besides winning awards like those of Saveur Mag, a lot of photographing food bloggers eventually mastered and expanded their photographic skills by learning professional studio techniques. Many were able to create and secure lucrative careers for themselves. They are creating photographic food-related content for prominent food magazines, restaurants, food brands, and companies. Many have signed high profile cookbook deals filled with their own imagery. Some have become mentors, educators, and photography instructors for others. Many created highly popular online educational food photography programs, channels, or membership groups. They keep on giving their god given talent to others in a very organic way.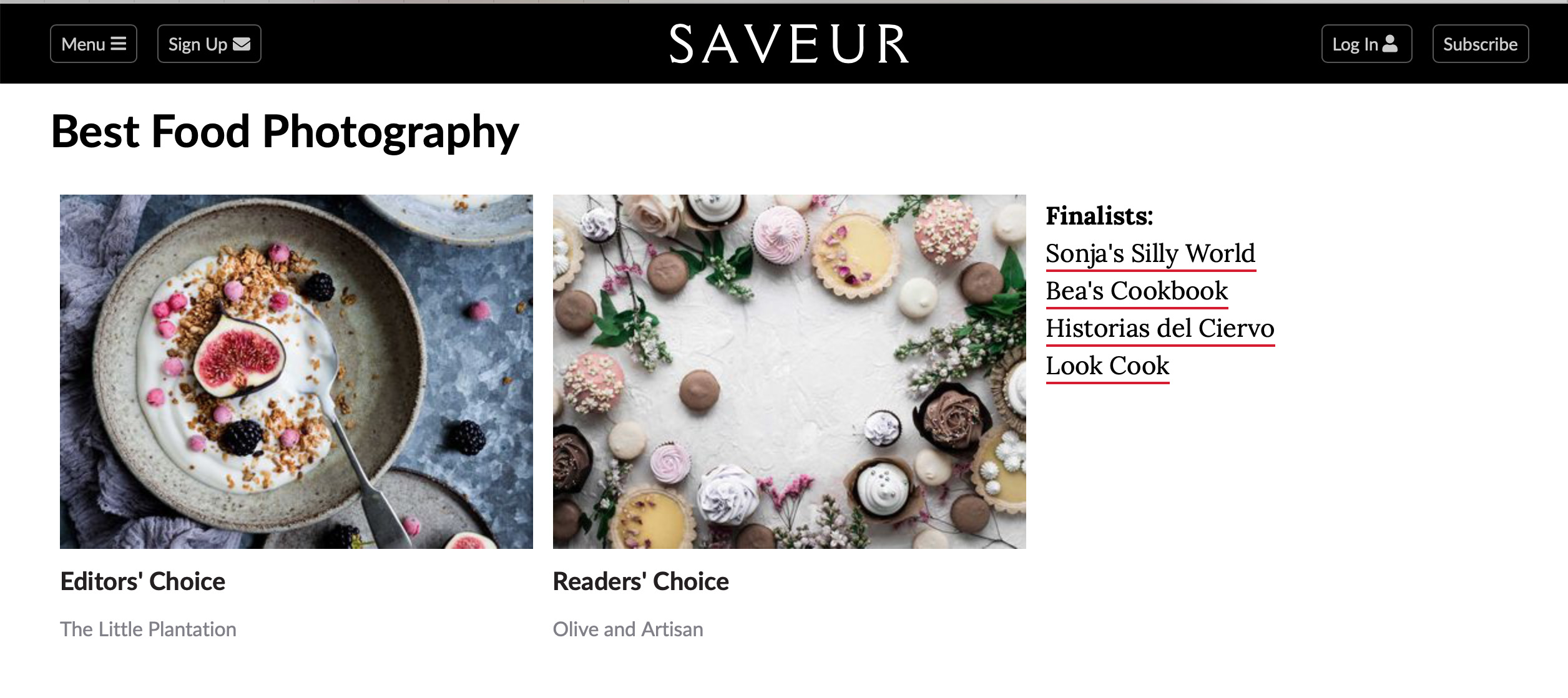 Not surprisingly, because of their passion, some of them were able to create work for professional food photographers, there are actually many professional food photographers working for successful food blogs. Secondly, the passion that one has for their subject, in this case food, greatly effects their work. The creative independence and dedication of food bloggers drives their art. They know that a food blog simply cannot be successful without stellar photography. Food blog photography became its own genre because of them.
Request more dictionary definitions from the creative food world by commenting below or contacting us directly!
Suggested posts you might be interested in: