The Wonderful World of Creative Food Photography Jobs!
Food photography is not only growing in popularity with the general public, but its applications are becoming evermore varied and visible. Some commercial possibilities in food photography you may have not even considered. For instance, travel magazines focus more and more on street food and fine dining when publishing exposés on new and hip destinations. Clothing and accessories often feature prints comprised of fruits, or other food products.
A food photographer can apply themselves professionally in such a number of ways that it can actually be confusing which might be the best. It's quite important to find your niche in order to narrow your competition and set yourself apart from others as a specialist. In this article, we will go through all the possibilities in which food photography can be applied. As you read, think about what your strengths are as a photographer, what kind of imagery you produce (or hope to), and how that fits with the job.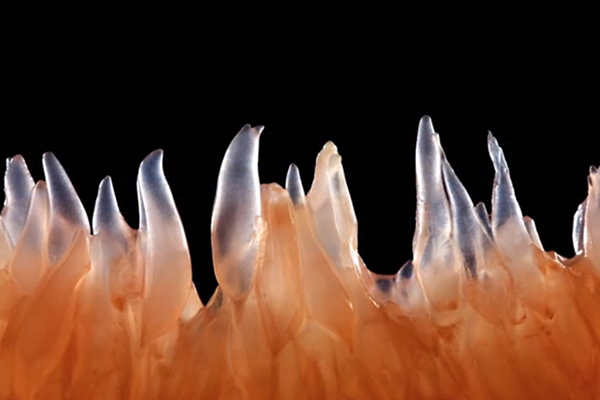 So, You Wanna Be a Food Photographer?
First off, you're not going to be able to do absolutely everything. It's literally impossible to be an advertising food photographer, exhibiting fine art in galleries, while also going on in-depth food journalism assignments. Not just because of how much time and effort it takes to hold just one of these jobs, but also because to be noticed you will probably need to have an extensive and polished portfolio in one general direction. The reason some photographers mentioned in this article are able to work different kinds of creative food photography jobs is because they have already been established in one area and have proved their worth.
Prospective clients have varying needs and with so many photographers to choose from (especially entry-level), they are looking for the exact style and quality for the particular application they have in mind. Luckily, there are plenty of awesome and creative food photography jobs out there. We've broken down each job into its own section, so you can decide which one suit you the best. Here is our definitive list of different media and purposes towards which food photography can be applied.
For Traditional Food Photographers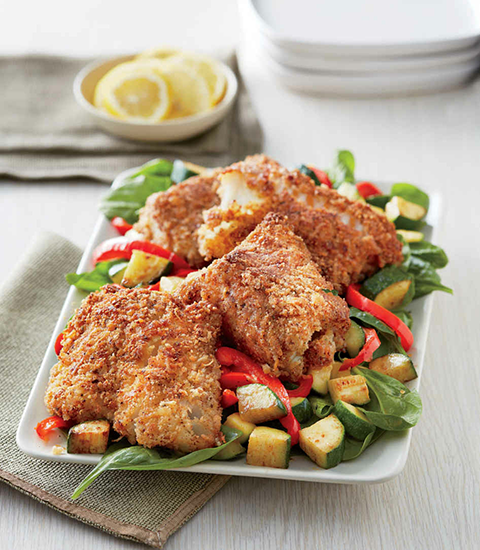 Cookbooks and Food Books in General
One popular and obvious end use of food photography is in cookbooks. This fun and creative food photography job is for those who prefer to photograph neatly styled shots of plated food. A recipe without the final outcome sitting next to it doesn't really motivate someone to cook the dish. Obviously, there are exceptions to all the tendencies of each category in this article, but one can certainly say that cookbook photography is not near as flashy, experimental, or graphic as magazine and advertising food photography. Also, because the work is print-based, a superior quality DSLR with stellar lenses is required.
One of the biggest names in cookbooks in America used to be Betty Crocker, so let's see what kind of photographs one can find within their pages. The tasty cod above was photographed for The Smart Dinner. Their food photography is conservative, formal, and obviously produced in studio. Most shots in this cookbook are taken at an angle slightly above the food with focus in the front and a shallow depth of field. They are meticulously styled and backgrounds always pleasantly go with the dishes. For big name cookbooks, pleasing middle-of-the-road arrangements win over aesthetics that swing too far in one direction.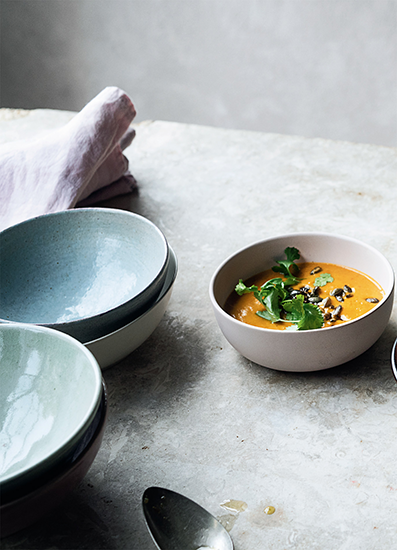 Food photographer Jonathan Lovekin has photographed numerous Yotam Ottolenghi cookbooks in a contemporary, minimalistic style that is quite the trend nowadays. They have won awards and are respected as possessing the utmost quality in cookbook imagery and for pushing the limits a bit. These shots are from the book Simple, which focuses on easy to cook meals. The elegance of this photo derives from the monochrome background and props that accentuate the colors of the salad and soup. On the whole, these cookbook photographs make the food look natural and healthy. Another small touch can be seen in the photo above, a couple drops of soup next to the spoon hint to the plating process of the meal. Lovekin's photo work is a great example of how you can still experiment within a traditional medium and infuse an image with interesting layers.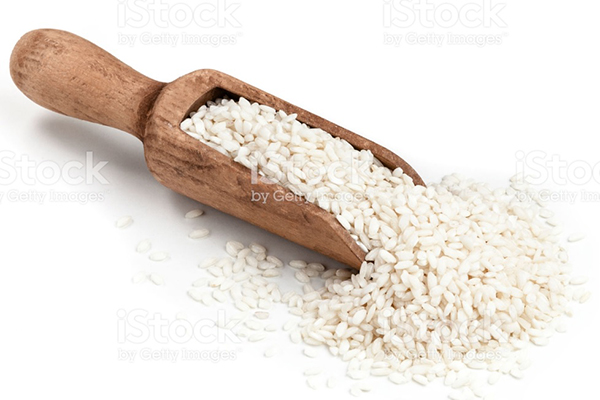 Stock Photography Websites

This creative food photography job requires a lot of shooting. Also, until you are established on a website platform, your images will make very little money per download. The website iStock gives you a higher percentage of each sale than competitors, especially exclusive contracts, and they have a pretty good reputation as they are owned by Getty Images. Like the photo above, there are numerous photographs of single food ingredients with a clip art look, although many other styles do well as the reasons and purposes people license photos is so varied.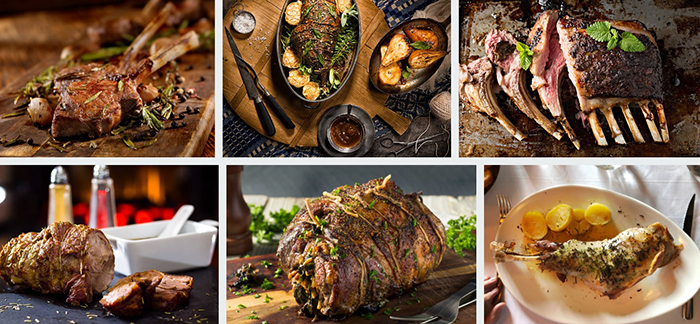 As far as stock food photography is concerned, there is not a lot of room for experimentation. These photos that figured in the top results for roasted lamb are about what you would expect. They have a rugged rustic styling that fits with people's conceptions of the dish. Sharpness and contrast are also a bit elevated and the size and quality of the images is really quite good. Perhaps the photo on the bottom right, with its distracting and unflattering shadows, will motivate you to outdo the others and submit now…
However, don't think it is just that easy for photos to get accepted. Think about the amount of competition, because these websites have so many contributors they have pretty strict systems to weed out less than worthy photographs. Stock photography is a numbers game. A portfolio with 30 incredible shots of singular style will not do as well as a portfolio of 10,000 generic ones with an enormous variety. Your photos could be used everywhere and thus need to have mass appeal. They might be used with text, meaning you must allot enough empty space in your shots to accommodate this. If you are an amateur photographer thinking of turning photography into a career, this is a pretty good place to begin because the quality level is not as exclusive as, for example, advertising. Overall, when starting in the stock world, do not expect a big income, be patient, keep shooting.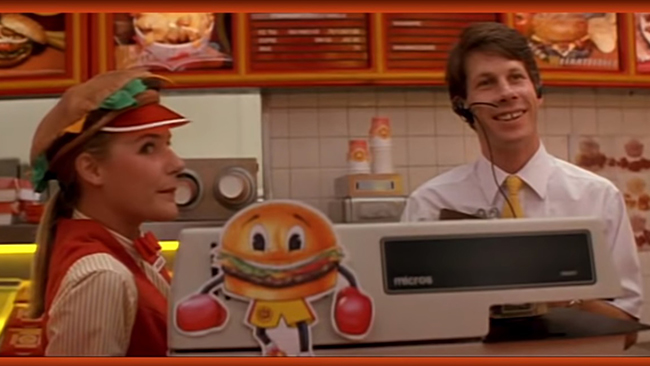 Cleared Art

When television and film producers want to create and decorate sets, the last thing they want to have trouble with is a copyright debacle. That's where cleared art comes into play. In order to avoid all copyright issues, studios work with photographers who directly guarantee the photo is clear of copyright and legally viable for film use. Much like stock photography, cleared art has to be easily incorporated into its surroundings, in this case a film set.
The whole atmosphere of the fast food restaurant in Falling Down (above) recalls some fast food restaurant, but not one in particular. Photographers and set designers must ensure that visual references are not too direct, while still capturing the overall feeling. Some production companies will ask you for a specific food photo they need and give you an example, meaning you must be able to make wholly original versions of existing work. The photographer that contributed to the film Falling Down surely did a great deal of research on fast food menu photography before actually shooting. One more thing, considering the pace of the film and television world, those who have trouble with strict deadlines won't be a good fit for this creative food photography job.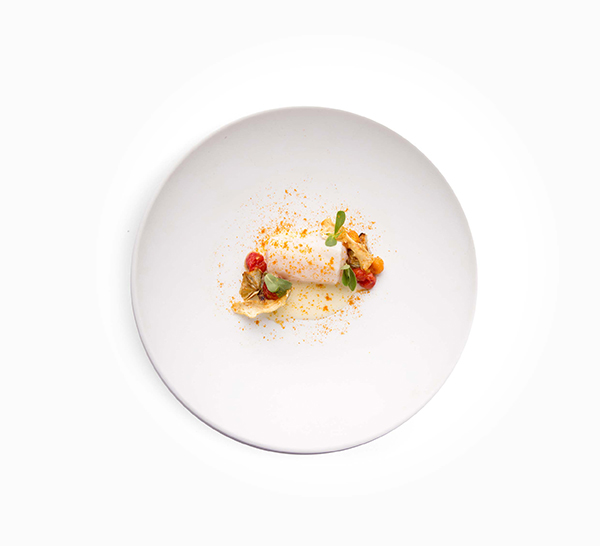 Internet and Website Food Photography

Let's face it, most beginning professionals will end up doing work for websites at some point in their careers. This is because there is so much demand for website production from restaurants, small food businesses, and new food products that require photographic material. Also, the quality requirements are often easily met with any kind of photography equipment, depending on the final use. Printing is expensive and so is print advertising, so many food companies that aren't huge corporations tend to use the Internet much more (or exclusively) to promote their business. With all the new smartphone apps for food delivery, Internet food photography has become even more important for restaurants, who want to take advantage of these new platforms.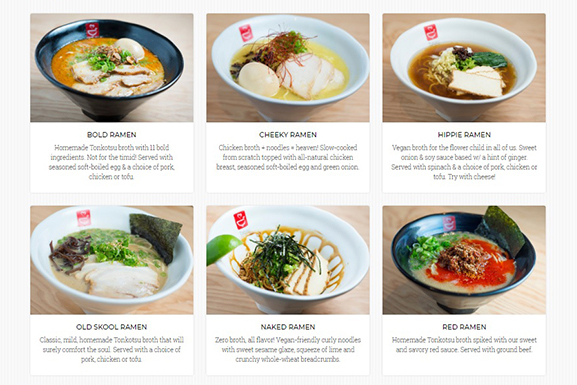 Photographing for a restaurant website could include shots of isolated dishes on white or neutral backgrounds, so they can be used for other purposes. The fish with spices above was easily inserted into an online menu because of its white background. Sometimes though, each dish is presented visually on the online menu in a different way. Look at the example above from Los Angeles based ramen restaurant Tatsu. Nowadays, more and more people research their dining options online. If they reach a website without many photographic examples of their meals, they may steer away. Food photographers for websites must be comfortable with a variety of subjects, including wide shots of restaurants, although their main forte should be perfectly accurate and appetizing plated food shots. If this sounds like you, start thinking about a creative food photography job for websites.
White Label Content
White label content includes anything written by freelance writers or content manufacturers for a company or business. This content is commissioned by the business to be posted on their blog or social media sites. Basically, the Internet is a gigantic mess of competition and businesses want to be easily found through search engines and social media shares. A small food company may hire a photographer and/or writer to write a post featuring its products. Both blog posts and social media posts almost always have a visual component, especially one particular outlet of soaring advertising importance—Instagram.
Halo Top Creamery's Instagram is a great example of a hugely successful company that uses the platform to the fullest. The photos are accompanied by short and entertaining descriptions that serve as white label advertising that starts a dialogue and engages a base of consumers. Like the ice cream pint with blueberry pie above, Instagram white label content usually has a much more polished advertising look than blog posts because the platform has a more visual emphasis by nature. Although state-of-the-art cameras are not obligatory due to the usually small file sizes of Instagram and blog posts, some studio experience may come in handy when crafting white label content for this creative food photography job.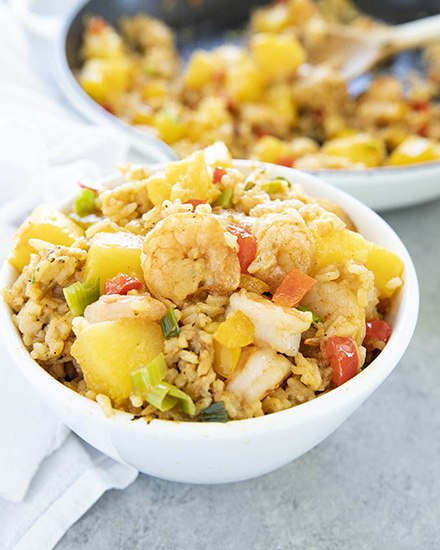 Food Blogs
This is a category suitable for those without a great deal of photography experience. Like the image above, many blog photos will be similar to those of cookbooks as food blogs often post recipes and meal ideas. This of course is not always the case, posts can appear on any topic, from "Most Delicious Pizza Toppings You Never Thought of" to "Best Blender of 2019". Also, image size is your least concern. Almost any mid-range budget camera will be sufficient to start blogging now.
Money made on a food blog is usually through advertising, although a food blog is also a great place to jump off into other income-producing creative food photography jobs. Bloggers can also be a great source of less expensive imagery for restaurants. If your readership increases, pretty soon someone will hire you not only because you are popular online, but because they appreciate the look of the photographs on your blog. Your blog will be like a portfolio in disguise for everyone to appreciate and admire.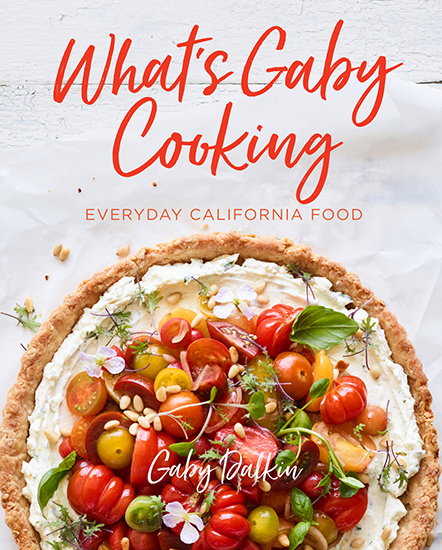 Or, perhaps your recipes receive so much attention that you can even hire your own professional food photographer to publish top-notch cookbooks. The blog What's Gaby Cooking became so popular that they were able to do exactly this; Matt Armendariz has shot recipes and a cookbook for the blog. Warning: it takes a lot of time to create a commercially successful food blog, this endeavor is only for those truly passionate about all things food.
For Stylish or Experimental Professional Photographers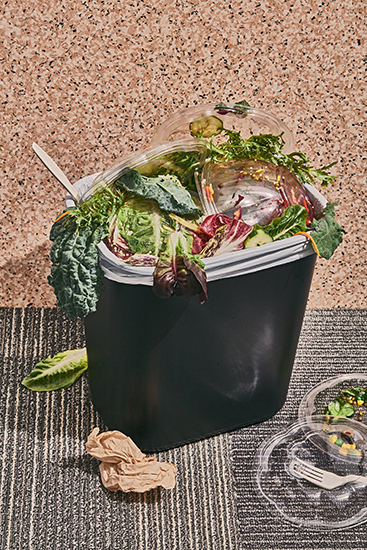 Food Photography For Magazines and Editorial Food Photography

This application of food photography definitely allows for more experimentation than, let's say, cookbooks. That's because style is just as, or more important, than content. The focus of editorial images must not be commercial in order to qualify as such. Many times print and web magazines are the ones who commission editorial food photography, but not always. These images are incorporated into stories and lifestyle pieces that could be about any food topic, such as recent trends, industry and trade, diet, or travel.
Read this article that goes with the Stephanie Gonot example of editorial food photography above. The image intrigues the reader. It seems the article will be about waste, but we are not sure how. Are people not able to finish such big salads and throwing them out? Is growing salad not environmentally efficient? A good editorial photographer has the ability to transmit the article's main idea, while still leaving their images open to interpretation, necessitating further reading. Also, image size matters, but not near as much as crystal-clear sharpness. Any good DSLR could do the job, but an absolutely top-of-the-line lens is required. Why? Just like with their style, magazine editors want the images themselves to really pop off the page.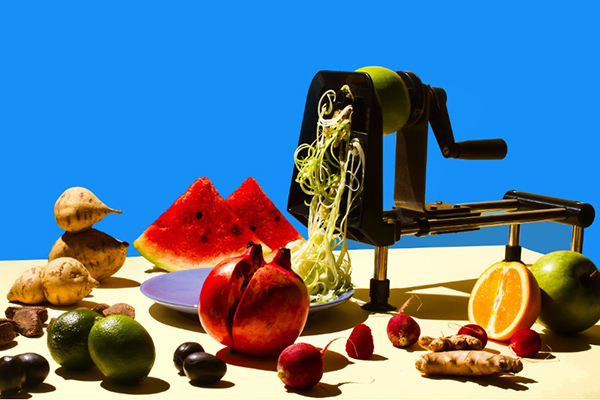 Our exemplary editorial magazine photographer is Maurizio Di Iorio. In the photo above his strange lighting, one color backgrounds, and editing create a flat two-dimensional look. Instead of having subtle tones, the colors are very solid, the look overall is quite graphic. The style is basically a mix between traditional food photography, fine art, and advertising. For this creative food photography job, one must have a distinctive, artistic point of view with clearly defined aesthetics, in order to pick up higher end editorial magazine work like Maurizio. They usually work on their own for some time, developing their signature style, before getting picked up by an agent and selected for these kinds of jobs by magazine editors. The magazines Maurizio Di Iorio works for are on the artsy end. However, much less stylized, more traditional food photography is used in a number of mainsteam food magazines, like Bon Appétit.
If you find yourself bored by just photographing plated food and you frequently come up with fresh creative ideas, the editorial magazine world could be your calling. Magazines like these are run by editors looking for photographs that can easily fit within their brand aesthetics, as well as their graphic layouts, without destroying its harmony. One more aspect to consider is that magazine photographers must be absolute experts in color correction and editing. Your goal is not just to make the food look good, but to really catch people's eyes. Unlike advertising food photography, which has the simpler end goal of saying "buy this delicious product", magazine and editorial photography must represent multifaceted stories and ideas. For this reason, it is a great creative food photography job for those who are inclined to fine art, but would like to enter the faster-paced and more lucrative commercial side of things.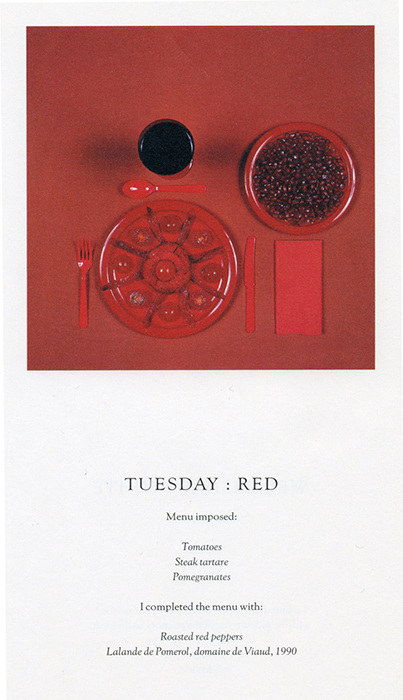 Fine Art
Is food photography fine art? Well, in case you haven't heard, fine art is a pretty subjective term. In short, of course food photography is fine art. While the quality of your photo is important when showing in galleries, the chances are the concept and aesthetics will be much more important. Even the most perfectly executed, high-quality, 30.4 megapixel shot printed on rag will not fit a gallery setting if it doesn't have a distinct art value. Hmm, another extremely subjective term. Complicating the issue is the traditional belief that food's role in fine art photography is limited to the genre of still life. Let's look at these examples.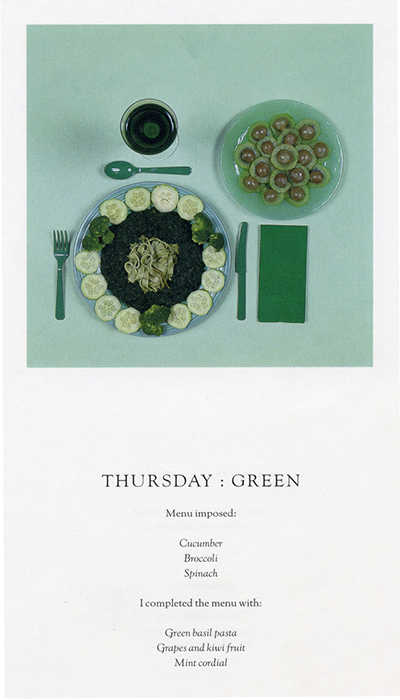 The two featured Sophie Calle images are from her series The Chromatic Diet. In these shots, Calle documents how she assumed the life of a fictional character who only eats food of one different color each day. The arrangement of dishes and utensils is the same between both shots, highlighting the importance of the changing colors. Humans have a need to find patterns and make sense of things, this quirky dietary habit could represent the human need to order chaos. Or, perhaps one could read the images as an homage to minimalism. Having such reverence for the previous art movement, the artist even wanted to intimate the act of eating to emulate their aesthetics.
To be a fine art photographer you must be in touch with the history of food in photography and art in general. Creative food jobs in fine art are hard to come by and usually involve intellectually defending your work. Because fine art photography is critiqued on a holistic level, all possible references and interpretations become part of its artistic meaning. Consequently, a photograph that does not evoke any possible deeper meaning or expanded interpretations is probably not art.
For Those with Advertising Food Photography Aptitude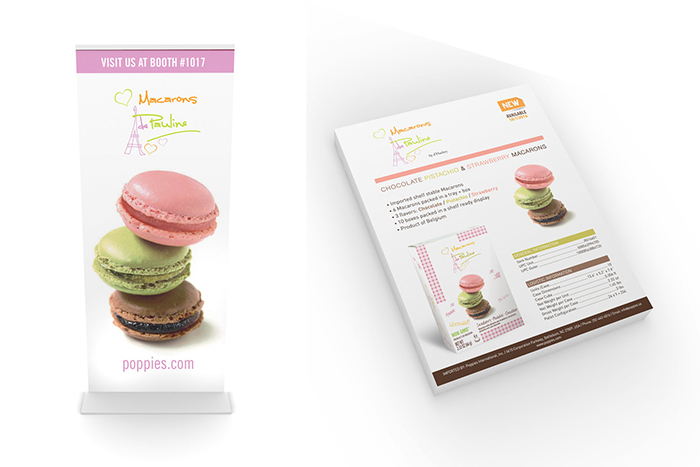 Marketing Materials, Environmental Graphics, and Point of Sale (POS)
Marketing materials can include informational brochures, pamphlets, sale sheets, presentation designs, and more. One use of these materials is to get grocery stores to give you shelf space in their stores. A small food business striving towards this goal needs a really great design in order to get noticed by big name retail stores. As opposed to print and Internet advertising, marketing materials usually have a bit more text. Marketing materials for food festivals and product fairs (such as the banner on left) must be printed in large sizes, thus requiring a high-quality camera body with good sensor. Overall, one must take tidy product-like stills and think about how their images can be accompanied by text.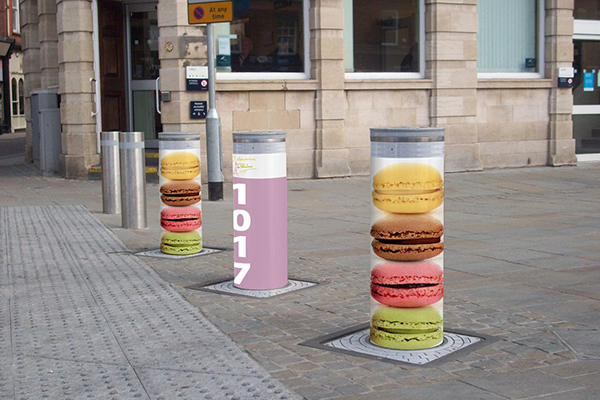 Accompanying these marketing materials by Shelf Packaging Co. is an environmental graphics campaign. This kind of advertising involves wrapping public objects like buildings, buses, or pillars with imagery. Here, a stack of macaroons neatly fits the form of the walkway delineation, making a head-turning advertisement for all passersby. For this kind of work two things matter most: image size and quality, and creative process. The first is quite easy, you must have stellar equipment to be able to print in potentially enormous sizes, but the second could be quite difficult. The capacity to think of interesting ways two-dimensional imagery can be transferred onto a three-dimensional surface is a rare and necessary skill for this creative food photography job.
A related field is point of sale (POS) marketing. This includes all that is visible to the consumer when they buy the food product at a retail outlet. Larger boxes which contain the smaller packages often feature a photographic design, but perhaps the most unique and visual form of POS marketing is display stands. Large image size and flashy editing skills can give you a head start in this creative food photography job. To create a more interesting design, objects like the peanuts coming out of the Snickers bar above can become part of the actual display stand's form. This is how POS is related to environmental graphics, with both fields there exists the potential to experiment spatially in the three-dimensional world.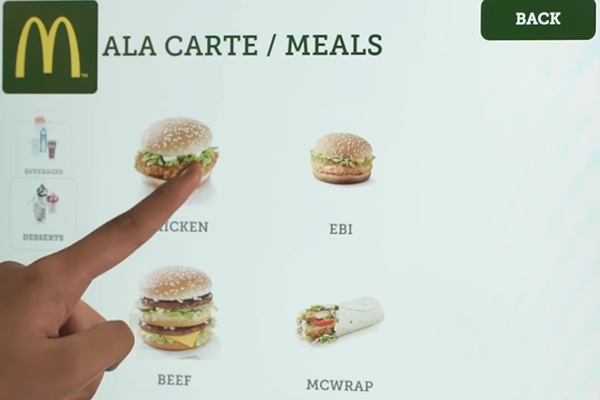 Another more contemporary form of POS advertising is electronic ordering systems. The goal of the photos included on these touchscreens is to accurately represent the product the customer is ordering. The output is digital, so image size is not your biggest worry. Most importantly, a photographer for this style of POS photography must be able to photograph food on a seamless background, making it as color correct as possible with zero distractions such as ugly shadows, shiny highlights, or props. Those drawn to realistic archiving would excel in this application of food photography.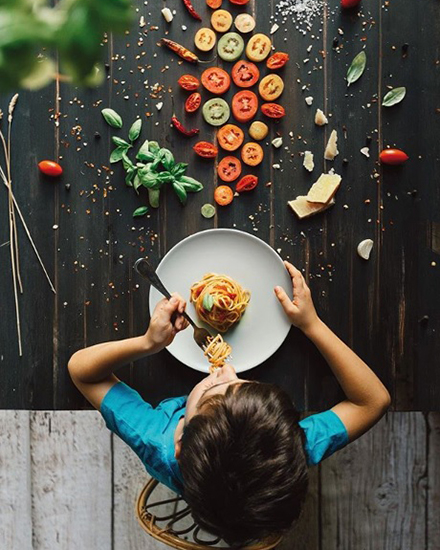 Social Media
Many companies advertise on Instagram and in order to gain a following partner with photographers. The pasta maker Barilla's Instagram is fairly standard. The food photography looks great, but it is standard. When an image appears in their feed that has a real unique look, it proves to be a partner with another food creative, given credit by the @ symbol within the post. These sponsored posts not only boost your profile's visibility, but are a viable creative food photography job.
In the example above, social media influencer @Brahmino uses an overhead perspective to create a really balanced and interesting look. The background, the table, has interesting lines that break down the composition, the individual verticals of the planks and the white bar at the bottom. Rock salt, tomatoes, basil, and Parmesan sprawl over the country table, while at dead center the culinary creation is consumed. The photographer has way more followers than the pasta company he has partnered with and a level of artistry and creativity not always present in the Barilla's profile. On Instagram and other social media platforms, the amount of followers you amass definitely matters. If you can connect and entertain a wide audience on your Instagram, chances are you can help companies receive the same kind of attention.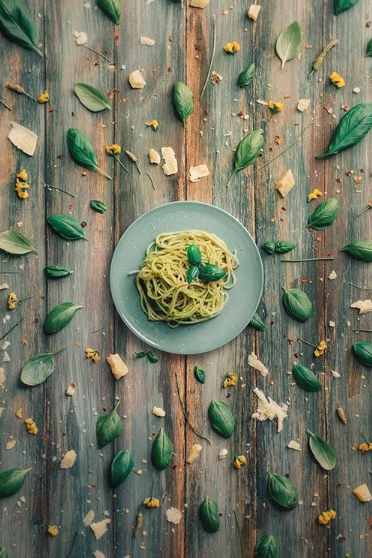 Scenarios like this are not the only way creative food photography jobs manifest on social media. Photographers can be hired directly to improve the social media presence of any individual or company. If you have a good pulse on trends in the food world, especially of your particular city or country, and take jaw-dropping food photos, this creative food photography job is for you. Also, social media food photography is for any food creative with any kind of camera. With the small display sizes of social media any kind of camera will work, although basic editing to improve color and light is needed as well.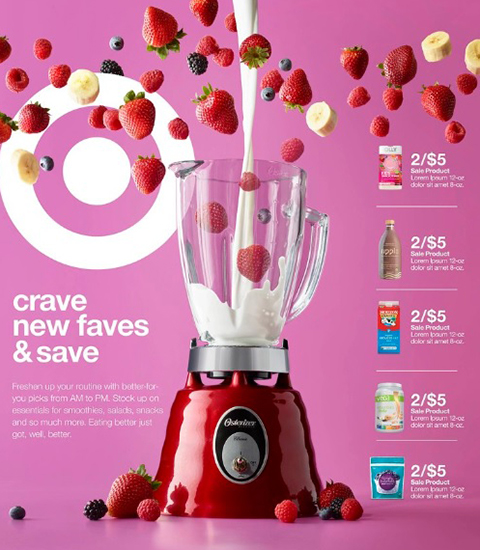 Catalog
A great food photographer in general, and an even better one to look to for catalog photography inspiration, Matt Armendariz is a seasoned professional. The layers and visual variety of falling fruit, the strawberries and blackberries resting by the blender, and an efficient color scheme make this image truly dynamic. Notice how 3D the fresh fruit appears, an editing effect of making some pieces smaller and thus seem further away. Now, consider the actual product for sale, a boring box of milk, or bottled yogurt drink. A successful shot will show off the product in a more exciting way if needed.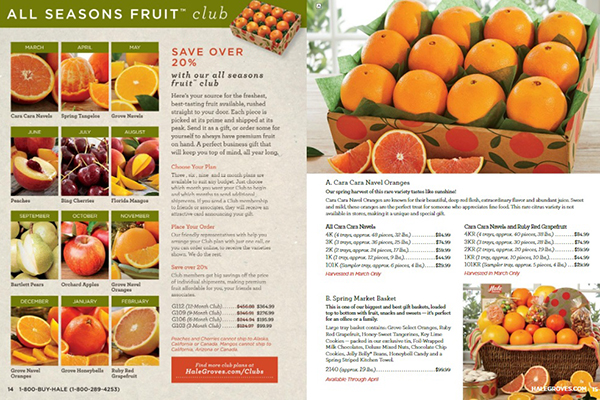 Oranges and grapefruits aren't so boring by nature, but imagine the task of photographing 30 pages of citrus in a way that makes people want to buy buy buy. In order to make a catalog interesting and contemporary (not the goal of every company), not only do distinct angles and setups matter, but also the way the photos are incorporated into the layout. A food catalog photographer must find ways for text and product information to be presented in their image. By keeping images and text separate, the catalog above doesn't efficiently use space, leading to both smaller images and smaller text. Think about it this way, as our world becomes more visual, images are expected to be more visible.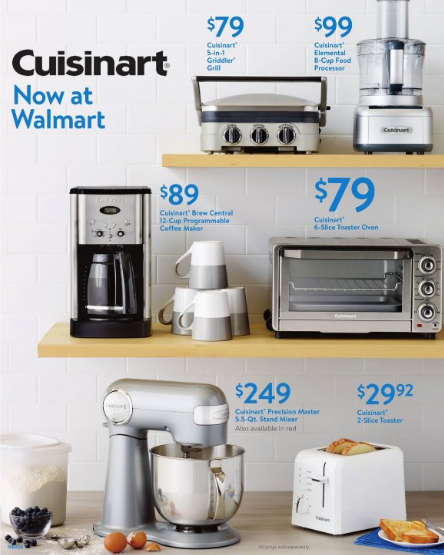 Creative food photography jobs for catalogs involve managing a large number of products in a small amount of space. A perfect example is this Cuisinart catalog shot. Spacial awareness goes hand in hand with tight composition, the selection of shelving is hardly by chance. They get smaller by each tier, making for a better arrangement and also leaving room for the Cuisinart logo. Catalogs often have more text (and more wordy) than one page advertisements, so photographers should be very knowledgeable about how to leave space for graphic design text or logotypes.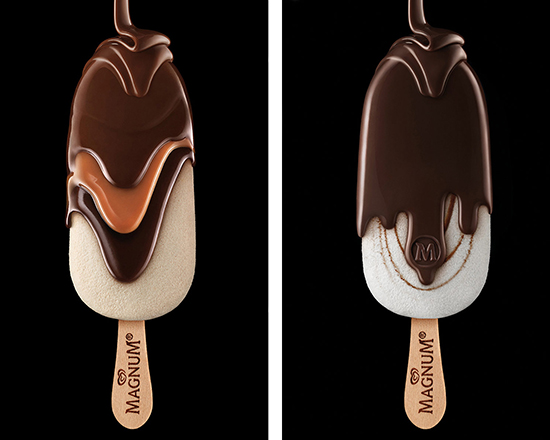 Advertising for Print and Internet
In this category style definitely counts! Brands may want to appear cutting-edge, traditional, luxurious, or just simple and wholesome, your photography must fit with this image. A photographer must also be able to deliver extremely high-quality images with superb postproduction. Usually top-notch advertising photographers have a couple of tried-and-true retouchers who know the editing drill. Not only are top-tier lenses and camera body required, but also a lot of other expensive photography equipment. There is no room from shallow depth of field and levels of focus, photography for advertising is usually poppy and graphic so things are visible from afar. There is also a lot of psychology and law involved, especially when dealing with large food brands and big-name clients.
Food companies use shots of plated food much less in advertising food photography than in other media. Thus, photographers must be skilled in isolating products and incorporating them into super clean and uncluttered compositions. In the Hardee's advertisement above we see very close up images to show off the juiciness of the product with sharp focus throughout the image, not just one point. If this photo were taken from further away, this effect would be diminished. Photographing for online advertising, as opposed to print, allows food photographers to get away with a little bit lower image quality.
Stop Motion Photography

This category of food photography is rapidly rising in popularity. GIFs are now supported on many social media websites and are used for advertising quite often. Your lens and camera body don't matter near as much as your idea. What visual tricks can you think of to bring food to life? Click here to see how advertising food photographer Sam Kaplan animated the Hershey's bars above. To show off the different flavors of chocolate a stop motion design like this is quite effective. Those looking to master this style must possess the ability to think about camera tricks and easy ways to bring mesmerizing designs to life.
Still from fun stop motion clip of appearing and disappearing chips. @ jennagang.
This example from stop motion director Jenna Gang has a bright, playful look to it. In general, stop motion animation is considered to be a fun medium and the imagery usually matches. The pattern of the chair and the photographic border around the animation give it a loud and kind of silly look. The underlying question, "Who's eating my chips?" makes the viewer smile. Many funny ideas come from the autonomous movement of food items, making this creative food photography job great for photographers inclined towards humor.
For Food Photographers with Detailed Design Experience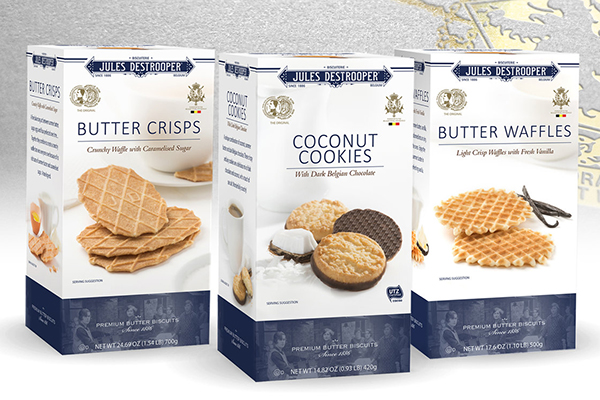 Food Packaging and Food Product Photography Combined With Graphic Design
This is a fairly varied category style-wise, but one thing is for sure: your photo is going to be matched with text, or be a small addition to a lot of text. The photographer must know how to plan the shot in order to leave space around the photographed food subjects for logos and packaging information.

These Jules Destropper cookies boxes designed by Shelf Packaging Co. play up the elegance of these treats. The seamless white background is fantastic for combining with text. It seems as though from the foreground the image fades to white, falling out of focus as well. If the white cup were yellowish or more in focus, it would distract from the text layered on top. For this creative food photography job one must have great compositional skills and a good macro lens—people want to see exactly what the food they are buying looks like.
Most of the time, food packaging photography is heavily edited and graphic in style. Steve Hansen has a wonderful and varied portfolio that displays not only graphic and contemporary styled food packaging, but also more photographic examples similar to the Jules Destrooper images. Here, for Skinny Dipped, the photo is edited to reveal the layers of chocolate and flavor coating. The overall look is sleek, wholesome, and contemporary, especially when paired with the font. For food packaging photography, image size is really not an issue and editing should be one of your strengths.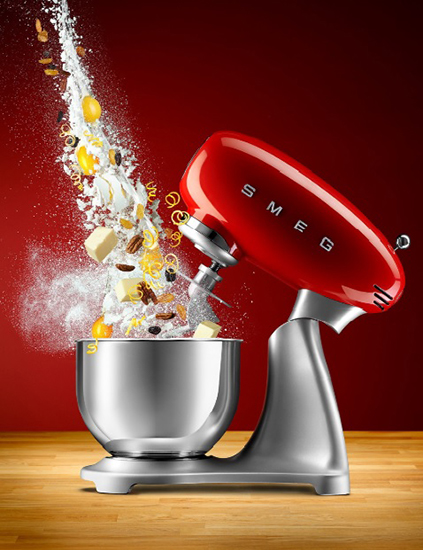 Industrial Design
Food photographers that consistently seem drawn to the modernist lines and crisp metallic reflections of industrial props on set can think about this sub-genre of food photography. Expertly incorporating the natural world with the mechanical (as photographer Piotr Gregorczyk has done above), could be a strength that plays well when job hunting. Once again, you need extremely sharp lenses to emphasize the mechanical precision with which these products were designed. A good portfolio for this creative food photography job will include shots of products showing movement, floating in space, or with a slight shadow, as well as interesting sets, showing what these machines can do with food.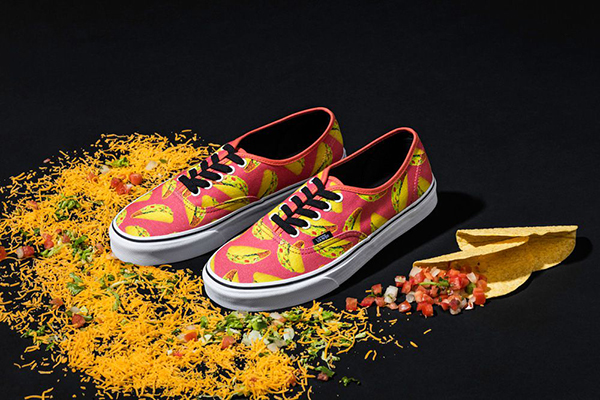 Textile Design
Perhaps an unexpected medium for food photographers is fashion and textile design. Even more than other design-based applications of food photography, textiles use patterns. A food photographer must be able to foresee the perfect patterns that interesting food objects can create, then make them using a repeated food image, or series of images.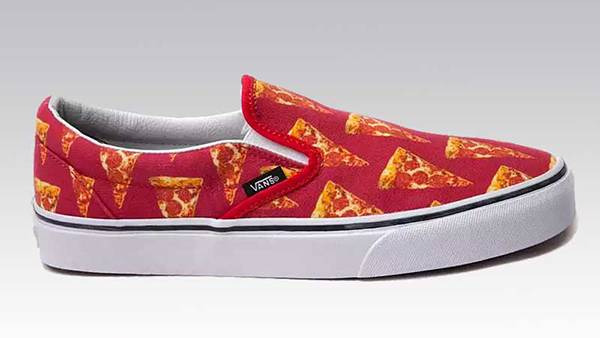 To create these Vans taco and pizza shoes, amazing camera equipment was not necessary. However, editing skills and perhaps knowledge of changing raster imagery to vector imagery are necessary, this way a pattern can be used on any size object. The limits of this creative food photography job are yet to be tested. Just think of all the interesting textures and shapes of food that could be incorporated into a pattern that we have never seen! Another must have skill for this kind of work is color editing and color design, after all, the final output is fashion-based.
The Final Word on Creative Food Photography Jobs
The different incarnations of food photography and the jobs they offer are of course fluid. Like most things, creative food photography jobs resist strict definitions. We may say that a catalog photographer must think of how to allot space within their compositions for text. This could also be part of a creative direction process from a client or ad agency, decided for the photographer, especially when dealing with larger food brands. So think about what really drives you, what inspires you. Maybe it's styling and photographing plated food, integrating shiny props with bright colored food, inventing artsy angles and patterns, or composing clean and efficient design elements.
Stop and look at your portfolio as it is now. Do you think you show promise for one of these creative food photography jobs more than another? Decide on a route, then, frequently shoot the kinds of shots your portfolio is missing to bring you to a competitive level for that certain position. Even the stiffest and most traditional publications appreciate a bit of originality, so don't be afraid to try something new either!
Suggested posts you might be interested in: