Food Photography Production Crew: Food Stylists
Picture this: you're working on a photo shoot for Ben & Jerry's, but the Chunky Monkey is starting to melt and you haven't even begun photographing it. Much like any other model, food often needs special attention in order to look its best.
Food stylists possess the experience and the expertise required to make food look delicious. Depending on the scope of the project, the stylist may control anything from selecting ingredients to plating and styling the hero dish. Stylists ensure the food looks camera-ready for each click of the shutter.
The Job and The Industry
When choosing a food stylist, it's helpful to be aware of the difference between a stylist who specializes in editorial vs. advertising work. An advertising food stylist is primarily concerned with styling food with the intention of selling the products to a consumer, in contrast to the editorial food stylist, who is focused on telling a story using food and props.
Stylists are usually supplied with a surplus of ingredients and are tasked with selecting the best products and creating a picture-perfect spread. In order to make the food appear perfect, food stylists employ tricks like dipping vegetables in water or vinegar to keep everything looking crisp and vibrant, using toothpicks to hold stacks of fruit together, and keeping a pair of tweezers on hand in case they need to rearrange sesame seeds on a hamburger bun. Sometimes, food stylist tricks involve substituting look-alikes and can leave the food inedible, such as substituting mashed potatoes and lard for ice cream or painting grill lines on a rare steak. While these tricks remain useful to food stylists, the industry has been moving towards more authentic imagery, resulting in stylists using more "real" ingredients and emphasizing imperfections.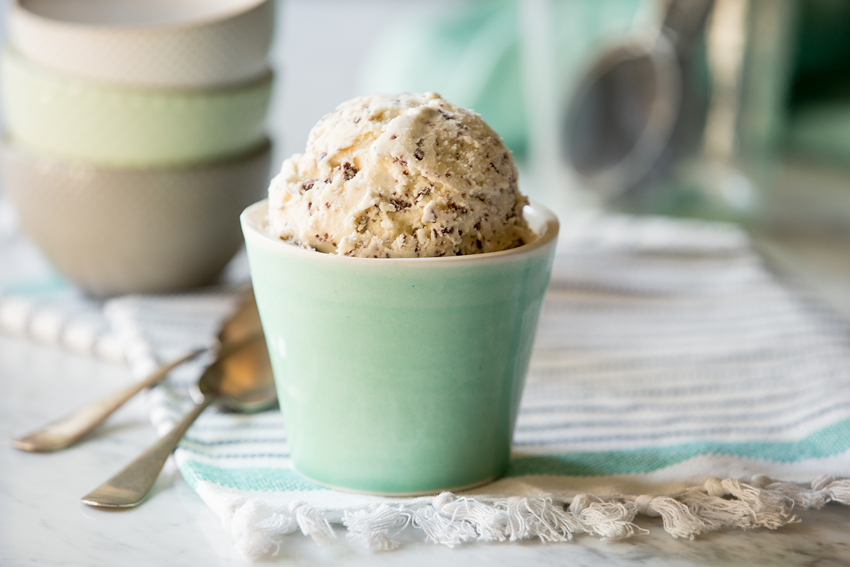 In addition to styling, some food stylists also focus on recipe development and cooking, making them specialists in a specific category. With a large amount of knowledge surrounding a specific food item, some food stylists make their own recipe stand-ins. Ice cream, for instance, is one of the hardest foods to style due to its rapid melting point and consistency, and only the most expert hands know how to shape it appropriately and maintain it for the shoot.
Working with a Food Stylist
Choosing the right stylists for the shoot can be tricky, so to give us some insight, Cincinnati-based photographer Teri Campbell shares how he makes his selections.
"Sometimes the choice is more about what the stylist excels at, or specializes in. Or maybe the project is more about the art and less about the science. When we are shooting images that will be used on packaging, we need to be very precise with the measurements and details. However, if we're shooting a sandwich for Ziploc, it's more important that the sandwich looks beautiful."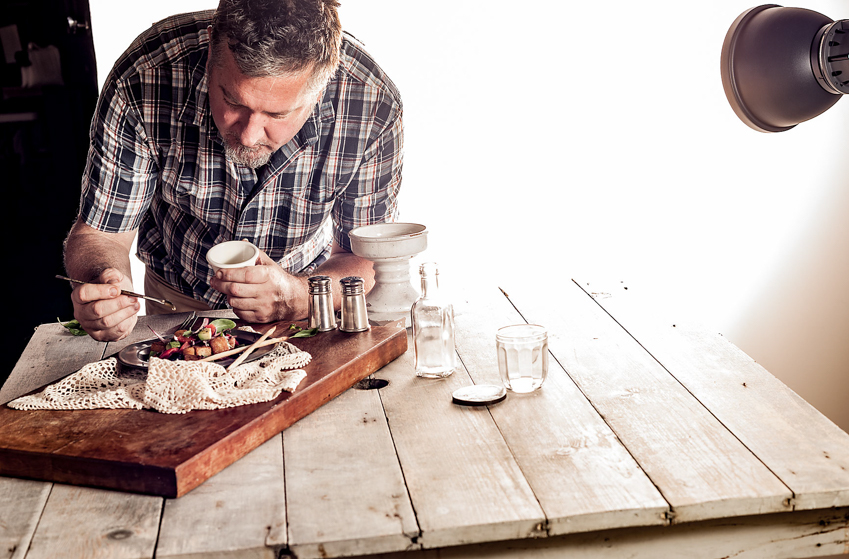 Teamwork is essential to the success of the shoot, which is why Teri suggests testing out a food stylist before booking them. This will help you identify the stylist's strengths and weaknesses while evaluating the chemistry on-set.
At the same time, getting inside the food stylist's head can be useful to figure out the best strategy for collaboration. We asked stylist Barrett Washburne to share a few of his personal guidelines.
"The first thing is to be prepared. Make sure you've gone through each recipe/shot and purchased or brought everything you could possibly need. It's also important to anticipate the needs of a client – there are so many things they could ask for on a shoot. Thinking ahead will save you a lot of time (and assistant trips to the store)."

Food stylist Barrett Washburne and assistant Lauren Radel
"Secondly, stay calm and adapt effortlessly to any situation. You may have spent 30 minutes arranging a plate, but once it's on set it may not work for the shot. Swallow your pride and do it again (even if it was perfect the first time). No one likes a diva on set and being difficult won't get you hired again. Have confidence in your abilities and share your opinion, but know when to lay off. Remember that this is a team sport!"

Food stylist Barrett Washburne and assistant Lauren Radel
"I ALWAYS work with an assistant…a good assistant is a necessity! They can be readying the parts of the next dish while you are on set making sure everything looks perfect. A great assistant knows how you like things done and exactly what point to take things to…so all I have to do is put it all together. THANKFULLY they also do all my dishes!"
Besides having an assistant on hand, food stylists work with prop stylists as well. Prop stylists are responsible for choosing items such as plates, bowls, utensils, and other props needed for a food shoot.
"Most of the time I have a prop stylist on set. Usually we all go over the recipes the morning of the shoot and pick out what will work best for each shot—I always say it's a team sport! Occasionally we will shoot in a studio that is also a prop house and I will select props with the photographer (if there isn't much budget). I much prefer when there is a prop stylist on set though because it makes everything a lot easier—they are so talented in what they do. It's just as valuable to have a good prop stylist as it is to have a good photographer and food stylist!"
You're probably wondering how much it would cost to hire a food stylist for your next photo shoot. For non-metro areas, food stylists charge an average of $600-$900 a day, and for big metro areas like New York, food stylists can command $1,000-$1,500/day. If a food stylist is represented by an agency, you can add an additional 20% of their day rate as an agent commission.
Hopefully this article gave you some insight into what food stylists do. For a behind-the-scenes look at a collaboration between a photographer and food stylist, check out our blog post Test Shooters: Stephen De Vries and Nathan Carrabba.
To learn more, check out this video of a professional food stylist debunking food styling hack videos.
This article was originally published at wonderfulmachine.com
Suggested posts you might be interested in: